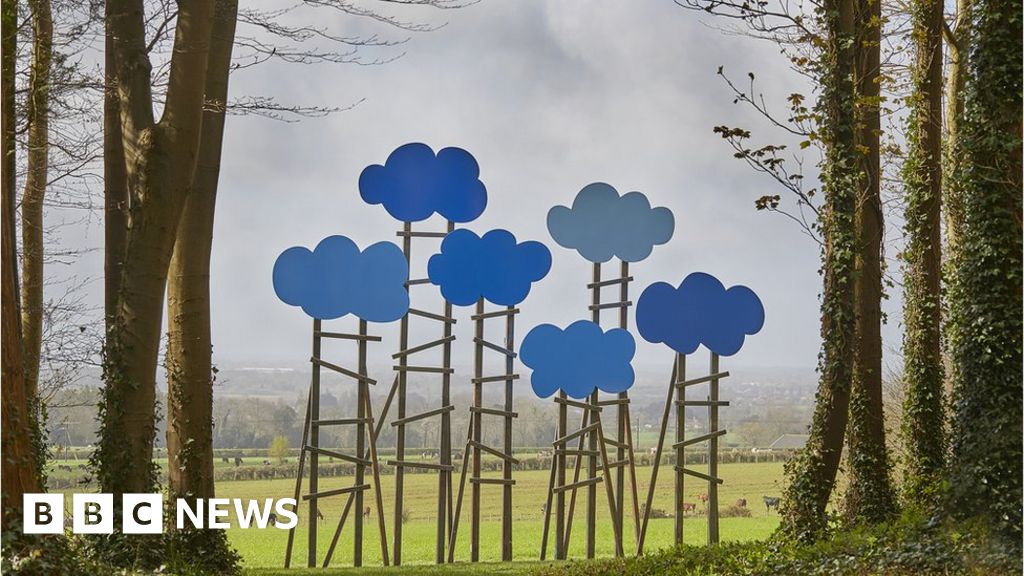 Visitor numbers to UK sculpture parks have increased significantly in the past five years, according to The Arts Council of England.
Statistics from five leading sculpture parks and attractions show a major increase in footfall, as more people become interested in outdoor art and larger pieces of work.
Yorkshire Sculpture Park saw its numbers rise from 350,000 to 500,000 in the past five years and Cass in West Sussex has seen its visitor numbers nearly double.
Jupiter Artland near Edinburgh, New Art Centre in Wiltshire and the Folkestone Triennial have all seen their popularity rise too.
Clare Lilley, director of programmes at Yorkshire Sculpture Park, believes this is down to more people wanting to see and experience art outside the confines of a white-walled gallery.
"A sculpture park is a place where people can access contemporary and modern art incredibly easily.
There are no walls or doors so there's nothing stopping you from going into these green spaces and getting close to the sculptures and enjoying them in all seasons.
I've seen people embracing sculptures and hugging Henry Moores, it's such a wonderful sensory and physical experience."
As well as works from master sculptors, the parks attract art from contemporary artists such as Antony Gormley, Ai Weiwei and Anish Kapoor.
Phyllida Barlow, who represented Britain at the 2017 Venice Biennale, has created her first permanent outdoor sculpture to celebrate the 10th birthday of Jupiter Artland, a sculpture park in Edinburgh. Her artwork will be unveiled this week.
She said: "It's been exhilarating and challenging working in the Scottish woodlands in the freezing rain and mud. There's a sense of liberation not having any gallery ceilings and working beyond a frame looking up towards the sky."
"I hope people who stumble upon this are curious."
Phyllida's sculpture will join a growing number of larger-scale pieces currently being exhibited around the country.
Helen Turner, curator of Cass Sculpture Park, believes that as people become more art literate they want to experience bigger and more ambitious sculptures, in which they can become fully immersed.
"Gigantic works can often have a humbling effect on us and make us feel very small in this world which I think is beautifully poetic. It's a bit like looking up at the cosmos; they put you in your place and remind you that life is short and not to take the small things too seriously."
For the sculptor Sean Henry, smaller works can also have a big impact.
"A small Giacometti figure can have the same power as the Angel of the North."
"When you put your work in a park people will immediately voice their opinion and it seems more real and alive. With sculpture we have an emotional response that's more connected when we're outside with it," he said.
While sculpture parks are not a new concept, artist Laura Ford feels they've come a long way since she was a student and are less formal.
"The idea of showing in a sculpture park seemed like the kiss of death. Now there's a different generation of people that have come out of a different way of curating outdoors, it's much more eclectic and interesting to me. I can reach a wider audience."
But she warns "You need to wax and look after them," Bird poo is the worst, but apart from that they're pretty robust. The patina of age and being outdoors can often add to it."
There are now more than 30 sculpture parks and trails in the UK including pop-up parks across London.
According to Claire Lilley, who launched Regent's Park pop up park sculpture space last summer, outdoor art is here to stay:
"People are putting sculpture parks into deserts, into mountains, there's even an underwater sculpture park in the Caribbean. It's definitely not a passing fad."
She added: "These are places where people come to seek solace and beauty, where children explore and play and where people have conversations with complete strangers which they wouldn't in a gallery. This is something different"
Barney Hindle's photographs are copyrighted to Cass Sculpture Foundation and the artist who created the artwork.
Follow us on Facebook, on Twitter @BBCNewsEnts, or on Instagram at bbcnewsents. If you have a story suggestion email entertainment.news@bbc.co.uk.