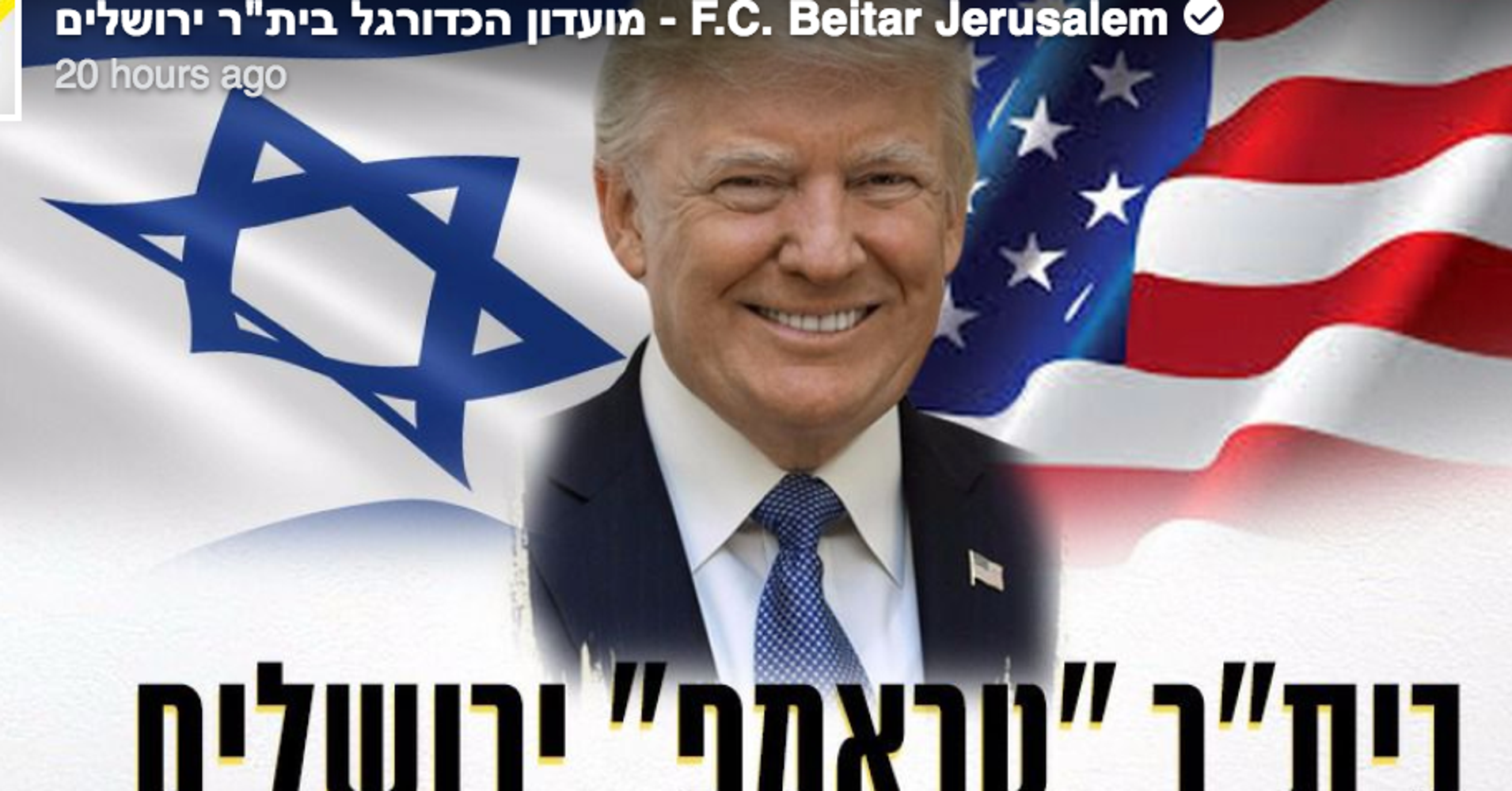 In a move sure to invite both cheers and jeers, the Israeli Premier League soccer club Beitar Jerusalem said Sunday it was adding "Trump" to the team's name.
Beitar declared in a Facebook post that it was making the move to honor President Donald Trump for recognizing Jerusalem as the capital city and moving the U.S. embassy there.
The embassy was scheduled to open Monday, sparking fierce protests. Previous U.S. administrations have kept the embassy in Tel Aviv in an attempt to keep peace efforts percolating, but Trump's shift has stirred resentment among Palestinians who hope to establish their own future capital in east Jerusalem.
"The chairmen of the club, the owner Eli Tabib and the executive manager Eli Ohana have decided to add to the club's title the name of the American President who made history, and from now on will be called Beitar Trump Jerusalem. We have the greatest love for the president, and we will win," the team's statement said, per The Jerusalem Post.
"For 70 years, Jerusalem has been awaiting international recognition, until President Donald Trump, in a courageous move, recognized Jerusalem as the eternal capital of Israel. President Trump has shown courage and true love of the Israeli people and their capital, and these days other countries are following his lead in giving Jerusalem its rightful status."
The six-time league champion team has been penalized before because some fans have chanted anti-Arab and Muslim slogans during matches, CNN pointed out. Loyalists lit the team's offices on fire after it signed two Muslim players in 2013.
The name change is not a done deal, according to The Jerusalem Post. Beitar requires approval from the Israel Football Association, and could face legal challenges because "Donald Trump" is a registered trademark in Israel.