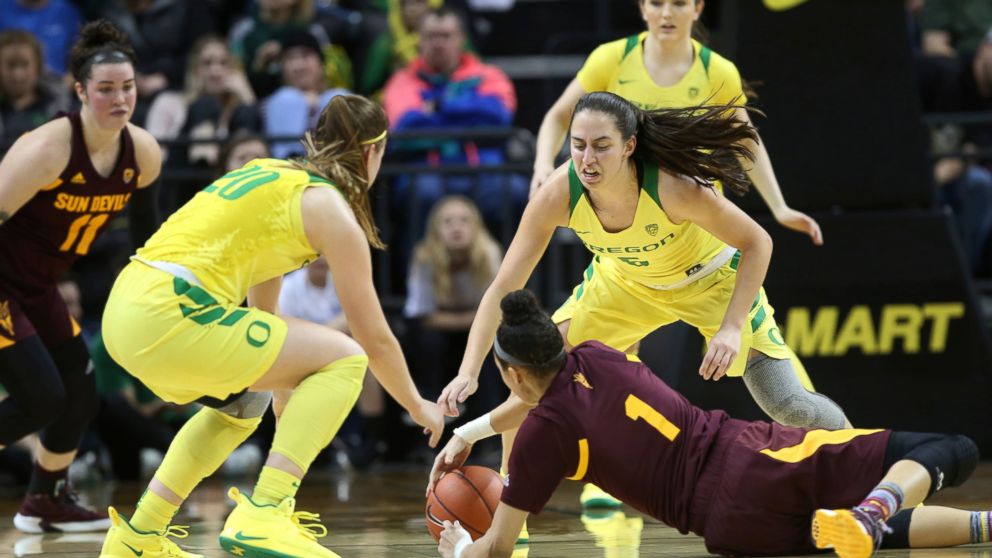 Sabrina Ionescu scored 31 points and No. 5 Oregon fought off a late 3-point barrage and outlasted No. 19 Arizona State 77-71 on Friday night.
Maite Cazorla added 16 points and Ruthy Hebard had 14 for the Ducks (16-1, 5-0 Pac-12), who won their ninth game in a row. Oregon made its last six free throws to put the game away.
Kianna Ibis had 22 points to lead the Sun Devils (12-5, 3-3), who scored 15 of their final 17 points from beyond the arc. Jamie Ruden added 12 points off the bench.
Oregon led 65-55 with 6:05 left before ASU used three 3-pointers during an 11-2 run to close to 67-66. Cazorla's step-back jumper and Ionescu's two free throws made it 73-68 before Courtney Ekmark's 3 ended the Sun Devils' scoring and they had to resort to fouling.
Charnea Johnson-Chapman had 10 points, all in the third quarter, and nine rebounds to help give ASU a 36-31 edge on the boards.
BIG PICTURE
Arizona State now has four losses to teams ranked in the top six by an average of 5.3 points, with Friday night's six-point margin the largest. The Sun Devils are in a run of four games against ranked opponents, including three in the top 10.
Oregon's superior firepower as the nation's highest-scoring team took a backseat to timely defense in the final three minutes to hold off the Sun Devils. The Ducks finished 14 points off their 91.1-point average.
UP NEXT
Arizona State: At No. 10 Oregon State on Sunday.
Oregon: Hosts Arizona on Sunday.
———
More AP college basketball: https://apnews.com/Collegebasketball and https://twitter.com/AP—Top25
http://platform.twitter.com/widgets.js