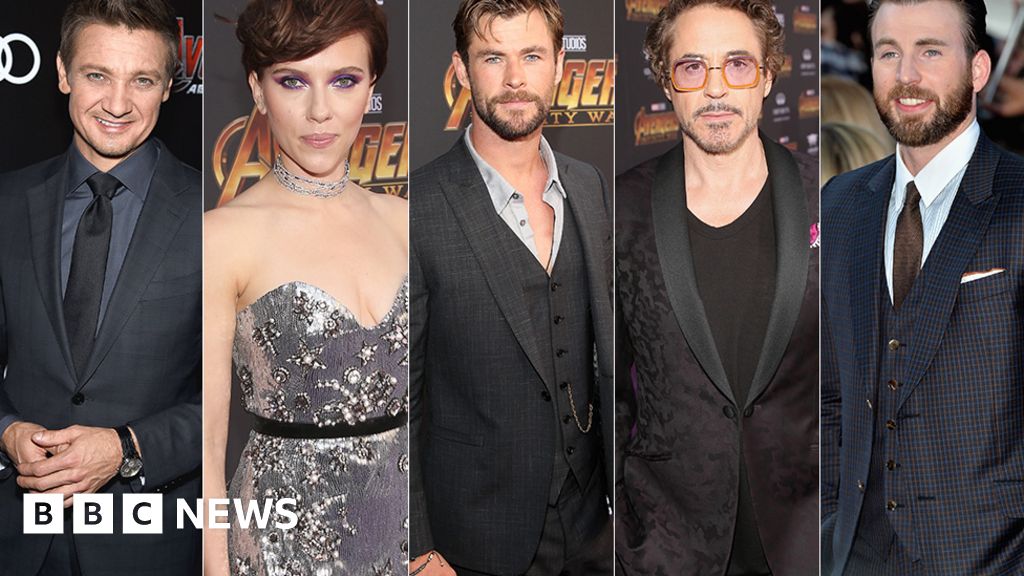 The original Avengers cast took time out from saving the galaxy (or not?) to get matching tattoos after filming Infinity War.
Robert Downey Jr, Chris Hemsworth, Scarlett Johansson, Chris Evans and Jeremy Renner got inked to celebrate the blockbuster's success.
They each got modified versions of the Avengers logo inked on their skin.
Mark Ruffalo was the only one who didn't get tattooed – why risk angering his Avengers alter-ego The Hulk?
Iron Man star Robert described the experience as "sweet" – despite admitting that getting tattooed made him break into a sweat.
Tattoo artist Josh Lord gave each actor identical ink, and the cast repaid the favour by inking him with his own artwork.
Captain America aka Chris Evans shared a video using Josh's tattoo needle on the artist's leg.
And Scarlett (Black Widow) seemed pretty impressed by his work.
Jeremy, who plays Hawkeye, also contributed to Josh's ink.
The only original Avengers actor missing from the tattoo sessions (one reportedly took place in New York, the second in Los Angeles) was Hulk actor Mark Ruffalo.
The actors first appeared on screen together in 2012's The Avengers, and recently broke box office records with the franchise's third instalment Avengers: Infinity War.
These aren't the only team of Hollywood stars who wanted to mark their time together permanently.
The cast of Lord Of The Rings each got the word "nine" in Elvish inked on their skin after filming the final part of the original movie trilogy The Fellowship Of The Ring.
Sir Ian McKellen, Orlando Bloom, Sean Astin, Bill Boyd, Viggo Mortensen, Dominic Monaghan, Elijah Wood and Sean Bean each got the same tattoo.
The eight actors were joined by John Rhys Davis' stunt-double Brett Beattie, who also got the Elvish ink.
The cast of Suicide Squad did likewise, with the actors getting the word "skwad" tattooed.
Joel Kinnaman was inked by co-star Will Smith and described the experience as "like watching a drunk baby fly a helicopter" – while Margot Robbie tattooed Cara Delevingne's foot.
Selena Gomez and some of 13 Reasons Why's cast got semi-colon tattoos after filming their first season, to represent a charity that works for suicide prevention.
Bryan Cranston and Aaron Paul took a break from their on-screen illegal activities to get tattoos on the final day of filming Breaking Bad.
And Maisie Williams and Sophie Turner from Game Of Thrones each have "07.08.09" tattooed on their arm – to mark the date they each discovered they'd landed their roles on the show.
Follow Newsbeat on Instagram, Facebook and Twitter.
Listen to Newsbeat live at 12:45 and 17:45 every weekday on BBC Radio 1 and 1Xtra – if you miss us you can listen back here.