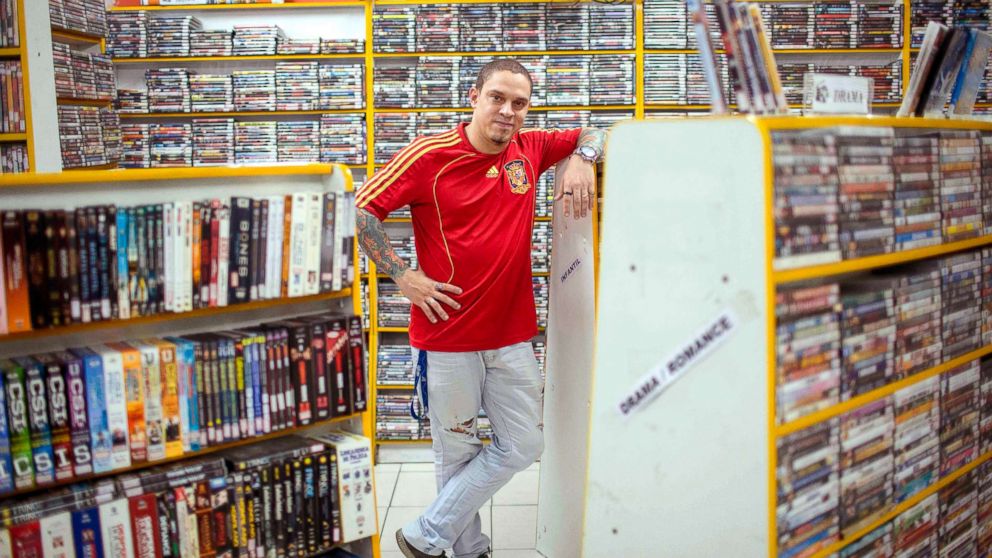 Video Rental Store Clerk
Mario Olavo Campanha, 36, owner of a video rental store, poses for pictures at his shop in Lapa neighborhood, Rio de Janeiro, Brazil, on April 20, 2018. Two years ago, Mario bought the store from his employer after noticing there were unfulfilled demands in the lower-middle-class neighborhood, especially from the elderly who didn't keep up with the advancing technology and prefer his advice when choosing movies.
Mauro Pimentel/AFP/Getty Images
Clock Keeper
Uruguayan clock keeper Abdel Ghaffar (born Raul Amaral) poses by the clock of Montevideo's Cathedral, in Montevideo Uruguay, March 19, 2018.
Pablo Porciuncula Brune/AFP/Getty Images
Film Projectionist
French projectionist Benjamin Louis poses for a photograph with rolls of film at the projection room of the Louxor cinema in Paris on April 19, 2018.
Christophe Archambault/AFP/Getty Images
Elevator Operator
Lizie da Silva, 49, elevator operator since 1997, poses for pictures at the Bank of Brazil Cultural Centre (CCBB Rio) in downtown Rio de Janeiro, Brazil, April 18, 2018.
Mauro Pimentel/AFP/Getty Images
Street Clerk
Candelaria Pinilla, street clerk, poses for pictures in Bogota, Colombia on April 9, 2018. Street clerks are experts in filling out forms such as property tax, vehicle tax, withholding tax and income tax return. In addition, they carry out petition rights, sworn statements and even letters.
Luis Acosta/AFP/Getty Images
Gas Lamp Lighter Engineer
Iain Bell, a gas lamp lighter engineer from British Gas, poses for a picture in Westminster, central London on April 24, 2018. More than 1,000 gas lamps, some of which are 200 years old, continue to light some secret and beautiful corners of the British capital and are maintained by hand by a five-man team, supervised by engineer Iain Bell.
Daniel Leal-Olivas/AFP/Getty Images
Landline Telephone Operator
Ernest Nshimirimana (R), owner of the kiosk El-Shadai, poses with the white landline telephone in Bujumbura, Burundi on April 25, 2018. For more than a decade, a white telephone has sat on the counter of the El-Shadai kiosk. Ernest remembers back in 2004 when landline phones were reserved for the wealthiest and best-connected Burundians. He has a successful business in Bujumbura, with customers waiting in line to use his three "public phones" and pay for the privilege.
Onesphore Nibigira/AFP/Getty Images
Letter Press Printer
Syed Ahmed, 50, an Indian owner and operator of a letterpress printing machine, poses in his shop in the old quarters of New Delhi,India April 23, 2018.
There are only five other such letterpress operators in New Delhi and is the last one in his family working in the tradition. The letterpress printing technique to print letters grew out of the original printing press machine invented by Johannes Gutenberg in the mid-15th century and remained in wide use into the 20th century for book printing and newspaper production. It however is a dying art after being overtaken by digital replacements.
Chandan Khanna/AFP/Getty Images
Marionette Maker
Egyptian artist and marionette maker Mohamed Fawzi Bakkar, 32, poses for a picture at his workshop in Cairo, Egypt on April 22, 2018.
Khaled Desouki/AFP/Getty Images
Neon Sign Maker
In this picture taken on April 16, 2018, neon sign maker Wu Chi-kai poses during an interview with AFP in Hong Kong. Neon sign maker Wu Chi-kai is one of the last remaining craftsmen of his kind in Hong Kong, a city where darkness never really falls thanks to the 24-hour glow of myriad lights.
Philip Fong/AFP/Getty Images
Perfume Shop Owner
Nenan Jovanov, 70, poses for a picture in his perfume shop in Belgrade Russia on April 19, 2018. Nenad literally grew up in this "time capsule" shop as the third generation of a family business. "There used to be 23 perfume shops of this kind in Belgrade," Jovanov said, "now I am the only one left."
Andrej Isakovia/AFP/Getty Images
Photograph Printer
Vicky Luthra, an expert photograph developer and printer, poses with a black and white print in the darkroom at his SV Photographic printing studios in New Delhi on April 19, 2018.
Prakash Singh/AFP/Getty Images
Rickshaw Puller
Mohammad Ashgar, 65, an Indian rickshaw puller, poses for a photograph next to his rickshaw in Kolkata Bangladesh, on April 21, 2018. A mainstay of 19th-century transportation options, the hand-pulled rickshaw survives in India only in Kolkata after being outlawed elsewhere. The local pullers' union puts the number of pullers in the city at 24,000, with lower estimates of the number around 18,000. The union has resisted all previous attempts to ban their livelihood, previously organizing mass protests of their members against moves to stamp out the practice.
Dibyangshu Sarkar/AFP/Getty Images
Sewing Machine Repair Shop Owner
Andreja Nikolic, 69, poses for a picture in his almost four decades old sewing machines repair shop in Belgrade Russia, on April 19, 2018. Compared to past times, today customers rarely bring sewing machines or typewriters for repair.
Andrej Isakovic/AFP/Getty Images
Umbrella Mechanic
Umbrella fixer Elias Fernandez, 87, poses for a picture at his workshop in Buenos Aires, Argentina, on April 05, 2018. Fernandez has been fixing umbrellas since 1955.
Eitan Abramovich/AFP/Getty Images
Sundial Repair Engineer
Fabio Garnero, one of the last gnomonist in Italy, poses for a picture in a Renaissance's mansion where he restores an ancient sundial on April 17, 2018, in Saluzzo, near Turin Italy. Fabio Garnero is one of the last gnomonists in Italy that uses traditional techniques to calculate and draw the sundial on the buildings. He spends a lot of time cataloging and restoring ancient sundials in Italy and in Europe.
Marco Bertorello/AFP/Getty Images
Shorthand Teacher
Surbir Singh, 35, an Indian shorthand teacher, poses for a picture at a stenography center surrounded by students in Faridabad India on April 24, 2018.
Money Sharma/AFP/Getty Images