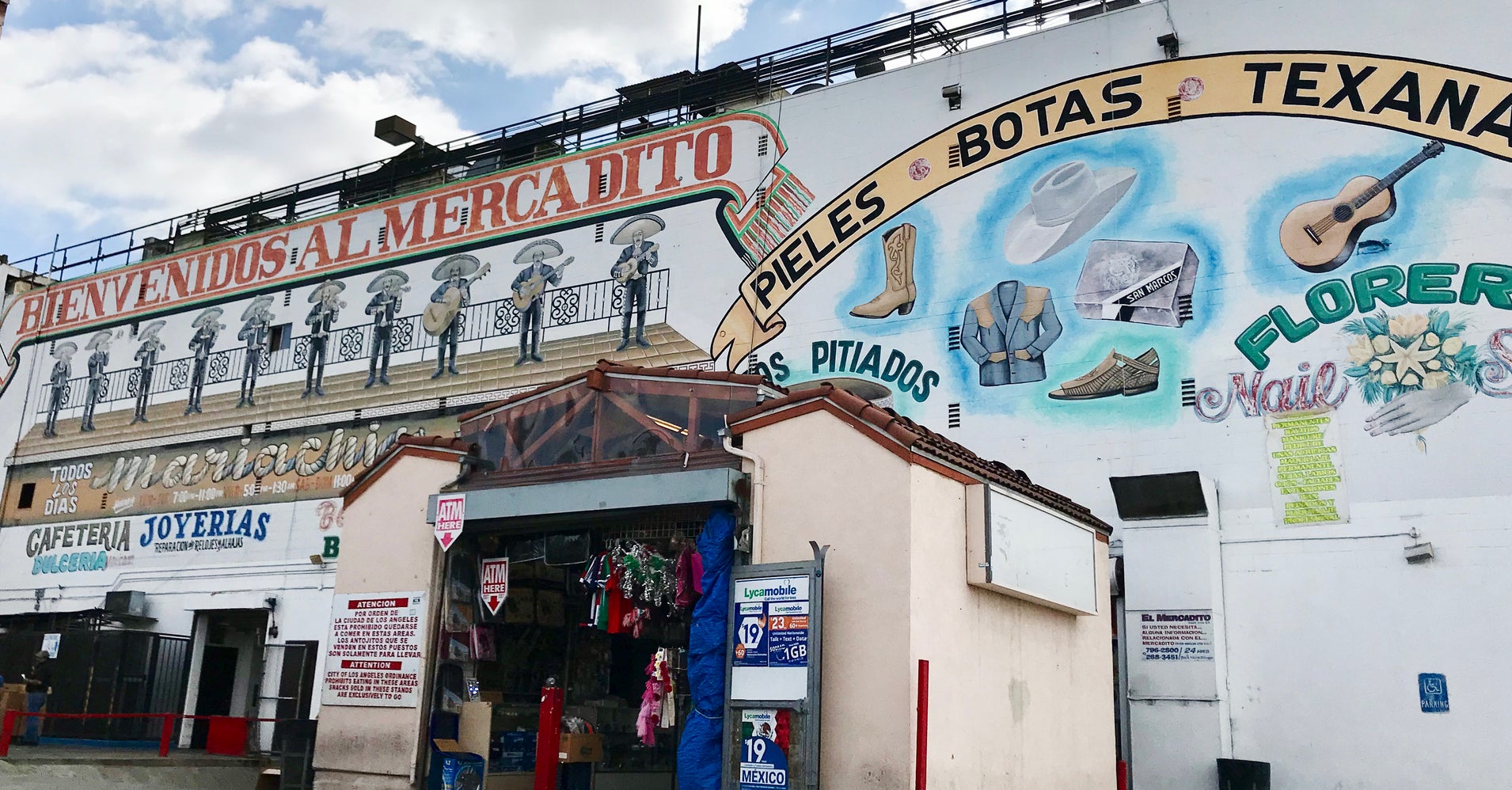 LOS ANGELES — Tony Rosado sits in the silent back room of El Mercado with a giant stack of papers piled in front of him on a sturdy wooden table. The papers are part of his appeals to stop the construction of Lorena Plaza, a 49-unit supportive housing complex that has been proposed for an empty parcel of land next to his market in this historically Latino neighborhood east of downtown.

"Why in Boyle Heights?" he asked. "I dare you to go try and build this in Beverly Hills. It would never get through."
El Mercado, which Rosado took over after his father died in 2014, is a three-story restaurant and market packed with stalls of vendors, or puestos, selling cowboy boots, Communion dresses, religious paraphernalia, tubs of obscure moles and dried sweets. Boyle Heights is one of the most heavily Latino communities in the city, and El Mercado is its vibrant nerve center.
Lorena Plaza is one of the complexes that nonprofit developers have proposed to house the 58,000 people experiencing homelessness in Los Angeles. Voters approved a 2017 ballot measure calling for a $1.2 billion bond to fund permanent supportive housing for the chronically homeless. But where exactly that housing should go has proven a much more difficult question.
Boyle Heights is known citywide for its residents' vigorous anti-gentrification efforts. They've fought to keep richer, whiter transplants from encroaching on their territory. In a sense, Rosado's fight to keep housing for the homeless out of his neighborhood is part of the same struggle for agency.
Rosado says Lorena Street isn't the right place for housing for the homeless. El Mercado gets busy on the weekends, and cars zoom down Lorena Street and into the parking lot. A Metro train line also runs nearby.
"To put a sensitive population so close to a busy cultural center and next to exposed railroad tracks?" Rosado said. "I don't think that's the right thing to do."

The Rosado family has been fighting Lorena Plaza for years. They filed an environmental appeal with the city's Planning and Land Use Management Committee in May 2017, citing uncapped oil wells on the property that could present a danger to residents if they leaked. The family found a sympathetic ear with Councilmember Jose Huizar, who approved their appeal in the committee and stalled construction until a full environmental review was conducted.
Housing developers and other critics claim such resistance pits communities against the will of citywide voters. In an open letter to Huizar during the appeal meetings, L.A.'s top nonprofit developers argued that the appeal "would deny Los Angeles voters the mandate and action they overwhelmingly supported."
"We all care and we all want to eradicate homelessness," said Janet Kim, a Los Feliz resident and member of a multi-neighborhood homelessness task force, SELAH Neighborhood Homeless Coalition, that includes residents from Silver Lake, Echo Park, Los Feliz, Atwater Village and Hollywood. The problem, she said, is "that people are on the fence about how we're going to do that."
This concern isn't limited to Boyle Heights. Residents of Venice ― a wealthy, white oceanside neighborhood where companies like Snap Inc., Google, YouTube and Vice have mutated the community into a post-gentrification business district of sorts ― have also fought plans to build housing for the homeless.
Suburbanites in leafy, pleasant Temple City have successfully stalled the redevelopment of a motel that was planned for supportive housing. Property owners in Lincoln Heights are also rallying against a handful of housing proposals. "Five is too many," reads the mission statement of the Coalition to Protect Lincoln Heights.
Still, Rosado thinks his situation in Boyle Heights is different from other conflicts around the city. Residents here feel their voices have been ignored, and say community outreach was inadequate for this kind of development.
A Community of Friends, the nonprofit developer seeking to build Lorena Plaza, seems surprised by the backlash. In the past 30 years, ACOF has built 42 supportive housing complexes in the city without much controversy.
"The word I would use to describe us was 'stealth,'" said Dora Leong Gallo, ACOF's director. "We built the buildings, we operated and moved people in, and nobody was the wiser. People ask if this is a brand-new thing, like we've never done it before. That's not quite true."
Gallo knows better than most the complexities of building units in a city historically constrained by rigid planning laws, and ACOF usually navigates the process well. But the Lorena Plaza development has been particularly difficult.
Gallo believes the Rosados' environmental appeal was disingenuous. The opposition to Lorena Plaza stems from stereotypes of the homeless, she argued, pointing to the Rosados' initial appeals. The late Pedro Rosado told a Metro Board hearing in 2013 that he was "very appalled how people are not mentioning that in this facility they are trying to bring mentally ill people to put our children at risk." 
Boyle Heights was already primed for a fight over development. Non-local artists have been opening new galleries here, like 356 Mission and BBQ LA, which attracted the ire of activist-residents. Last year, Weird Wave Brewers, a coffee shop owned by two white men and a Latino man (none of whom live in Boyle Heights), opened on Cesar Chavez Avenue, prompting concerns that the neighboring Arts District ― which is demographically wealthier, whiter and younger ― was trickling into the barrio.
Rosado argues that the city is taking advantage of the mostly Spanish-speaking, low-income residents of Boyle Heights, and that other neighborhoods would never have to fight so hard to keep out a proposal like this.
"They would lobby their representatives and then bombard their offices with calls," he said. "They would pull all their financial support for their campaigns if their representatives were allowing these types of projects to get through."
He suggested that people experiencing homelessness be housed on the outskirts of the city, "where it's not the white-collar people that are affected or the blue-collar."
On March 6, the L.A. City Council held a final vote on the Lorena Plaza environmental appeal. Dozens of supporters of the project, identified by fluorescent yellow stickers that said "Lorena Plaza, SUPPORTER," packed the aisles of City Hall's chambers. There did not appear to be any critics of the development present.
The Rosado family was not in attendance, but their lawyer read aloud a statement arguing that the city is responsible for investigating the environmental concerns thoroughly, and urging the council to pursue a new assessment.
ACOF's Gallo also addressed the council, telling them her organization has "remained optimistic and steadfast in our belief that this is a good project at a good location, and reasonable people who care about the state of homelessness in Los Angeles can successfully negotiate a solution."
Huizar, the councilmember, raised concerns about community involvement in the proposal.
"It's not an issue of NIMBYism or against permanent supportive housing. It's an issue about community process, building trust, no matter what you're building ― whether it's a retail center, permanent supportive housing, commercial," he said. "Whatever it is, there needs to be trust between the applicant, the developer and the local community, and that's what was lacking here."
Yet Huizar recommended that his colleagues deny the appeal and allow ACOF to build Lorena Plaza. Then the council cast its vote: thirteen in favor of allowing the development to go forward, and zero opposed.
Gallo said she was pleased with the result, especially Huizar's about-face. "It's a pretty incredible feeling to have him change his mind, because it's hard, and he does want what is best for his community, and I recognize that," she said. Gallo expects to break ground in fall 2019, with a completion date toward the end of 2020.
Tony Rosado said he is "disappointed," but isn't backing down yet. "We're going to continue fighting it," he said. "We're going to pursue our legal options."
In a statement to HuffPost, Huizar said the developer has agreed to complete the necessary environmental review, and will ensure the soil is clean. He also emphasized the importance of community involvement as the city seeks housing solutions for people experiencing homelessness.
"As we unroll our efforts to construct permanent supportive housing throughout the City, we need to be completely honest with the public from the outset and throughout the approval processes," he said. "That doesn't mean everyone will be happy with every project, but unlike this process, at least we'll all be clear about what is being proposed."
On April 5, Rosado filed suit against the city of Los Angeles, alleging that environmental law had been broken. The writ, submitted by Rosado's lawyers, asks for the city's decision to be vacated in lieu of a full environmental review. It also asks for the suspension of the "authority of City and City Council… to grant any authority, permits or entitlements as part of the Project" until a full review is conducted.
This story is part of the series Homeless on the Streets of L.A., a four-month investigation by students at USC Annenberg's Reporting on the Homeless class. The project, overseen by veteran journalists Mary Murphy and Sandy Tolan, continues through early 2019. Contact atolan@usc.edu or mmurphystar@yahoo.com for more info.