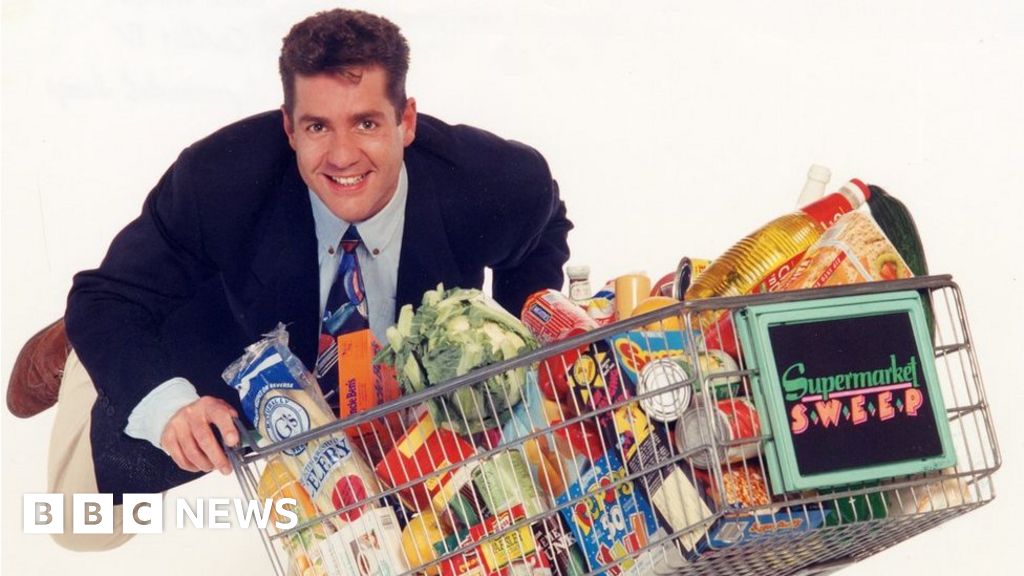 Supermarket Sweep was the ultimate mid-morning TV show with its contestants envied by uni students everywhere.
It saw three teams battle it out to fill a shopping trolley with the highest-valued goods – putting all weekly shops to shame in the process.
Teams would answer questions and riddles to gain vital trolley dash time.
Dale Winton presented both runs of the ITV show, from 1993-2001 and again in 2007.
Kal Sajad was a contestant on the show when it returned in 2007, telling the BBC that Dale was "full of life".
"He was a diva but he did it with charm and grace and made a real effort to get to know us before filming."
Kal said he had always watched Supermarket Sweep growing up and saw it advertised when he was a university student.
"I applied with my friend Steve, we got an audition and ended up on the show," he said.
"During the show, we stopped the cameras so he could get his mascara redone! It's still so strange that my first words on national television were 'Apple Crumble Dale!' – we were told to say 'Dale' after each sentence, which we were more than happy to do."
The pair, wearing bright yellow jumpers, got to go "wild in the aisles" (one of Dale's famous catchphrases on the show) and even managed to pick up some items for Dale for extra points.
"I dashed around the supermarket, which was a studio in Maidstone, Kent," Kal said.
"I managed to get Dale's shopping list (vitamins and orange squash), poppadoms, the pick and mix, and an inflatable microphone worth £50.
"It was all so surreal. There was a celebrity version being filmed on the same day, I remember looking over at one point and seeing Vic Reeves and Sonia from EastEnders cheering us on!"
Kal added that "Dale was such a lovely bloke. He had an aura about him as soon as he walked into the room. And an infectious smile and tone to his voice."
Peter Rawlinson was also a contestant on the show when it started in 1993, appearing as a university graduate.
Although the famous T-shirt from the show may have gone missing, Peter's trolley dash memories remain.
"He was a lovely guy. I was a bit in awe", Peter told the BBC.
"I was gay and even though he wasn't out at that point it felt empowering for him to be on TV just being himself – a sense that the world was changing. People seemed to like him for who he was."
"I remember it quite vividly. He was very warm. He was part of its success."
Peter didn't win, but got Dale to sign his shirt.
"He happily obliged, signing 'hope you enjoyed cruising in my aisles'."
Bev Osborne also appeared on the first run of the show with her sister, telling the BBC: "Dale chatted to us and made us feel so at ease and welcome!
"We were so nervous and he was just so friendly – I have fond memories of doing the trolley dash with an inflatable banana between my legs.
"We came last but that didn't matter.
"I had to find a baby's highchair and couldn't see it straight in front of my nose.
"I still have my sweatshirt and watch!" she added.
Bev watched the show back with her family at Christmas, saying "It was hilarious. Our children loved it.
---
Follow us on Facebook, on Twitter @BBCNewsEnts, or on Instagram at bbcnewsents. If you have a story suggestion email entertainment.news@bbc.co.uk.