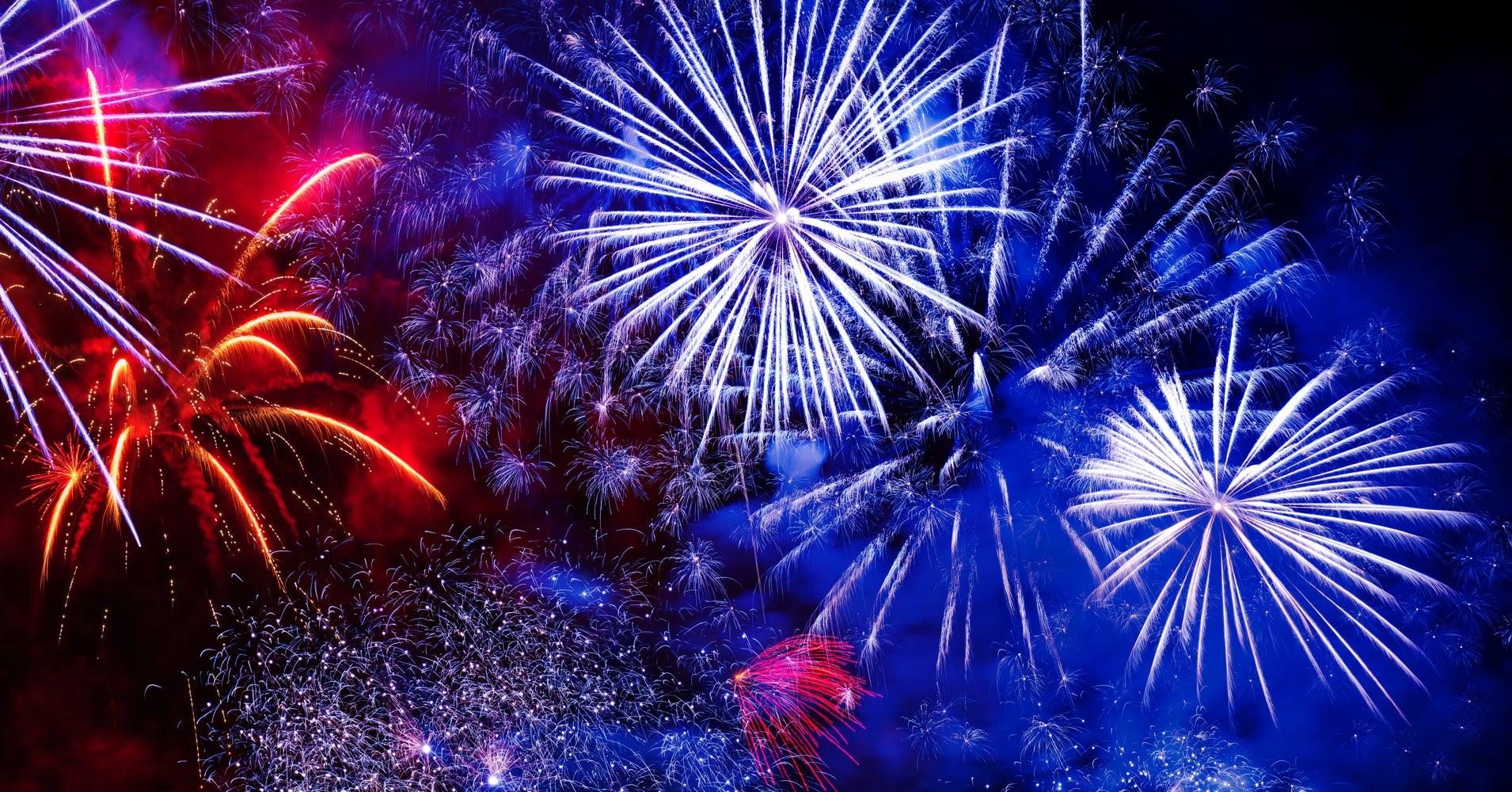 Oh, say can you see… the fireworks? If you're not loving your vantage point, make sure you find a spot with a great view for these 51 fireworks displays. Replete with live music, tons of food and intricate pyrotechnics, there's nothing like a Fourth of July celebration. Wish America a happy birthday at one of these amazing extravaganzas in every state (plus D.C.).
ALABAMA: U.S. SPACE AND ROCKET CENTER (HUNTSVILLE)
The largest display of exploding patriotism in the city, because of course a rocket center is going to have unreal fireworks. They even encourage you to view the show from other areas in the vicinity.
ALASKA: MULCAHY STADIUM (ANCHORAGE)
When the sun sets past midnight in your state, it's tough to find a good fireworks display. But if you catch a double header between the Anchorage Glacier Pilots and the Anchorage Bucs starting at 7 p.m., you'll be in prime position for a late but memorable fireworks show.
ARIZONA: STEELE INDIAN SCHOOL PARK (PHOENIX)
This annual family fun fest has taken place for over three decades. It features one of the largest displays of fireworks in the Southwest, with pre-show entertainment from international recording artists and tons of food and (non-alcoholic) drink vendors. There's even Kids' World, with a water spray zone to help them beat the heat.
ARKANSAS: HARRY E. KELLEY RIVERFRONT PARK (FORT SMITH)
The mayor's annual Fourth of July celebration is one of the largest displays in the region. But make sure you reserve the whole day so you can check out the Mustang Club Car Show and lots of live music.
CALIFORNIA: LIGHTS ON THE LAKE (LAKE TAHOE)
Launched from barges on the shore of Lake Tahoe, this show is considered one of the biggest synchronized displays in the West, which means the fireworks are visible all over town. If you're worried about getting a seat, park your picnic at the El Dorado Beaches before 9:45 p.m. Or you can take the road less traveled and hike to the top of Mount Tallac for an unforgettable view of the pageant. (Just remember you'll have to hike down, so bring a headlight.)
CONNECTICUT: SAILFEST FIREWORKS EXTRAVAGANZA (NEW LONDON)
OK, so the fireworks aren't smack-dab on July 4 (this year, they're July 13 to 15), but they're worth the wait. Enjoy the amusement rides, hundreds of vendors and boats at sea before the sun sets. Then, stick around for a one-of-a-kind spectacle choreographed to music.
COLORADO: GRAND LAKES FIREWORKS
Surrounded by the mountains and a placid, clear lake, this Colorado fireworks show just has the extra sparkle (mostly because of the lake's reflection). Pack the bug spray and all your picnic gear to take in the night sky in one of America's most beautiful landscapes. 
Launched from the beach south of Rehoboth Avenue, these fireworks are visible up and down the boardwalk and beach. So hop on the Jolly Trolley early and spend your whole day at the beach. There's even live music after the fireworks. Those summer niiiiiights. (Note: This year's fireworks display is scheduled for July 1, 2018.)
FLORIDA: SERTOMA'S 4TH OF JULY FIREWORKS (PENSACOLA BAY)
The Gulf Coast knows how to celebrate the Fourth of July. With vendors, arts and crafts, kid-friendly activities and live entertainment, this fun-filled day in Old Seville culminates with the largest fireworks display in the area. (Unfortunately the pony rides and face painting are only for the kids, though.)
GEORGIA: DAHLONEGA'S 4TH OF JULY CELEBRATION
Pack up your lawn chairs, blankets and coolers and head about an hour outside of Atlanta to the University of North Georgia. It's even pet friendly—just make sure your pup can take the noise. And if you get to town early enough (11 a.m.), there's a Fourth of July parade that aims to put all other Fourth of July parades to shame.