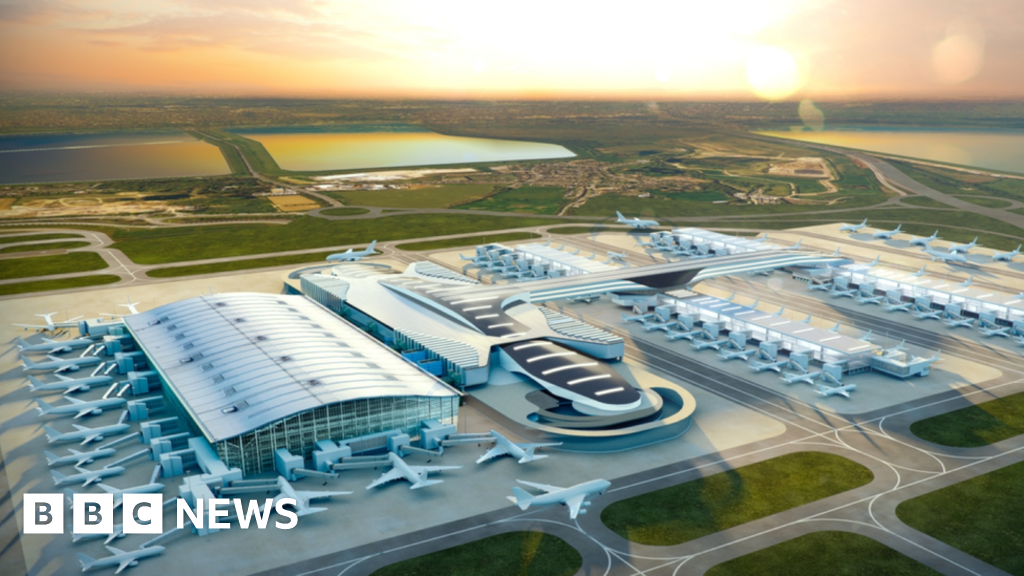 The company that wants the go-ahead to expand Heathrow airport has unveiled its proposals.
Arora Group says its plans for a new terminal and runway would cost £14.4bn – less than half the estimated £31bn cost of the airport owner's plan.
Airlines, including the owner of British Airways, say companies other than Heathrow's owner should be allowed to design and build any new terminals.
Heathrow Airport Limited did not respond to a request for comment.
The company has previously said it did not believe such a model was appropriate.
The government is due to publish final proposals for a third runway at Heathrow later this year and MPs will then vote on those plans.
Arora is run by Surinder Arora, who owns several hotels and other property near Heathrow.
Willie Walsh hits out at Heathrow
'Cheaper' airport expansion proposal
The terminal design is part of Mr Arora's wider push to build an expanded airport.
Last year he also revealed plans for a third runway that he claimed would be £5bn cheaper than Heathrow's proposed scheme.
Arora's "western hub" plans focus on a single area on the western side of Heathrow between terminal 5 and the M25, which Arora says would be cheaper and less disruptive than redevelopment around terminals 2 and 3.
Arora claims its proposals put it ahead of Heathrow Airport Limited, which it said did not yet have a "clear proposal" and would be far more costly.
Airlines want to keep the cost of expanding Heathrow to a minimum as the expense will be borne by both passengers and carriers.
Heathrow's owner said this week it would allow companies to bid to partner with it on some aspects of the expansion scheme.
Mr Arora welcomed that decision but said it did not go far enough.
"Heathrow has been in monopoly control for too long and our proposals show what can be achieved through an alternative approach and Heathrow fully welcoming competition," he said.
Sir Rod Eddington, former British Airways chief executive and member of Arora's Heathrow expansion advisory board, said: "Heathrow used to be the premium global aviation hub but has suffered under the current monopoly.
"Arora is best placed to deliver true competition and return Heathrow to its place as the top-tier international airport."
A spokesperson for IAG, which also owns Aer Lingus and Iberia as well as BA, said Arora's proposal deserved to be properly evaluated.
"Competition at Heathrow is critical to keeping costs low and we call on the government to break up the airport's monopoly and allow third parties to run terminals."
Craig Kreeger, chief executive of Virgin Atlantic, said Arora's plan "appears to be a credible alternative …that will bring down the cost of construction and inject competition at the UK's hub airport".
Arora's plans have been created by Corgan, an architectural firm that has designed terminals for other major airports worldwide.