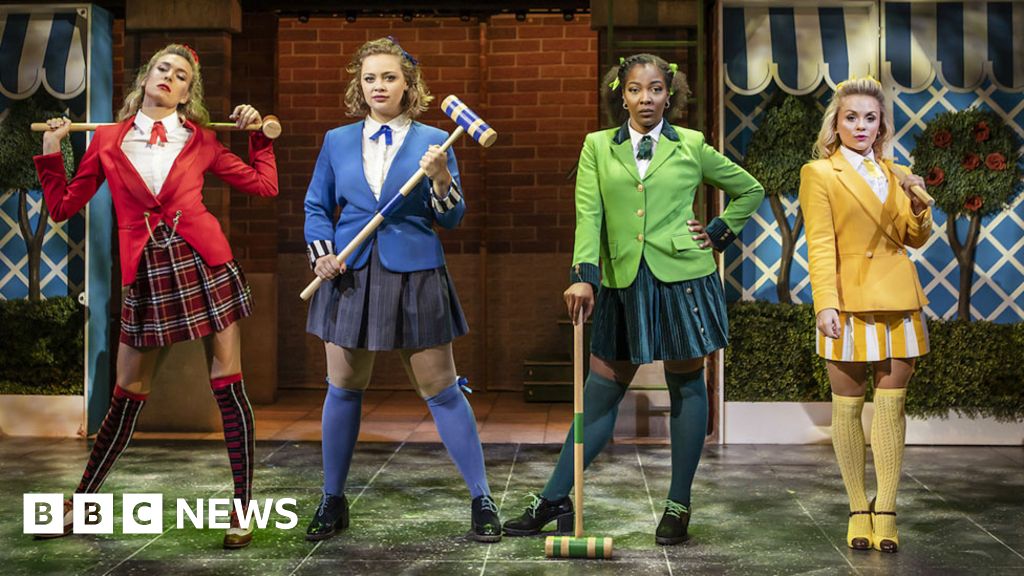 The star of new musical Heathers says she was body-shamed online after being announced for the role.
Carrie Hope Fletcher plays Veronica Sawyer – originally played by Winona Ryder in the 1988 film – in the West End show, opening on Friday.
Speaking to BBC News, Fletcher says the comments "hit [her] quite hard" and made her reconsider whether she should take on the role.
"I didn't deal with it very well for a while," the 25-year-old actress admits.
The dark satire, which also originally starred Christian Slater and Shannen Doherty, became a cult film after its release, because of the atypical way it dealt with teenage issues.
It garnered a large following, which 30 years later, appears not to have diminished.
"Nothing could have prepared us for doing this show," says Fletcher. "It's not a musical theatre show, it's a rock concert," she adds, referring to the hundreds of teenagers who have flocked to the musical during its previews.
"People screamed as soon as the first line of the show was said: 'September 1st 1989. Dear Diary…' I didn't know what was happening, I thought, 'Oh my God has something happened behind me..?'
"People are laughing before the jokes are said because they know what's coming, they've learnt all the songs – there was a girl who came to see us a week into the run, who already knew all the moves to the song Candy Store. She was doing it in her seat – it was insane."
But it's this level of fandom which prompted strong reactions to the casting of the show.
"Lots of comments were made about my shape and size by fans of the show – anyone who feels like they have an ownership over Veronica," Fletcher recalls.
"Someone said, for example, 'When did they decide Veronica Sawyer would be so fat and unattractive?' That was one that hit me quite hard. I was on holiday with my family and I decided for the next few days I was just going to turn everything off because I was getting really upset.
"The thought did cross my mind about whether or not I should do the show, but never really seriously. I was never going to let that ruin the best job that I've ever done in my life – and I knew it would be – so I was never going to let negativity like that ruin anything for me."
On the contrary, Fletcher has embraced the role wholeheartedly – including its sex scene in the middle of the show.
"It's my favourite part of the show," says the singer. "It is a massive middle finger to anyone who said I couldn't or shouldn't do it because of my shape and size – which is ridiculous in itself, anyway, because I am a normal size 12 to 14 woman.
"But that part of the show feels massively empowering to me and every night before the show I really gear up for it."
Fans have continued to flock to the musical, coming dressed as the Heathers and sporting croquet mallets. After the final curtain call many rush to stage door to get a glimpse (and hopefully a selfie) of the cast members playing their favourite characters: Veronica, JD, and, of course, the Heathers.
On the first night of previews, the Theatre Royal had to hand out water and food to the assembled mass of hundreds of fans – and some of their parents – because there was such a crowd.
Jamie Muscato, who plays the subvertive, psychopathic JD in the show, says, like his castmate, he too was "surprised" by the fan reaction Heathers has had.
"I didn't know the show, didn't know the fandom, I didn't know the film," the 28-year-old admits. "Obviously, I've done my research since.
"The fact it's a dark story might be the reason teenagers like the show – because it's not talking down to anyone. It's not mollycoddling anyone – it deals with some really important, tricky issues in quite a sensitive funny and intelligent way, whilst also being able to send it up."
The source material may not seem like the obvious choice for a musical – with the two main characters involved in poisoning one fellow pupil, shooting two others and planning to blow up the school.
Indeed, given the recent spate of school shootings in the US, it could be seen as an insensitive topic to literally make a song and dance about.
Quite the opposite though, say the show's writers, Kevin Murphy and Lawrence O'Keffe, who think recent events only serve to make the musical more relevant.
"When we started writing the show 10 years ago we thought 'There are occasional events of violence in schools so what if an event in a school makes people afraid to do the show or upset about the show?'" says Murphy.
"But unfortunately events of violence in school have proliferated to the point where they are no longer a surprise and the more people look to our musical and say 'Wow, this show gets it'."
O'Keffe says, in fact, they've had a positive reaction from those who have been affected by gun crime: "There was an article that was published in the Miami Herald the day after the Pulse nightclub shooting [in Orlando, Florida].
"There was a production of Heathers going on in Orlando at the time and the article put across a really lovely argument on why it is important to have a show like ours – because it forces people to have a conversation about it. Parents come and they bring kids to see the show and it gets them talking."
The musical's director, Andy Fickman, says it was important to him to deal with the issue of guns in schools: "My stance creatively has been that in the face of those issues you don't shy away from them. We don't use blood on stage, we don't glorify the violence. But theatre's a place to have that conversation.
"Art is supposed to put a mirror to what is happening in society."
And the mirror isn't just being held up to guns and violence. Individuality, homophobia and – of course – bullying are among the other themes explored in the course of the show. All wrapped up in an all-singing, all-dancing high school setting, it's easy to see why teenagers identify so readily with the production.
The eventual smashing of the Heathers' clique represents what many young adults – and the rest of us too – yearn for: acceptance, inclusion and empowerment.
And the fact Veronica picks her dorky best friend over her love for JD… well, how very.
Follow us on Facebook, on Twitter @BBCNewsEnts, or on Instagram at bbcnewsents. If you have a story suggestion email entertainment.news@bbc.co.uk.
http://platform.twitter.com/widgets.js