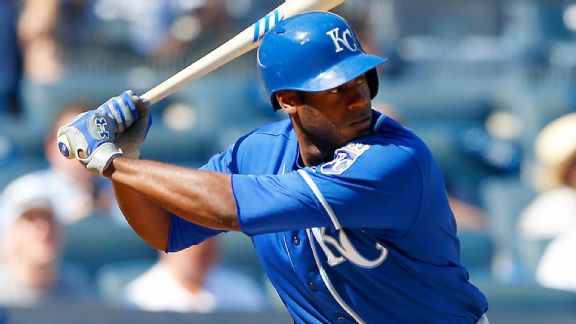 Your move, National League Central rivals. The Milwaukee Brewers just put down the hammer on the? Cubs?and? Cardinals, trading for outfielder Christian Yelich and then an hour or so later reaching an agreement with Lorenzo Cain on a five-year, $80 million contract as reported by ESPN's Jerry Crasnick. After winning 86 games last season and missing the second wild card by one victory, the Brewers are going for it and just like that we had our most exciting day of the offseason.
Let's review the day's activity.
Milwaukee Brewers acquire: OF Christian Yelich, sign OF Lorenzo Cain
The most valuable asset in today's game is talent. The second-most valuable asset is talent that doesn't hike up a team's payroll. The combination of the two makes Yelich one of the most valuable assets in the majors and the Brewers just stole him from the Marlins. Yelich is an excellent player, coming off a .282/.369/.439 season with 18 home runs, worth 3.9 WAR. He draws walks, has a .290 career average, runs the bases well and, at 26, is entering what should be his peak seasons.
Our old colleague Mark Simon pointed out that Yelich is one of only 12 position players with at least 3.5 WAR in each of the past four seasons. While that alone doesn't make him a superstar in today's power-laden game, his contract makes him even more valuable than his raw numbers. He's signed for five more years, including a team option for 2022, at a total cost of $58.25 million — a bargain for a player of Yelich's age and ability.
Let's do some back-of-the-napkin math. If Yelich averages 3.5 WAR over those five seasons, that's 17.5 total WAR. One win on the free agent market is worth about $9 million — other estimates might be a little higher, but let's be conservative with the numbers here — so that's $157.5 million of projected value. In other words, the Brewers are getting about $100 million in excess value from Yelich. That's huge, especially for a small-market team like Milwaukee.
For all that, the Brewers gave up four prospects. While two of them were rated in Keith Law's top 100 prospects, the Brewers didn't give up the farm.
There's other good news for the Brewers: Yelich's numbers should go up in Milwaukee. He has hit .278 with 18 home runs at home in his career, but .301 with 41 home runs on the road. He moves from a bad park for him to one of the better home run parks in the majors. The power output could increase even more if Yelich learns to put more loft on the ball. He makes hard contact, but has been one of the most extreme groundball hitters in the league, finishing with the sixth-highest groundball rate among regulars in 2017 (just behind Eric Hosmer).
That would suggest a swing change could lead to more power, although unlike guys like J.D. Martinez or Justin Turner, Yelich is already a good hitter. He doesn't have to change and you want to be careful about messing with something that works. Moving to Milwaukee alone in combination with another year of maturity could turn Yelich into a .300 hitter with 25 home runs and 80 walks. Nothing wrong with that.
Yelich has played some center field in the past, but he's best suited for left, so the Brewers followed up the blockbuster deal by signing Cain to play center field. Given that Ryan Braun is still signed through at least 2020, the Brewers now have excess in the outfield, with Keon Broxton, Domingo Santana and Brett Phillips. Santana becomes the obvious trade bait. He's coming off a good season – he hit 30 home runs and led the Brewers with a .371 OBP – and is still pre-arbitration, so he should bring back some pitching value if the Brewers go that route.
Cain's contract seems like fair-market value. He's coming off a .300/.363/.440, 5.3-WAR season. I've mentioned before the risk of signing 30-something center fielders to long-term deals – Cain will be entering his age-32 season, but Cain is less risky than most. While recent history suggests few players remain regulars in center at his age, he's still a plus defender out there (although his plus-5 Defensive Runs Saved was the lowest total of his career). He should be fine out there for at least another two years, maybe three, before having to move to a corner.
The top of the lineup looks pretty nice, the defense should be above average and there is plenty position player depth:
LF Christian Yelich
CF Lorenzo Cain
RF Ryan Braun
3B Travis Shaw
1B Eric Thames / Jesus Aguilar
2B Eric Sogard / Jonathan Villar
C Manny Pina / Stephen Vogt
SS Orlando Arcia
The Brewers were 10th in the league in runs last year. Cain is an upgrade over Broxton and Yelich essentially replaces Santana, or maybe provides a small improvement. They'll need Shaw to repeat his big season and Thames/Aguilar to once again combine for 41 home runs at first base, but they should be a little better on offense. Good job, front office.
Trade grade: A
Cain signing: A
Miami Marlins acquire: OF Lewis Brinson, OF Monte Harrison, IF Isan Diaz, RHP Jordan Yamamoto
The 2017 Marlins weren't a good team, finishing 77-85, but they had a great outfield. The Marlins' outfielders led the majors in OBP, slugging percentage, home runs, runs and RBIs. They bashed 21 more home runs than any other group of outfielders, scored 68 more runs and drove in 69 more runs. Their collective wOBA of .389 was the best for any outfield since at least 2008 and maybe the best since the 2004 Giants or 2004 Braves. But the wipeout is now complete. MVP Giancarlo Stanton is gone. Marcell Ozuna is gone. Yelich is gone. The 2018 Marlins are going to be awful.
Did they make out? While the consensus is to bash the trade, we don't know what other offers they received. Sure, they would have loved to get Vladimir Guerrero Jr. from the Blue Jays or Victor Robles from the Nationals, but the Blue Jays or Nationals weren't going to trade those two.
The outfielders are the ones most likely to make the biggest impact. Keith ranked Brinson 32nd and Harrison 85th on his top 100. Brinson is ready for the majors, although struggled in a 47 at-bat trial with the Brewers last year, hitting .106. He's built like an All-Star, with a tall (6-foot-3), lean build. There's no denying the athleticism and Keith gave his defense in center a grade 70 (with 80 raw power).
My concern with Brinson is the two places he's hit in the minors were Class A High Desert and Triple-A Colorado Springs (.331/.400/.562 in 76 games in 2017), but those are two hitter's paradises. He had a .999 OPS at Colorado Springs, but just .787 on the road. He's still young, of course, and the defense along should make him a solid regular, but I worry about the hit tool.
Harrison was a second-round pick in 2014 out of high school, but still hasn't reached Double-A. After hitting .205 in 2015 and .220 in 2016, he put it together in 2017, hitting .272/.350/.481 and maintaining his production after a promotion to high A. He could be a late bloomer, but this looks like a risky profile with more seasoning in the minors in the works.
If there's one thing we've learned about these initial deals that Derek Jeter and Mike Hill have made in tearing down the club, it's that they've gone after tools and athleticism. Diaz fits that profile as well, but he hit just .222 at Class A Carolina. The problem I have with these deals is the Marlins have traded away one of the best offensive outfields of the past two decades and the highest-rated prospect they got in return was Brinson. Yes, the depleted farm system has more talent now, but the odds that Brinson, Harrison and Magneuris Sierra will make Marlins fans forget Stanton, Ozuna and Yelich is slim.
Trade grade: C-