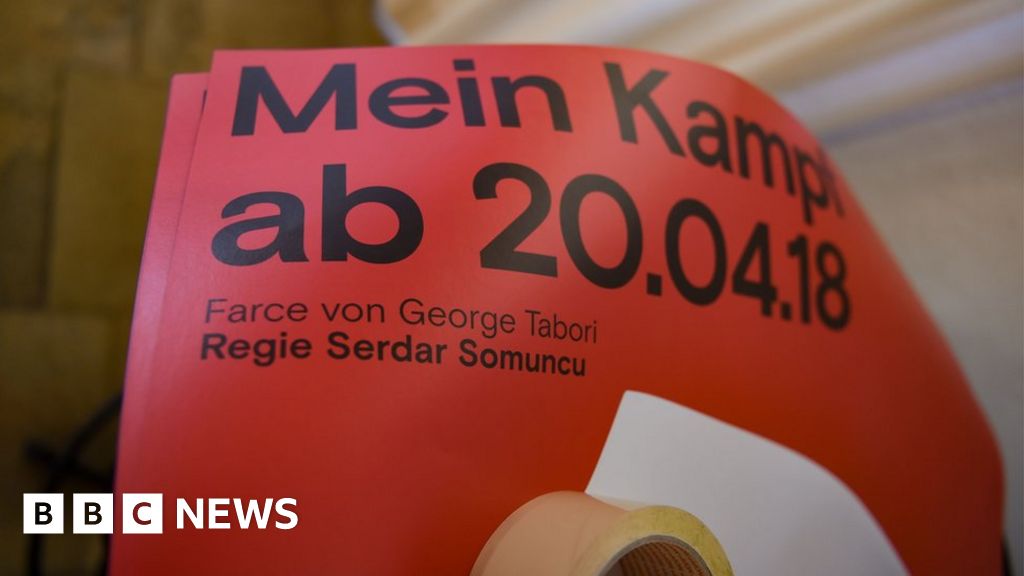 A satirical play based on Adolf Hitler's youth premieres in Germany on Friday despite complaints about an offer of free tickets to spectators willing to wear a swastika.
Citing freedom of artistic expression, prosecutors in Konstanz rejected claims that the play breaks laws banning public display of Nazi symbols.
Critics have branded the theatre offer "tasteless" and called for a boycott.
The theatre says its aim is to show how easily people can become corrupted.
Anyone paying up to €29 (£25; $35) for a ticket will be asked to wear a Star of David "as a sign of solidarity with the victims of Nazi barbarism", Theatre Konstanz says on its website (in German).
But it is the theatre's offer to provide a free seat to anyone willing to accept and wear a swastika that has stirred local anger.
Some 50 people have already signed up to the idea of a free seat, reports say. The theatre has made clear they will have to return the swastika after the play, which is set to open on Friday, the anniversary of Hitler's birth.
Local mayor Andreas Osner accepted that the theatre should be allowed freedom of artistic expression "but in this case they have overstepped the mark in an irresponsible way".
"I wouldn't even like to imagine what could happen if people from the far right came to hijack the performance and used the play with the Nazi armbands for their own purposes."
George Tabori's 1987 anti-Hitler farce Mein Kampf is named after the anti-Semitic Nazi manifesto that Hitler wrote in prison before coming to power. The Hungarian playwright, who died in 2007, wrote the play as a caricature of a young Hitler trying to establish himself in the Vienna art scene before World War One. Tabori was himself Jewish and lost most of his family in the Holocaust.
The theatre agreed the number of people willing to wear a swastika was surprising and frightening. But director Serdar Somuncu said his aim was to counteract an increasing tolerance in Germany towards anti-Semitism, by tackling political opponents head-on.
"This artistic impulse seeks to show how easily people are corrupted and can be made to wear the symbol of million fold suffering, just to save a few euros," his colleague Daniel Grünauer added.
But is it art?
The head of the local Jewish community, Minia Joneck, who lost family members in Nazi death camps, certainly does not think so. She has called for "this monstrosity" to be stopped.
The German-Israeli Society and a local group promoting interfaith dialogue have called the idea "unacceptable" and a "bizarre stunt".
A spokesman for the public prosecutor's office acknowledged there had been "several" complaints but that there would be no investigation into the case.
That is because German law bans the use of symbols of unconstitutional organisations. But that does not apply where art is concerned and because the spectators are considered part of an artistic production they are not breaking German law either.
The controversy comes amid warnings of a rise in anti-Semitism in Germany. In the latest incident, two young men were attacked in Berlin by a man shouting anti-Semitic abuse.