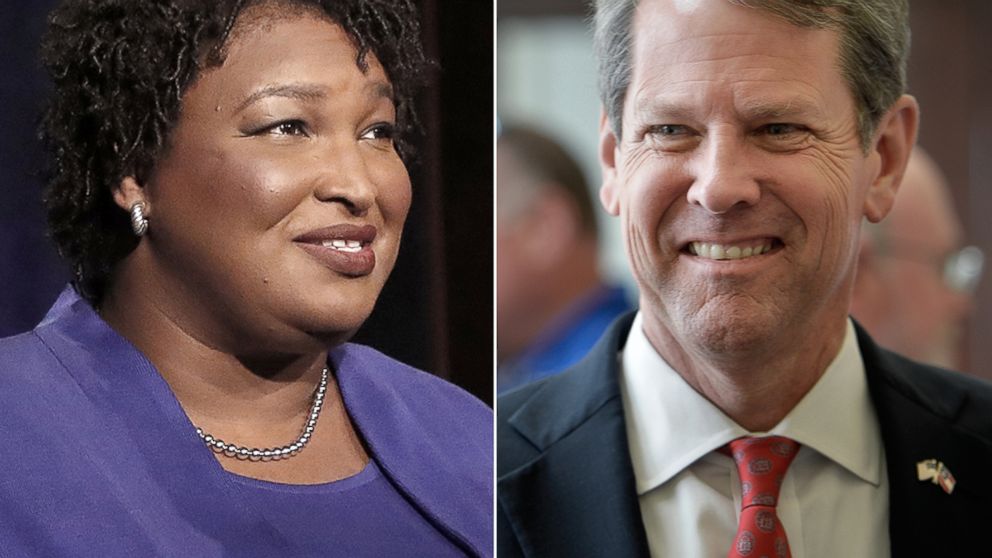 Battles in the courtroom and protests at the state capitol underscore the bitter turmoil plaguing Georgia's gubernatorial election.
Legal victories have buoyed Stacey Abrams' campaign efforts and there is a belief now that enough outstanding ballots exist to force a one-on-one runoff against Republican Brian Kemp.
Kemp resigned from his post as the state's secretary of state last week after he and his party declared victory over Abrams. But two separate rulings from federal judges this week have prohibited his former office from certifying a Kemp victory and declared hundreds of scrutinized ballots as eligible.
#GAGov update: the Stacey Abrams campaign believes there are at least 28,716 outstanding votes.

She needs 18,259 of them to force a recount and 20,595 of them to force a run-off.

The counties in orange have certified their results. Those in green have not finished reporting. pic.twitter.com/8IAHjSWfqB

— Jeffrey Cook (@JeffreyCook) November 13, 2018
One successful case prevents the state from finalizing election results before Friday evening and requires counties to tally thousands of provisional ballots.
Another orders Gwinnett County to accept roughly 400 absentee ballots with errors or omissions in birthdates.
Judge Amy Totenberg of the U.S. District Court in Atlanta wrote in her ruling Monday that the intention by the secretary of state's office to declare Kemp as the governor-elect as soon as Wednesday "appears to suggest the secretary's foregoing of its responsibility to confirm the accuracy of the results prior to final certification, including the assessment of whether serious provisional balloting count issues have been consistently and properly handled."
State Sen. Nikema Williams and about a dozen other demonstrators were detained in the Georgia State Capitol on Tuesday while demanding all absentee and provisional ballots be tallied, according to the Atlanta Journal-Constitution. Authorities said the demonstration was broken up after several warnings because of rules that prohibit chanting or yelling while lawmakers are in session.
http://platform.twitter.com/widgets.js