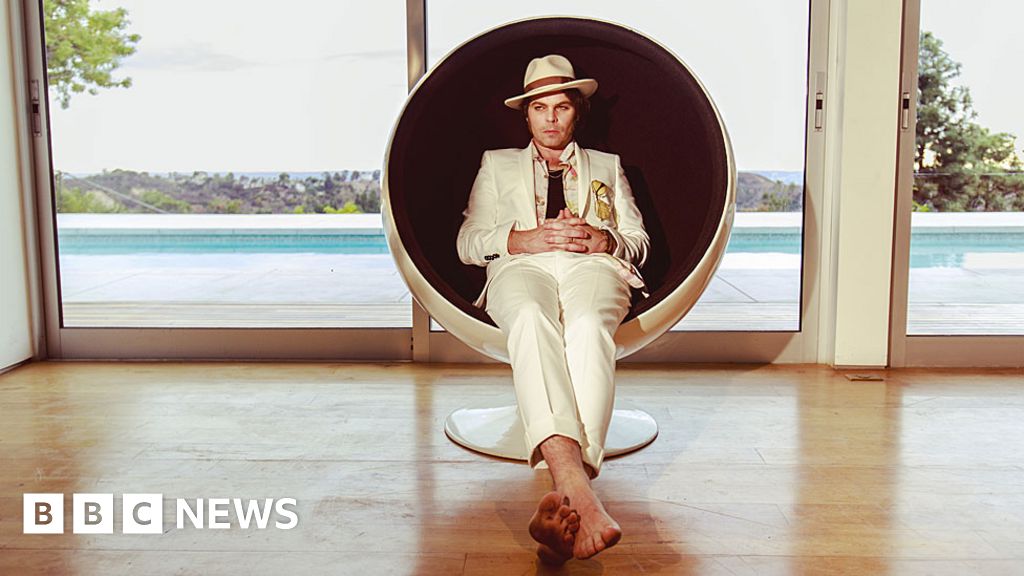 Supergrass singer Gaz Coombes releases World's Strongest Man, his first new music since his Mercury Prize-nominated Matador, and it's addressing issues like masculinity, ego and anxiety attacks.
At first glance, an album called The World's Strongest Man seems to suggest a compendium of tracks from The Rock's greatest hit movies, but rather than being a celebration of all things macho, Oxfordshire singer-songwriter Gaz Coombes has decided to subvert the meaning, instead using it as a jumping off point to address topics like ego, mental health and masculinity.
The title was inspired by artist Grayson Perry's book The Descent of Man and subsequent Channel 4 series, which looked at how modern men are struggling physically and mentally under the traditional notions of manliness.
"I thought that book was amazing and illuminating and really important for men to read in terms of what seems to be an in-built way of being for some young men, to protect their territory and be the hard guy.
"It's just difficult, the world's closed up and shrunk and ultimately we're all just human beings. I try not to separate males and females, I know that it sounds idealistic but I do try to look at it like that.
"At first I liked it in the sense of, what if I was the world's strongest man at being a bit weird and bit rubbish at things? Being the greatest at being not complete, it's hard to explain but then I thought it was great, the irony of these ridiculous alpha males, who dominate and cause chaos for everyone."
Since his last album Matador's release in 2015, the world has changed with the election of Donald Trump, the Me Too movement and Time's Up, and though Coombes says current climates help inform his creative choices, he doesn't want to address them overtly for fear of dating his music.
"It's always a balance, the way I like to write is to observe and soak things up and it's more likely that strange events will creep into lyrics here and there. I like to not get too deeply involved in political statements because they can quite quickly change.
"Music should be an escape for people to interpret in their own way but there are definitely lyrics in the album [where] I can't help but recognise what's going on around me.
"I remember Bowie saying something like, and I'm paraphrasing here, that Dylan could do those poetic political statements but he was was far more into observing and commenting from his own headspace."
One such track is his most recent single Walk the Walk, a bold funk-laden strut of a track, which imagines a dictator pacing around his compound, considering pushing his big red button.
"It's based on anyone from [Pablo] Escobar to the Peaky Blinders to Trump, that kid of male thing, but in a fun caricatured way," says Coombes.
Got a finger on the button / Ready to delete
Coombes admits the song's imagery may have been influenced by Trump's infamous tweet about North Korean leader Kim Jong Un and his "bigger" nuclear button.
"I think the lyric might have come after I read that, it's an example of how things pop in to my head, that's one line in a song as opposed to a whole song but that's how I like to use news stories, don't overkill, just use single lines."
Another track which again tackles the thorny issue of men and their world view and even touches on the nature of extremism is the track Wounded Ego, which sees a choir of children sing the refrain: Wounded egos / Right-wing psychos.
"My friend and producer Ian Davenport (Supergrass, Badly Drawn Boy, Stereophonics), it's his kids' school. He legged it over and recorded it and sent it to me, it was brilliant, he did such a fabulous job."
The children's chorus, says Coombes, was partly inspired by Pink Floyd's Another Brick In The Wall, on which the children of Islington Green School in London famously sang We don't need no education / We don't need no thought control.
"I thought it was beautiful for the kids to sing that lyric commenting on the problem of extremism but presented in more of a musical way. I'm not an expert on the nature of extremism, but like hey teacher / leave those kids alone, when they sing something you don't expect, it's quite a cool and strong message, don't stand for those people who are going to try and walk all over you."
One of the most personal songs on the album is the closing track Weird Dreams, a stream of consciousness which pinpoints in intimate detail the coming on of an anxiety attack, something Coombes admits comes from personal experience.
"The lyrics kind of came on the fly, it's a panic attack, sort of describing the moment when things go a bit weird and it's not right. I'm lucky that I don't have many of them, thank God, but when they do hit… I'm a bit susceptible in that way.
"I just let go on this one and I do find myself shouting those lyrics, I've got to get my ******* head together, that was my way of getting it out I guess."
With musicians' mental health being a conversation at the forefront, following the deaths of artists like Chris Cornell, Chester Bennington and – most recently – Swedish DJ Avicii, Coombes says artists must seek help if they need it.
"A lot of people struggle far worse than me but over the years I've had issues with anxiety and depression. It's a weird line of work man, going on tour for seven months then going home and twiddling your thumbs and adapting back to another another life can be difficult.
"I think it's really important to talk about it, I very much love life and I'm happy and have great kids and love being in music more than I ever have but why not talk about things being tough? It's fine to say when something's difficult."
Coombes points to artists like Van Gogh and Munch who channelled their battles with mental health into great artistic works.
"I love it when I see a painting and think, 'They were going through some stuff then but they gave us this beautiful painting'. I'd love to teach my kids to convey their emotions through art, it doesn't have to be depressing, even talking about dark feelings doesn't have to be depressing, it can be illuminating.
"It just life man, it's dark and light."
World's Strongest Man is out on Friday
Follow us on Facebook, on Twitter @BBCNewsEnts, or on Instagram at bbcnewsents. If you have a story suggestion email entertainment.news@bbc.co.uk.