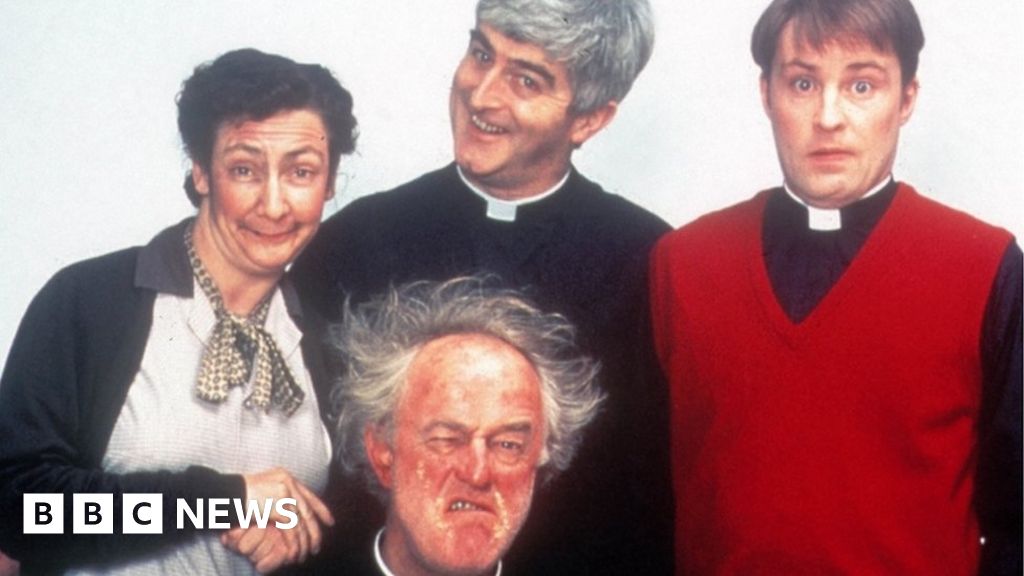 Cult comedy Father Ted is set to return as a musical, its co-creator has confirmed.
Graham Linehan said the show, called Pope Ted: The Father Ted Musical, was almost written.
Fellow writer Arthur Matthews and the Divine Comedy's Neil Hannon, who wrote the show's theme tune and My Lovely Horse, are involved in the project.
Linehan took to Twitter, saying it would be "the real final episode of Father Ted".
Speaking to the BBC, he said: "It's like putting on an old pair of slippers."
The sitcom ran for three series between 1995-98 on Channel 4, and chronicled the escapades of Irish parish priest Father Ted Crilly.
The musical will see Ted move from the fictional Craggy Island to his new role as Pope in the Vatican.
Linehan who also created the IT Crowd and co-created Black Books, said the musical was about "the least qualified man in the world becoming Pope".
Speaking to BBC News, he said: "I didn't want to do anything like this until the right idea came along, and when Trump won and Corbyn won I kind of thought, 'maybe Ted has a chance'.
"I thought it wouldn't be too much of a stretch. Obviously we're pulling some shenanigans to get him into that position, but I think the shenanigans are entertaining enough that people won't mind."
'Down with this sort of thing': The history of Father Ted
Father Ted became a hit in the 1990s, chronicling the life of the eponymous character, the gormless but loveable Father Dougal McGuire, foul-mouthed drunk Father Jack Hackett, and tea-obsessed Mrs Doyle.
Stars Ardal O'Hanlon and Pauline Mclynn went on to enjoy mainstream success. But Dermot Morgan, who played Father Ted, died from a heart attack the day after filming the final episode
Actors, artists and TV personalities who appeared in the show included One Foot In The Grave Star Richard Wilson, Graham Norton, Dervla Kirwan from Ballykissangel, and Altered Images lead singer Clare Grogan
Storylines included Ted kicking Bishop Brennan in the backside, a group of priests getting lost in "Ireland's biggest lingerie section", and Ted trying to become Ireland's Eurovision nomination with the song My Lovely Horse
The co-creator said the team did not know where the musical would debut, but said he was hopeful it would be on stage next year.
It is the first time in 20 years that Linehan and Matthews have returned to the characters from Father Ted.
Linehan said: "You can pull the most ridiculous stunts to get around a plot problem… and it's lovely to be working with Arthur again."