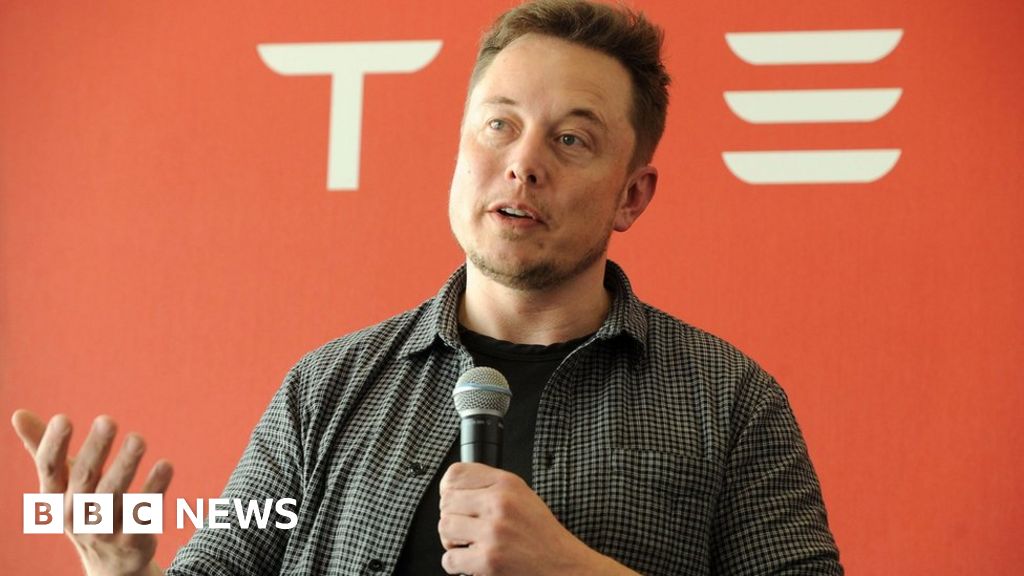 Elon Musk has attempted to explain his controversial tweet about taking Tesla private, saying he was "not on weed" at the time.
The electric carmaker's founder has been facing intense scrutiny about the 7 August tweet which said he wanted to take Tesla private at $420 a share.
He told the New York Times that the price of $420 seemed like "better karma" than $419.
"But I was not on weed, to be clear," he said.
4/20 is an infamous term, more common in the US, that refers to the consumption of cannabis.
The price of $419 would have represented a 20% premium over Tesla's share price at the time.
"It seemed like better karma at $420 than at $419. But I was not on weed, to be clear. Weed is not helpful for productivity. There's a reason for the word 'stoned'. You just sit there like a stone on weed," Mr Musk, 47, told the paper.
His tweet sparked a sharp rally in Tesla's share price, but has also prompted scrutiny. The stock closed at $335.45 in New York on Thursday.
Fox News has reported that the US Securities and Exchange Commission (SEC) had sent subpoenas to the electric carmaker and was "ramping up" its investigation into the tweet.
Mr Musk also said he sent the tweet while driving in a Tesla Model S to the airport and that he did not regret sending it.
'No sleep, or Ambien'
He also told the New York Times that friends had expressed concern that he was exhausted after working 120 hour weeks: "This past year has been the most difficult and painful year of my career. It was excruciating."
The company is facing pressure to increase production of its Model 3 car and in May Mr Musk stopped one analyst during a results call by saying "boring bonehead questions are not cool".
The paper reported that at times during the interview he stopped speaking, seemingly overcome by emotion – and that he spent the full 24 hours of his birthday on 28 June working. "All night – no friends, nothing," Mr Musk said.
The company is also facing legal actions about its business practices. In the latest complaint, a former employee at its Nevada battery factory filed a whistleblower complaint with the SEC accusing the company of spying on employees.
Tesla said it had taken the complaints by Karl Hansen seriously but after investigating had failed to substantiate them.
In the New York Times interview, Mr Musk said that he took the sedative Ambien to help him sleep when he was not working: "It is often a choice of no sleep, or Ambien."
According to the New York Times his use of the drug has concerned some board members, who wonder if it affects his late night tweets.
In May Roseanne Barr blamed Ambien for her tweet that likened Valerie Jarrett, an African-American former aide to Barack Obama, to an ape.
'They can have the job'
Tesla's directors said: "There have been many false and irresponsible rumours in the press about the discussions of the Tesla board. We would like to make clear that Elon's commitment and dedication to Tesla is obvious.
"Over the past 15 years, Elon's leadership of the Tesla team has caused Tesla to grow from a small start-up to having hundreds of thousands of cars on the road that customers love, employing tens of thousands of people around the world, and creating significant shareholder value in the process."
The statement was issued by the board members, excluding Mr Musk, who controls about a fifth of Tesla shares.
The board has set up a committee to evaluate any take-private proposal from Mr Musk, who has said that he discussed funding a deal with the Saudi Arabian sovereign wealth fund.
The New York Times reported that Mr Musk did not intend to separate the roles of chairman and chief executive, but that a search was underway to recruit a deputy. However, he said there was "no active search" underway.
He added: "If you have anyone who can do a better job, please let me know. They can have the job. Is there someone who can do the job better? They can have the reins right now."