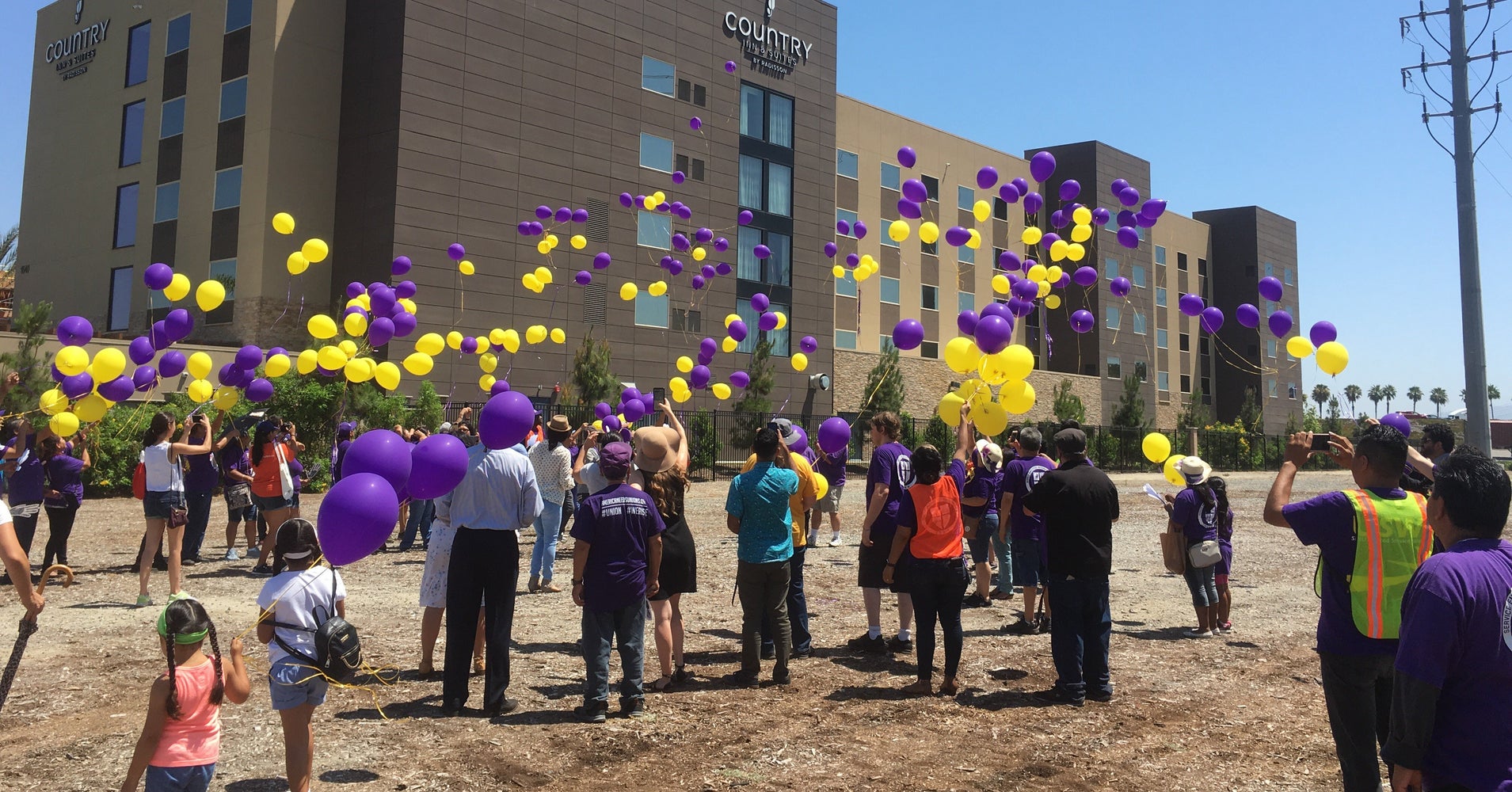 ANAHEIM, Calif. ― There were no fairy-tale princesses or smiling kids in mouse ears at the corner of Clementine Street and Disneyland Way on Tuesday. But there were cautiously optimistic Disney theme park employees, who just hours earlier had called off a protest here over unfair wages in light of a tentative agreement with management.
Tuesday's celebration was the culmination of months of dispute over the contracts of about 9,700 employees, including those who work in the Disneyland and California Adventure theme parks and surrounding restaurants, hotels and shops.
Workers had been gearing up for a four-day demonstration, dubbed Shantyland, which a press release from labor union Service Employees International Union-United Service Workers West described as "an interactive encampment featuring displays that reveal the hard truth about how Disneyland treats employees and helps create poverty and homelessness throughout Orange County and the Anaheim area." Shantyland participants, including custodians, ride operators and restaurant workers, had pledged to fast for the duration of the protest.
But the Master Services Council, a coalition of four unions representing the Disneyland employees, came to a tentative agreement with the Disneyland Resort on Monday evening, one that promises to improve wages and benefits for union members. The news of a tentative deal turned the planned protest into a celebration of months of hard work.
Not all workers are ready to celebrate just yet, however, as the details of the deal are being kept confidential until later this week.
Disney's History Of Underpaying Employees
The approximately 30,000 employees of Disney's flagship resort and theme park say that they are the face of the company but that they aren't often treated as such.
"We're not only an employee, we're a product," said Martin Gonzalez, who's been a Disneyland cast member ― an employee of the Disney parks and stores ― for 18 years. "We deliver the magic to the guests."
Gonzalez commutes an hour each way from his home in Los Angeles and said he lives paycheck to paycheck. "You have to program yourself to say, 'Well, I have to pay my insurance next week, so I have to cut out this and that,'" he said. Sometimes, it's necessities like food that get cut.
Gonzalez said it's important for people outside the Disney organization to understand that workers are struggling. "For such a large corporation, they can do better."
A February 2018 survey that the Disney unions commissioned from the Economic Roundtable, a nonprofit research organization in Los Angeles, and the Urban & Environmental Policy Institute at Occidental College, found that 85 percent of workers are paid less than $15 an hour. More than half earn less than $12. Seventy-four percent of workers said they don't earn enough money to cover basic expenses every month. A living wage for a single adult is considered $13.54 an hour in Los Angeles County and $15.31 in Orange County.
The survey showed 56 percent of employees are worried about being evicted from their homes or apartments, while 11 percent reported they've been homeless at some point in the last two years.
Meanwhile, visitors to the Disneyland Resort and theme park increased from 20.6 million in 2006 to 27.2 million in 2016, and park revenue rose from $1.72 billion to $3.03 billion. In 2018, the park is estimated to generate $3.3 billion in revenue. Disney CEO Bob Iger could earn as much as $423 million over the next four years, according to advisory firm Institutional Shareholder Services.
"I call Disney a bad boyfriend sometimes," said Artemis Bell, a night custodian at Disneyland and one of the bargaining committee members. "I love him, but he doesn't always treat me well."
Wes Jones, an Anaheim resident and member of the Unite Here union, said his daughter,  a 12-year Disneyland veteran, has also suffered the consequences of low pay. "She's lived out of motels," said Jones, noting that his daughter happens to share her birthday with Walt Disney.
The Fight For Higher Wages
Alongside heated contract negotiations with Disney, local unions have also been pushing the city of Anaheim to require better wages for all hourly workers.
Earlier this year, the coalition of unions put forth a petition to require Anaheim businesses that receive subsidies from the city, including Disneyland, to raise the minimum hourly wage from $11 to $15 on Jan. 1, 2019. Under the proposal, hourly wages would increase by $1 each year ― up to $18 by Jan. 1, 2022, with subsequent annual raises equal to 2 percent or the inflation index, whichever is greater.
The ballot initiative caught the attention of Sen. Bernie Sanders (I-Vt.), who joined Disneyland workers, union representatives and other supporters in a roundtable discussion and rally in June. The unions collected more than 20,000 signatures, well beyond the 13,185 needed to qualify for the November ballot in Anaheim.
With the living wage initiative set to go before voters later this year, Disney has undoubtedly felt more pressure to negotiate with unions.
Alejandra Valles, the secretary-treasurer and chief of staff for SEIU-USWW and organizer of the Tuesday demonstration, said much of the progress that's been made is thanks to workers who have broken their silence and overcome shame. She noted the story of Yeweinshet "Weini" Mesfin, a 61-year-old night janitor at Disneyland who had secretly lived out of her car for seven years. Mesfin suffered from heart problems and died in her car on Nov. 30, 2016, just five days after her birthday. Her death pushed more staffers to come forward about working conditions at the park.
"The workers talked about it, got together and said, 'We want to do a four-day fast this week to reveal the Shantyland behind Disneyland,'" said Valles.
Even though there's no official word yet on what the tentative contract agreement entails, Valles sees it as a win. "When workers take action, when workers break through that shame that many of these companies prey on and make them endure because of the economic hardships they have them living under … when workers speak up, they can make a difference," said Valles.
Is Real Change On The Horizon?
Jose Moreno, Anaheim's mayor pro tem and a City Council member representing District 3, said that the tentative agreement is a step forward for the community as a whole.
"We know that when huge corporations pay these poverty wages, it has huge consequences on the quality of life in our neighborhoods," Moreno said. "We [in the community] don't see them simply as workers — we see them as our families."
Not everyone at the demonstration was ready to claim victory, however. Some Disney workers who are close to bargaining committee members noted that there has been a lot of misinformation circulating online about what the deal entails, even though the details of the agreement haven't been made public yet. They're worried that union members won't show up to vote because they assume it's a bad deal.
Jones also pointed out that the deal affects only a portion of workers; of Disneyland's 30,000 employees, only 9,700 are covered under this contract negotiation, according to SEIU-USWW representative Andrew Hagleshaw. An additional 15,000 union employees have a separate bargaining process, and 5,000 workers are non-union.
And union members could still reject the agreement when it goes up for a ratification vote on Thursday.
"Workers have the right to say, 'No, go back to the table,'" said Valles. While the bargaining committee feels good about what they were able to get, she said, "Ultimately, workers will decide."