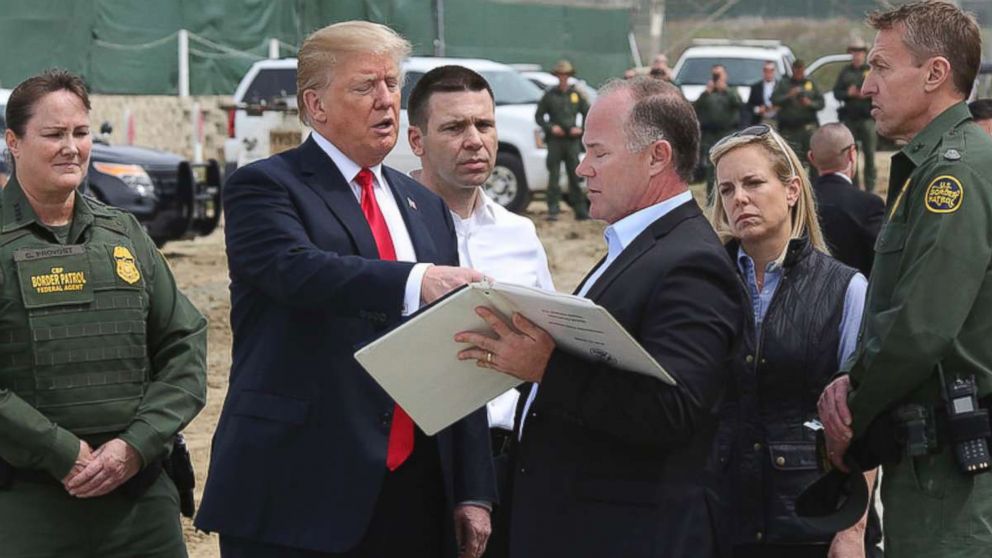 The man overseeing the Border Patrol and the Trump administration's effort to build a "wall" along the U.S.-Mexican border won't say whether he knew anything about a National Guard deployment before President Donald Trump on Tuesday announced plans for "guarding our border with the military."
Interested in
Trump Administration?
Add Trump Administration as an interest to stay up to date on the latest Trump Administration news, video, and analysis from ABC News.
When Trump made the announcement, the Pentagon itself had not drawn up any actual plans to send more military personnel to the border, a U.S. official told ABC News on the day of the announcement.
But in an exclusive interview with ABC News, Customs and Border Protection commissioner Kevin McAleenan still defended the president's move to deploy as many as 4,000 National Guardsmen.
"Having [Defense Department] assets extend our capacity while we're building out additional wall, additional technology, and additional agents is absolutely critical," McAleenan said, noting that the Trump administration feels an "urgency" to "get better at securing that border."
Last month, CBP saw a jump in illegal border crossings, with agents apprehending more than 37,000 people along the Southwest border, up from under 27,000 in both February and January.
The Department of Homeland Security called the uptick a "crisis" that "shows an urgent need to address the ongoing situation at the border" -– even though the latest numbers still represent some of the lowest numbers of illegal crossings in decades.
On Friday, authorities in Arizona and Texas announced that over the next week they each will be sending an additional 150 National Guardsmen to assist Border Patrol agents stationed along their borders.
Each state's troops will work "under the command and control of the governor," but costs associated with the deployments will be covered by the Pentagon, according to the CBP commissioner.
McAleenan said the National Guard "augments and extends our capabilities" in three main areas: air surveillance assets, ground surveillance and office support.
"To interdict someone crossing, the first thing you need to do is detect them -– you need to see where they're crossing and be able to [send] an agent in to respond," McAleenan said.
But the Border Patrol has "a huge gap" in its ability to keep eyes on the border around the clock, he added.
"We need a lot more capability to see what's happening and crossing that border," he added. "National guard extends that capability significantly."
In addition, he said, "We have a lot of border patrol agents doing support functions, sitting in front of a watching for activity for instance. If we can have a national guardsman cover that surveillance function for us, we can get a badge back to the border and enhance our capability to do our law enforcement and immigration enforcement mission."
Thousands of U.S. troops offered that type of assistance when they were deployed to the border in 2010 by President Barack Obama and four years earlier by President George W. Bush.
McAleenan said the possibility of sending more National Guardsmen to the border has been discussed "from the beginning of the administration." But asked when he first learned that the administration had decided to actually implement the option, McAleenan wouldn't answer.
"I'm not going to comment on the timing of internal administration discussions with that level of specificity," he said.
On Tuesday, a U.S. official told ABC News that many military officials were caught off guard to learn the president was even considering the use of the military along the border.
And at the White House the next day, press secretary Sarah Sanders wouldn't say whether the president's actions were in response to a segment he had seen on Fox News Channel, as some have suggested.
McAleenan said Trump has sent "a very clear statement that the status quo is unacceptable."
Echoing Trump, McAleenan said, "We have to get better at security between our ports of entry," and, "We have to address the loopholes and weaknesses in the system."
McAleenan expressed particular concern that "even if a border patrol agent is successful in making the interdiction of someone crossing illegally, that person might not be repatriated to their origin country because of a crowded court system" inside the United States.
Trump "set the right standard: operational control of the border. Zero successful illegal crossings," McAleenan added.
When asked whether it's realistic to achieve zero successful illegal crossings, McAleenan said, "I think it's what we need to strive towards. And we have a lot of room to improve to get there."
Building the so-called "wall" is part of the effort, and as commissioner of CBP, McAleenan oversees it all.
Along the border, there are 278 miles of existing barriers that do the job, but there are another 722 miles that either need barriers replaced or that warrant new construction, according to McAleenan.
However, Congress has only promised CBP enough money to replace or build 150 miles of barriers. And 33 of those miles -– all in the Rio Grande Valley of Texas –- will see new construction where no barrier currently exists.
McAleenan was sworn in as CBP commissioner less than three weeks ago. He had served as acting commissioner since the end of the Obama administration, under which he served as deputy commissioner and in other senior CBP roles.
ABC News' Luis Martinez and Jordyn Phelps contributed to this report.