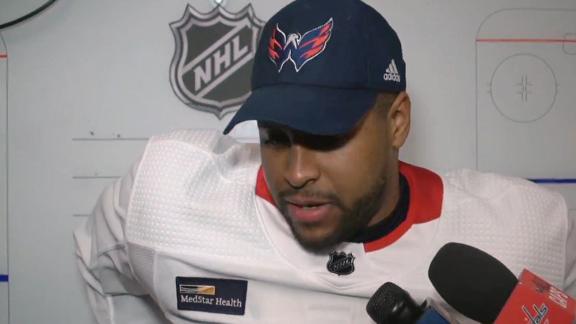 The day after four fans were ejected from the Chicago Blackhawks' game against the Washington Capitals on Saturday night for making racist comments toward Devante Smith-Pelly, the Caps forward said the situation was "sad" and "disgusting."
Smith-Pelly, who is black, was in the penalty box in the third period after a fight with Blackhawks defenseman Connor Murphy. He was seen becoming visibly upset with fans at the glass to his left, at one point grabbing his stick and walking over to tap the glass with it. United Center ushers removed four fans from the game after the incident.
A Capitals spokesperson confirmed to ESPN that the fans were chanting, "basketball, basketball, basketball!" at Smith-Pelly.
"It was a little different from the night before in Minnesota where that guy was just joking around I guess and didn't really cross the line," Smith-Pelly said. "What was said this time around crossed the line, so you can kind of tell from my reaction."
The 25-year-old discussed the situation with his father.
"We've talked about this before," he said. "It's happened in hockey before. It's happened to people we personally know. We've had the conversation. It's just a few ignorant people being idiots, that's it. … He just said it's a few idiots being ignorant."
Smith-Pelly couldn't believe this was happening in 2018.
"It's disgusting. It's sad that in 2018 we're still talking about the same thing, over and over," he said. "It's sad that athletes like myself 30, 40 years ago were standing in the same spot saying the same thing. You'd think there'd be some sort of change or progression but we're still working toward it, I guess, and we're going to keep working toward it."
Smith-Pelly told the Toronto Star in 2017 about an incident when he was playing in his first rookie tournament in Penticton, British Columbia. He was coming off the ice and heard a fan scream, "Go back to playing basketball."
"I guess I … kind of brushed it off," he said Sunday. "But we're at a time right now where you can't brush it under the rug. You got to start calling people out and making sure people see other people's true colors. … I'm trying to get the conversation started and show whoever these people were their true colors."
The Blackhawks issued a statement Saturday night saying: "We were made aware of an incident at tonight's game involving a small group of attendees who made harmful comments directed at Washington Capitals player Devante Smith-Pelly. The fans were immediately removed and we apologize to Smith-Pelly and the Washington Capitals organization. We are committed to providing an inclusive environment for everyone who attends our games and these actions will never be tolerated."
On Sunday, commissioner Gary Bettman released a statement that said the NHL "condemns this unacceptable and reprehensible behavior."
"The League fully supports the actions taken by the United Center and the Blackhawks to eject the offenders and would expect the same response to any similarly unacceptable behavior at any of our arenas," the statement continued.
"While this incident was isolated in nature, no player, coach, official or fan should ever have to endure such abuse at one of our games. The League will take steps to have our clubs remind all stakeholders that they are entitled to enjoy a positive environment — free from unacceptable, inappropriate, disruptive, inconsiderate or unruly behaviors or actions and may not engage in conduct deemed detrimental to that experience."
There are fewer than 30 black players currently on NHL rosters. Smith-Pelly debuted in 2011 and has played 320 games for the Anaheim Ducks, Montreal Canadiens, New Jersey Devils and the Capitals, whom he joined last summer. He has seven goals and nine assists in 54 games.
February is the designated month for the NHL's "Hockey Is For Everyone" promotion, which "uses the game of hockey to drive positive social change and foster more inclusive communities."
Information from ESPN's Greg Wyshynski was used in this report.