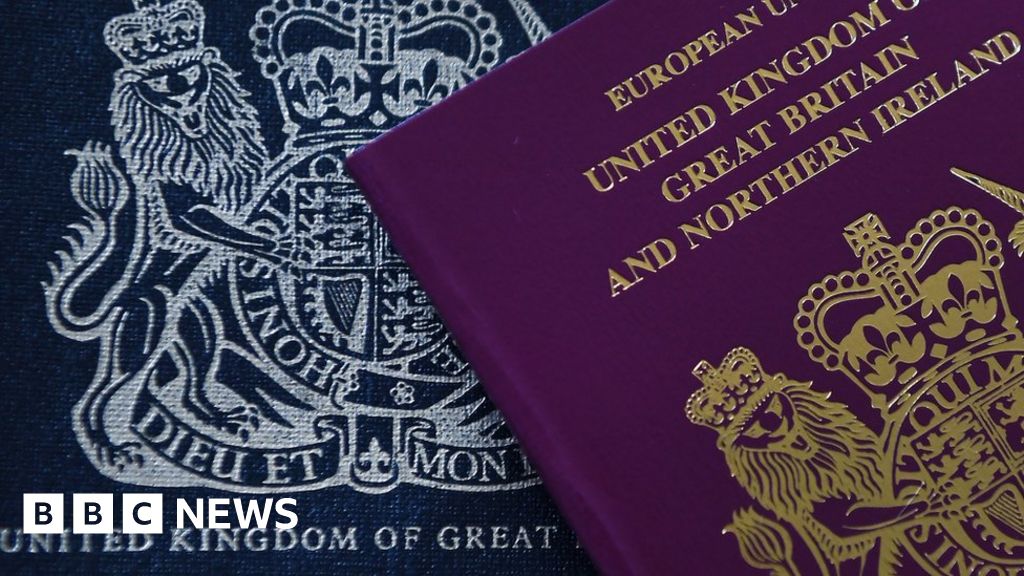 De La Rue has abandoned its plan to appeal against the government's decision to award a contract to make UK passports to a Franco-Dutch company.
The UK firm said that since its announcement on 22 March, it had "considered all options".
De La Rue has also issued a profit warning, saying annual operating income would now be around £60m to £65m.
It blamed £4m in costs for tendering to continue making UK passports, as well as delays in other contracts.
The burgundy passport, in use since 1988, will revert to its original blue and gold colour from October 2019.
Martin Sutherland, chief executive of De La Rue, told the BBC's Today programme that he remained "surprised and disappointed" by the government's decision.
However, he added: "We're a business, we have to make pragmatic business decisions.
"We've done our homework, we've taken legal advice, we've looked at, frankly, the likelihood of overturning the decision and the sensible thing for us to do is to refocus our efforts elsewhere and to move forward."
Mr Sutherland initially called the decision to award the £490m contract to rival Gemalto "shocking" and pledged to appeal.
The government then granted a two-week extension in a process to decide who would make UK passports after Brexit.
That appeal process ended at midnight on Tuesday.
A spokesperson for De La Rue, said: "As we initially announced, we have looked at all possible avenues open to us, and thoroughly evaluated all our options.
"Following four weeks of intense consideration and clear legal advice, we have taken the decision not to challenge the award of the UK passport contract."
De La Rue has held the contract to manufacture British passports since 2009. It claimed that it had been "undercut on price" by Gemalto.
The firm also said it expected operating profit to be below the £70.2m it reported in its previous financial year.
As well as the cost of bidding to make post-Brexit passports, it said there had been "delays in the shipment of certain contracts" in the last week of the financial year.
De La Rue's share price fell by 8.33% to 451p in early stock market trading in London.