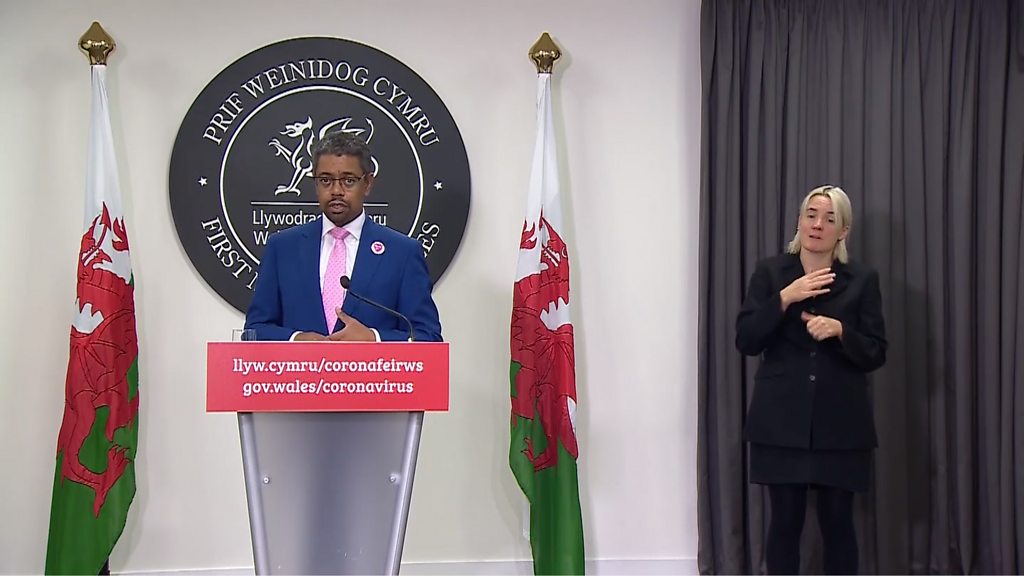 People travelling to Wales from Covid hotspots elsewhere in the UK could face quarantine under measures being considered by the Welsh Government.
It comes after the prime minister said he would not impose a travel ban on people in English lockdown areas.
Health Minister Vaughan Gething said if some English areas were countries Wales "would have quarantine regulations for them".
A senior Tory warned it was a "dangerous slope" for ministers.
It is illegal for people to leave or enter locked down parts of Wales except for a limited set of reasons, like work or education, but a similar law does not exist for areas under local restrictions in England.
It means people in places like Leicester and Bolton can go on holiday elsewhere with people they live with.
Wales' Health Minister Vaughan Gething said the Welsh Government would look at the matter on Monday: "We're actively considering it."
Mr Gething told a Welsh Government press conference ministers were considering how to use powers to protect areas with lower cases.
But he said there was "no good reason" to prevent someone from a low incidence area like Devon from travelling to Pembrokeshire.
"We're having to consider how we use our power to protect lower-prevalence areas of Wales but at the same time, we don't want to take a whole-nation approach," Mr Gething said.
First Minister Mark Drakeford had written to Prime Minister Boris Johnson last week, asking for travel restrictions to prevent people visiting Wales from areas under lockdown in England.
But Mr Johnson told BBC Wales: "We are all one country, people should exercise their common sense."
Mr Gething said it was "disappointing" Mr Johnson did not respond to the letter.
He added that if people travelled from an area like Liverpool there was a risk of "spreading events".
'Dramatic action'
The Conservative health spokesman in the Senedd, Andrew RT Davies, said quarantine restrictions for people travelling to Wales from Covid hotspots in England was a "dangerous slope" for the Welsh Government to go down.
Andrew RT Davies said: "If you start introducing such quarantine restrictions in Wales does that mean then there's a quid pro-quo that England, Scotland and Northern Ireland will start doing the same for Welsh residents?
"There are all sorts of questions to be answered before you even entertain implementing such dramatic action."
Plaid Cymru leader Adam Price said he had called for measures to limit travel with Mark Drakeford for "two weeks running".
"At a time when we need to act quicker and smarter to eliminate the virus, it's regrettable that it took the UK government's negligent dismissal of travel restrictions to bounce the Welsh Government into action," he said.
How are the restrictions different?
In Wales it is illegal to enter or leave the 15 locked-down council areas, and the the town of Llanelli, without a "reasonable excuse". That can include:
For work, if you cannot work from home
For education
To seek medical assistance
To provide or receive emergency assistance
To meet a legal obligation, and to access or receive public services
Travelling through the areas is legal, but breaches can be punished with fines, with a fixed penalty notice of £60 for a first offence.
There is no similar legal restriction in England, although people in areas like Merseyside, Halton and Warrington have been asked to avoid non-essential travel.