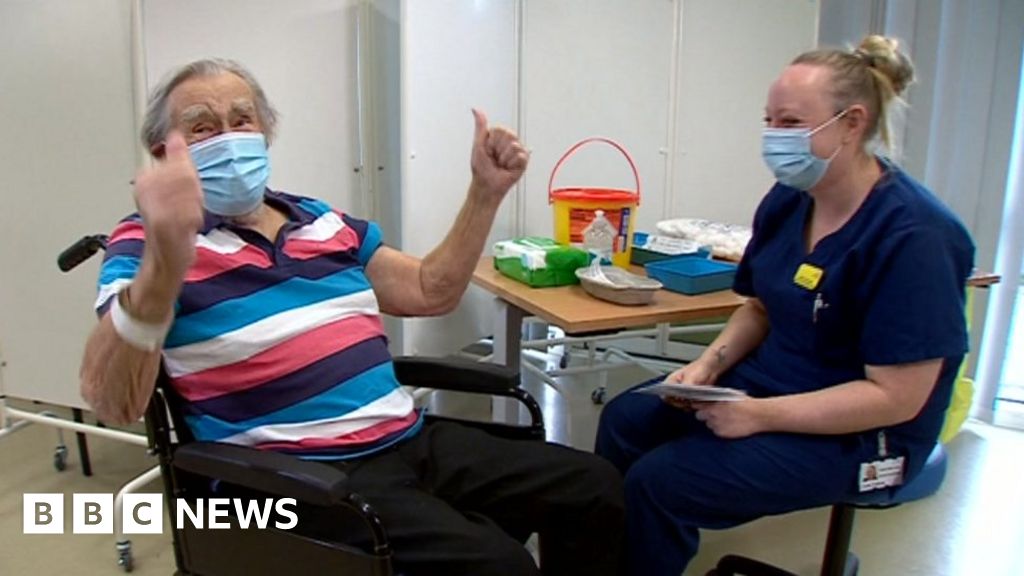 *:not([hidden]):not(style) ~ *:not([hidden]):not(style){margin-top:1rem;}]]>
*:not([hidden]):not(style) ~ *:not([hidden]):not(style){margin-left:0.5rem;}]]>
*:not([hidden]):not(style) ~ *:not([hidden]):not(style){margin-top:1rem;}]]>
Throughout the morning, patients and health workers at some 50 hospitals around the country have had the jab.
'It hasn't sunk in yet'
Grandmother Margaret Keenan initially thought it was a joke when hospital staff told her she would be the first person to get the Pfizer/BioNTech vaccine.
"It hasn't sunk in yet," she said. "At the moment I don't know how I feel, just so strange and so wonderful really."
Ms Keenan, who turns 91 next week, said it was "the best early birthday present I could wish for".
"It means I can finally look forward to spending time with my family and friends in the new year after being on my own for most of the year," she added.
She said she did not mind the media attention and was not nervous about being vaccinated.
"Hopefully it'll help other people come along and do what I did, and try and do the best to get rid of this terrible thing."
'I'll be able to see my great-grandchildren'
Aubrey Bass, from Buckinghamshire, said 2020 had been "the worst year of my life", after his wife died in March.
The 96-year old has been isolating alone since then. "It's been pretty miserable being on my own," he added.
He said he was "terribly excited" to receive a call asking if he wanted to be vaccinated.
"Next year I've got two great-grandchildren coming so I'll be able to go and see them. That's going to be marvellous."
'I don't take this for granted'
Dr Hari Shukla was the first of around 100 people to be vaccinated in Newcastle, along with his wife Ranjan.
"I feel proud that I have had this privilege of participating in this very important activity," he said.
"I don't take this for granted because hundreds of people have worked for this vaccine day and night to make sure we got the vaccines in good time, so the lives of people can be saved."
Dr Shukla was born in Uganda and came to the UK in 1974. He was director of the Tyne and Wear Racial Equality Council, and has been honoured with a CBE and named a Hero of the City of Newcastle for his work in race relations.
He said he wanted to use his position in the community to tell others the vaccine was safe.
"I'm saying go for it. It's very important you have it, it's wonderful and the way it has been produced, all the work they have done, it's the best vaccine you could ever have."
'Hopefully next year we'll be living a normal life'
Jack Vokes, 98, has cancer and has been in hospital for five weeks – but will soon be fit to go home.
He described being the first person to be vaccinated in Bristol as "a bit of excitement".
Mr Vokes lives alone and hopes the vaccine will mean he is able to see more of his family, including his six granddaughters.
"I worry about my family more than me," he said.
"I live in hope that by the middle of next year we'll hopefully be living a normal life."
'Light at the end of the tunnel'
Mick Newell, who works in operating theatres at Salford Royal Infirmary, contracted Covid-19 in February and was quickly admitted to ICU.
"I stayed there for nine days being looked after by my colleagues," he recalled. "It was a pretty scary time."
He said of the NHS vaccination programme: "It's unbelievable, isn't it? There's people been shielding at home since February – this offers them some hope, they can finally see some light at the end of tunnel.
"They'll start going back to a semblance of life and take us into whatever this new normal is."
Mr Newell, 60, said that just because the vaccine is new doesn't mean it should be written off. "We should put our trust in the NHS like we do everyday," he added.
'I'll feel a bit safer'
After getting the vaccine at Derriford Hospital in Plymouth, Kathleen Viney, 81, said she wouldn't be so scared to leave the house.
"It'll mean that I can go out more because at the moment I have been completely confined at home and have hardly any social life at all and now I will feel as though I'm a bit safer," she said.
"It will be nice to go out and have a meal and be able to do some shopping."
Ms Viney was going into the hospital for a cancer check-up and said it took "about two seconds" to make up her mind when she was offered the vaccine.
"It would be very silly not to have it done," she said. "There's nothing to be afraid of."
'This feels like the last hurdle'
Sister Joanna Sloan, a 28-year-old nurse from Dundrum in County Down, said she felt "privileged" to be the first person to receive the vaccine in Northern Ireland.
"This feels like the last hurdle towards keeping people safe, myself and everyone around me," she told the BBC's Good Morning Ulster programme.
Ms Sloan, who will head up the vaccine roll-out in Belfast, had to put her wedding on hold due to the pandemic.
She's now looking forward to telling her five-year-old daughter about having the vaccine.
"I want her to be proud, I want all my family and friends to be proud," she said.