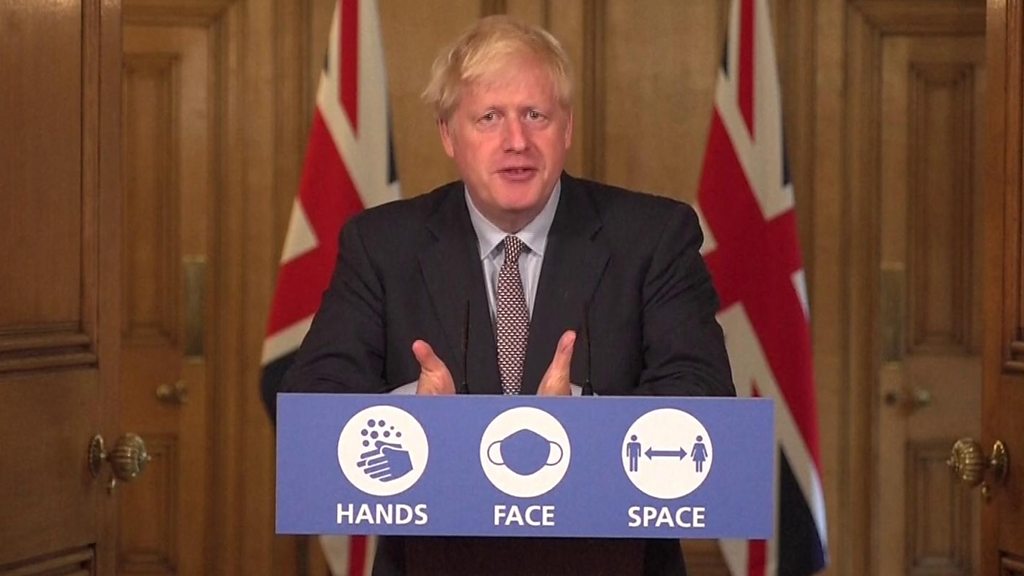 Prime Minister Boris Johnson has said "we must act" to stop the rise in coronavirus cases in England.
He set out a new "rule of six" restricting gatherings to a maximum of six people, enforced with fines or arrests.
Mr Johnson also outlined a "moonshot" plan to control the virus with mass testing.
It comes as the UK reported another 2,659 coronavirus cases, the fourth day running of over 2,000 reported cases.
"I want to be absolutely clear, these measures are not another national lockdown. The whole point of them is to avoid a second national lockdown," Mr Johnson said.
The prime minister said the government was "working hard" to increase testing capacity to 500,000 tests a day by the end of October.
But he said they also want to use new types of test "in the near future" to identify people who do not have coronavirus and are not infectious so they can live life "in a more normal way".
He said these swab or saliva tests could be turned around in 90 or even 20 minutes, with millions processed each day – a "moonshot" effort to restore more normal life even if a vaccine or treatment is not available.
"We're hopeful this approach will be widespread by the spring and if everything comes together it may be possible – even for some of the most difficult sectors like the theatres – to have life much closer to normal before Christmas."
Outlining the new restrictions limiting all gatherings to six people, Mr Johnson said the government was "simplifying and strengthening the rules" after feedback from police and the public.
He said the restrictions would only be in place "as long as necessary".
"I'm sorry about that. I wish we did not have to take this step, but as your prime minister I must do what is necessary to stop the spread of the virus and save lives," he said.