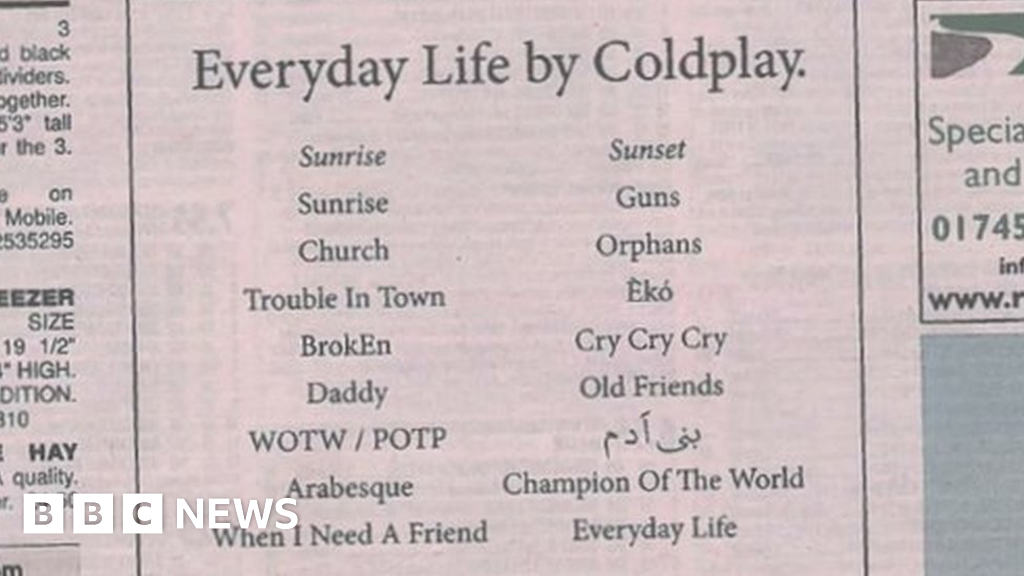 Coldplay have apparently revealed the tracks of their latest album in the classified adverts of a local newspaper.
An advert for Everyday Life sat alongside ones for a fridge-freezer, bales of hay and a divan bed in north Wales' Daily Post.
On Monday the band announced their latest album in a letter to a fan.
Lead guitarist Jonny Buckland, who grew up in Flintshire, tweeted he once had a holiday job at the newspaper.
Editor of the Daily Post, Andy Campbell, said he had been unaware of the advert.
Speaking to BBC Radio Wales Breakfast with Claire Summers, he said: "In editorial, we were blissfully unaware of it until someone phoned us up and pointed it out yesterday…
"To be honest, it's a brilliant bit of marketing by Coldplay, to get everyone talking about their new album and the track listing.
"Maybe someone from the record company, maybe Jonny Buckland himself phoned up the adverts team and placed the advert."
Coldplay are the biggest-selling British band of the 21st Century, with three of the top 20 best-selling albums since 2000, according to the Official Charts Company.
Black-and-white posters appeared in Madrid last week showing the band dressed as a 1920s wedding band, sparking rumours their latest album was on the way.
That was followed by the band's letter to fan Lena Tayara, which she initially dismissed as a hoax.
http://platform.twitter.com/widgets.js