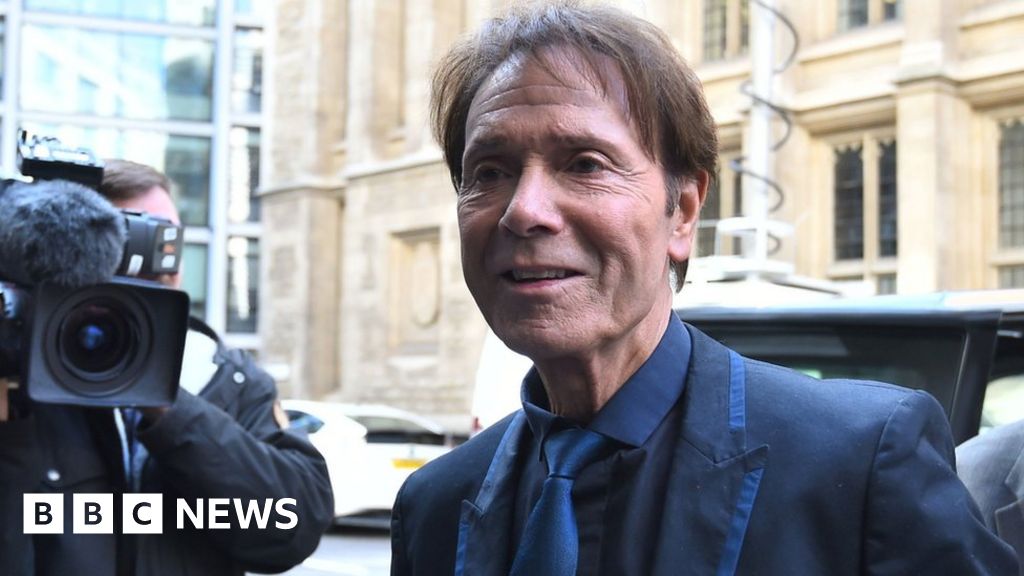 The BBC coverage of a police search at Sir Cliff Richard's Berkshire home allowed "conspiracy theorists and online trolls to have a field day", the singer's privacy case has been told.
Solicitor Gideon Benaim said the South Yorkshire Police inquiry into alleged historical sexual assault would have been shorter than 22 months if the BBC had not reported the way it did.
Sir Cliff was not arrested or charged.
The BBC says it reported on a story of "legitimate public interest".
Giving evidence on the fifth day of the case, Mr Benaim told the High Court the singer's lawyers did their best to "mitigate the damage" caused by the BBC coverage.
'Crisis situations'
He told the court he believed the broadcaster's report of the raid in Sunningdale – which featured shots taken from a helicopter of officers searching the property – caused "online chatter" about Sir Cliff and prompted people to make up "spurious allegations".
"I believe it was as a direct result of the publicity generated by the BBC that various people came out of the woodwork, and those allegations came to nothing eventually," he said.
He added that lawyers from his firm Simkins had become involved in taking action against a potential blackmailer who contacted a newspaper with his claims.
In his witness statement to the court, Mr Benaim said about 13,000 emails were exchanged in total "which highlights the sheer volume of work that this firm undertook for (Sir Cliff) during the period".
Mr Benaim said: "We worked throughout the period alongside Sir Cliff's PR advisers, which is an entirely normal practice and indeed necessary in crisis situations, which is clearly what Sir Cliff found himself in due to the BBC's actions."
The BBC's barrister, Gavin Millar QC, took Mr Benaim through legal fees run up by Sir Cliff. Mr Millar questioned whether certain costs, such as a bill for advice about travelling to the US during the period, were a consequence of the police investigation rather than the BBC's coverage.
Sir Cliff, 77, says he suffered "profound and long-lasting damage" and is suing the BBC over the misuse of private information and breaking data protection rules.
Lawyers for the BBC says its coverage of the search was accurate and in good faith and journalists had respected Sir Cliff's "presumption of innocence".
BBC reporter Dan Johnson, who broke the story about the South Yorkshire Police investigation, is scheduled to give evidence in the afternoon.