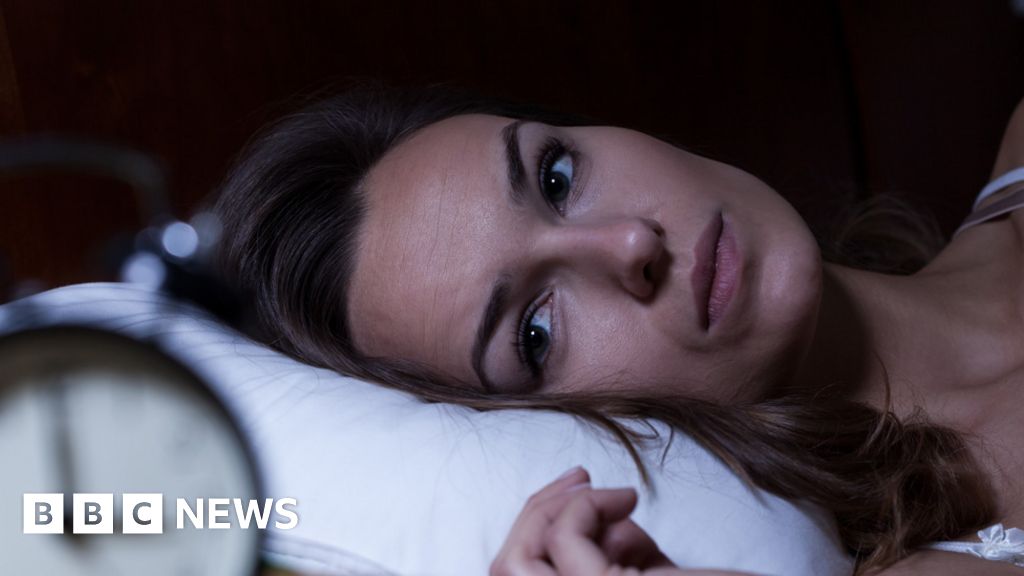 ITV news anchor Tom Bradby is off work, reportedly with "a chronic bout of insomnia".
The 51-year-old newsreader has not been on air for five weeks, apart from a brief appearance announcing the birth of Prince Louis.
ITV News has confirmed Bradby is "off sick" but did not elaborate on his condition.
Insomnia is thought to affect about one third of the general population in the UK.
Continuing sleep deprivation affects everything from our mood and behaviour to our mental and physical wellbeing.
Recognising insomnia
Insomnia is associated with difficulty getting to sleep, frequently waking up in the middle of the night or waking early and being unable to return to sleep.
In 2015, Sex and the City star Kim Cattrall pulled out of a play at London's Royal Court because of her chronic insomnia, which she likened to a three-tonne gorilla.
"I am losing the ability to think clearly… I can't grasp, hold on to ideas, thoughts, even tasks," she wrote in her diary at the time.
A poll of 2,000 British adults, published by the Royal Society for Public Health in 2015, found that people in the UK slept for an average of 6.8 hours.
On average we take 30 minutes to fall asleep.
The NHS recommends adults sleep on average between seven and nine hours every night – though, anecdotally, Winston Churchill, Margaret Thatcher and President Donald Trump are among the world leaders who claim to have got by on just four.
Stress, illness, jet lag, or life changes, such as moving jobs or the arrival of a new baby, can all cause short-term insomnia.
Typically, this can be managed alone and will resolve itself within a month or two.
We've all heard the advice on getting a good night's sleep:
Stick to a bedtime routine
Avoid heavy meals, alcohol and caffeine late in the evening
Don't use electronic gadgets immediately before bedtime
Allow yourself to wind down before bed and sleep in a cool, dark room
Seeking help
So what is the difference between a poor run of sleep and the medical condition, insomnia?
"It's normal for everyone to have disrupted sleep sometimes," says Dr Anna Weighall, a lecturer in psychology at the University of Leeds.
"It becomes chronic when it's most nights, most weeks; when it's affecting interaction with family and friends, and your inability to carry out your job."
According to the NHS, you may be suffering from insomnia if:
Changing your sleeping habits hasn't worked
You've had trouble sleeping for months
Your insomnia is affecting your daily life in a way that makes it hard for you to cope
Dr Neil Stanley, an independent sleep expert, says it's rare for people to take time off because of a poor night's sleep.
In such cases, it could point to stress or an underlying medical condition.
At this stage, he says natural remedies and sleep behavioural recommendations are unlikely to work – and Dr Stanley would recommend visiting the doctor.
"Insomnia that affects your daytime performance is a problem," he told the BBC.
Pills or lifestyle?
Although sleeping pills are common in other countries, GPs in the UK rarely prescribe them to treat insomnia because of concerns over side effects and possible addiction.
Typically, patients with insomnia are referred to a therapist for cognitive behavioural therapy – an eight-week course intended to help the patient "change the thoughts and behaviours that keep you from sleeping".
Ultimately, it may be a question of adapting your lifestyle: moving away from shift work or excessively late working.
"Many UK adults are sleep-deprived thanks to their busy lifestyles – if you are not in bed for 7-8 hours, you can't get 7-8 hours' sleep," reasons Dr Weighall.
But those who "chronically undersleep" – regularly sleeping less than 5 hours – "are more likely to suffer health problems, including weight gain, cardiovascular disease and diabetes," she adds.
Dr Stanley told BBC London: "It's a fact of our modern lifestyle – longer hours [at work], media, internet, taking the TV into bed – people are finding it harder to wind down, relax and switch off."
"We are becoming time-compressed, and the thing that people compress is sleep. People don't take the time to wind down."
"We've told ourselves that the human can be a 24-hour animal, and we can't."
He says long-term insomnia can be hugely debilitating, but "for the vast majority, it's something we are doing to ourselves".
"Sleep is a mystery. At the end of the day there is no magic way to help people go to sleep.
"It's all about the individual."