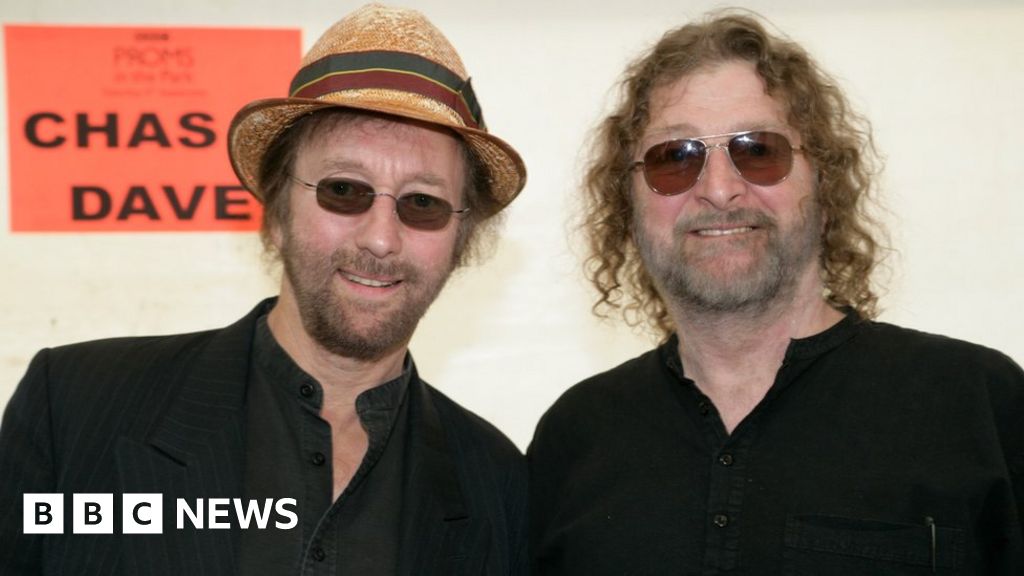 Chas and Dave musician Dave Peacock has paid tribute to his "fabulous mate" Chas Hodges, who died on Saturday aged 74.
"I'm going to miss him terribly," he told BBC News.
Chas recently received treatment for oesophageal cancer but died peacefully in his sleep.
Known for their rock and cockney style, Chas and Dave enjoyed the height of their fame in the 1970s and 1980s with hits such as Rabbit and Snooker Loopy.
The pair have been friends for more than 50 years, forming the band in the 1970s.
Dave told BBC News he would remember the pianist, guitarist and vocalist as a "fabulous musician and a fabulous mate".
"All he wanted to do was play music. He just couldn't stop, even when he was eating his dinner he'd be humming a tune," he said.
"When he was having chemotherapy they couldn't believe it – he even wrote a song while he was having chemotherapy in the hospital."
The guitarist said he was still in a "bit of a daze" after hearing of Chas's death.
"I always say to people Chas and Dave ain't just a band, it's a way of life and I'm going to miss him terribly," he said.
"He was there for me when my wife died. He's always been fantastic. He's always been there."
Chas and Dave's debut album One Fing 'n' Anuvver, featuring Chas on lead vocals, was released in 1975 and they went on to have eight UK top 40 hits.
They also appeared in adverts for Courage beer and Heinz Baked Beans.
In their website biography, the duo said they recorded "witty songs about life in London, performed with a strong affection for all things English reminiscent of many of the great music hall artists many years previously".
Dave said he felt the duo proved the "doubters" who thought they were just a "pub band" wrong, going on to play worldwide and feature on the 2005 Glastonbury line-up.
"[Chas] used to say to me years ago, 'They'll only recognise us when we're dead, that's when they'll cotton on to us," he said.
"A lot of people don't really get us, what we are. They just think it's down the old pub, 'Knees Up Mother Brown'. It's not. There's a lot more to Chas and Dave's music than that."
He continued: "We decided to sing in our own accents as opposed to false American ones, which no one was doing at the time, and some record companies said that would never sell north of Watford. But America, Australia, Scotland – they love us."
Chas and Dave's greatest hits
Gertcha – No 20 in the UK chart in May 1979
Rabbit – No 8 in Nov 1980
Ossie's Dream – No 5 in May 1981 (with Spurs squad)
Stars Over 45 – No 21 in Dec 1981
Ain't No Pleasing You – No 2 in March 1982
Tottenham Tottenham – No 19 in May 1982 (with Spurs squad)
Snooker Loopy – No 6 in May 1986 (with Matchroom Mob)
http://platform.twitter.com/widgets.js