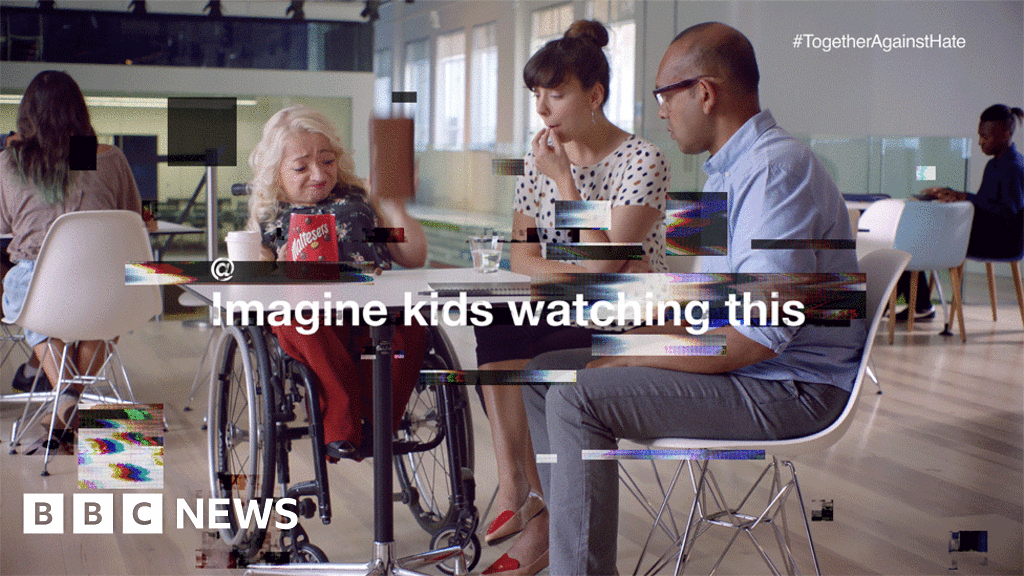 Channel 4 is to broadcast adverts overlaid with the abuse that has been directed at the people who feature in them.
The people in the ads by Nationwide, McCain and Maltesers were subjected to abusive tweets because they were black, gay or disabled.
The companies and Channel 4 say they want to highlight the issue of online abuse.
The ads will be aired in the commercial break for Gogglebox on Friday night.
It will be introduced as a "thought provoking ad break" and warns the "real comments" about "real people" in the adverts "may shock you".
A statement from Channel 4 says as a channel "we stand up for diversity and inclusion", adding: "If face-to-face abuse is not tolerated in our society is it right that it's tolerated online?".
Those appearing in the adverts have backed the campaign.
'Important conversation'
Actress Samantha Renke who appeared in a Maltesers advert in her wheelchair received comments online including "normal humans walk on two legs".
She admits she was "shocked and upset by the comments".
"However, I am not by any means naïve to the world of trolling or online bullying. Any minority or group with something to say is subject to online abuse.
"For me, I've never had people come up and say horrible things to my face, but the internet gives people anonymity.
"This Channel 4 initiative is sparking an important conversation and reminding us that we need to call out those who think it's acceptable to hide behind a screen."
Lee Camozzi and Mat Samuels who are parents who appeared in a McCain advert said they were "delighted" to appear in the original advert, because "it's rare to see advertising which represents our family dynamic, but it was awful to receive such horrible comments".
"Regardless, we remain proud to be part of an advertisement that celebrates families, whatever form they come in and we're committed to highlighting the problem of online hate speech, alongside Channel 4."
Nationwide's Voices campaign, which used poets and comedians is one of the featured adverts. The campaign hit the headlines when Duo Flo and Joan who appeared in one of the ads revealed they had received death threats.
Sara Bennison, Nationwide's Chief Marketing Officer, said "it's time that we stand up to hate".
She hopes the new ads "will highlight a growing societal problem where an increasing number of people appear to believe that posting hate speech and threats online is acceptable."
Follow us on Facebook, on Twitter @BBCNewsEnts, or on Instagram at bbcnewsents. If you have a story suggestion email entertainment.news@bbc.co.uk.
http://platform.twitter.com/widgets.js