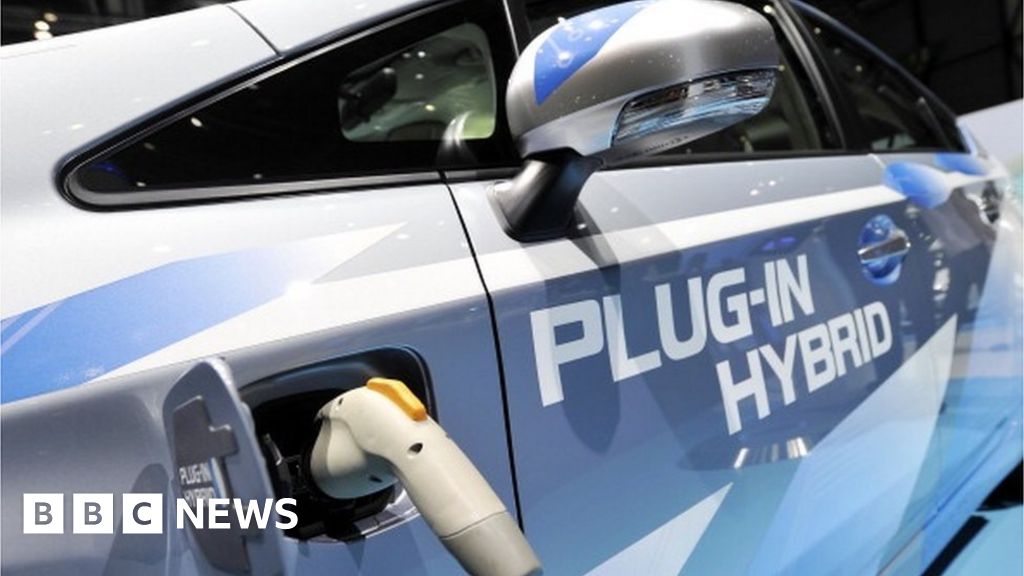 The UK's car industry has hit out at the government over unconfirmed reports ministers will target hybrid vehicles as part of a new emissions crackdown.
New cars unable to do at least 50 miles on electric power may be banned by 2040, a ruling that would hit the UK's best-selling hybrid, Toyota's Prius.
The SMMT car trade body said "misleading" government messages were damaging the industry.
In a short statement, the Department of Transport denied it would ban hybrids.
The Financial Times and Autocar said that the government's Road to Zero car emissions strategy was due to be unveiled imminently.
It follow last year's announcement by the government that it would ban the sale of all new diesel and petrol cars in the UK by 2040. But the position on electrified models was unclear, and Road to Zero is due to clarify the situation.
The FT and Autocar reported that vehicles which could not travel at least 50 miles using only electric power would be outlawed.
Along with the bans on new petrol and diesel cars from 2040, that would affect 98% of the vehicles currently on Britain's roads, including the popular Prius, which like most plug-in hybrids on sale typically offer 30 miles of zero-emissions travel.
The Prius would no longer be classified as "environmentally friendly".
'Wreaking havoc'
Mike Hawes, chief executive of the Society of Motor Manufacturers and Traders, said the industry was becoming increasingly concerned.
He criticised the lack of clarity over the government's plans.
"Unrealistic targets and misleading messaging on bans will only undermine our efforts to realise this future, confusing consumers and wreaking havoc on the new car market and the thousands of jobs it supports," Mr Hawes aid.
He said the industry shares the government's goal of zero emission transport and was investing billions of pounds in new technologies and offering greater consumer choice.
But he added: "We cannot support ambition levels which do not appreciate how industry, the consumer or the market operate and which are based neither on fact nor substance.
"Consumers need clear information about the right vehicles for their driving needs and it is again disappointing for both industry and consumers that vitally important information about government policy is being communicated by leaks."
By Theo Leggett, BBC business correspondent
If the government really is planning to include hybrids as part of its 2040 ban on sales of petrol and diesel cars, it makes that policy much more ambitious – and potentially much more of a headache for the industry.
By 2040, it is reasonable to assume that nearly all cars will be hybridised in some way, because of ever tightening emissions legislation. That makes a ban that only covers conventional, non-hybridised cars likely to be pretty irrelevant.
But if the government stipulates that all cars must be able to travel at least 50 miles on electric power, then a whole swathe of current machines will be outlawed. Even the performance of most so-called plug-in hybrids, which can already travel at least some distance on battery power, will not be good enough.
That means a lot more investment will be needed, both to make cars more efficient, and to beef up charging infrastructure. And car buyers will need to be encouraged to buy the right vehicles.
The proposed ban might be 22 years away – but arguments over who pays for what are likely to begin raging sooner rather than later.
A Department for Transport (DfT) spokesperson said: "It is categorically untrue that government is planning to ban the sale of hybrid cars in the UK by 2040."
The DfT added: "We do not comment on leaked draft documents. The Road to Zero Strategy is yet to be finalised and has not been agreed by ministers."
But Autocar's editorial director Jim Holder accused the government of failing to provide "any clarity of how it will support the ban" through purchase incentives and the creation of a suitable charging infrastructure.
"By imposing a ban with so little detail or evidence of support car buyers are likely to be confused once again," he told the Press Association.