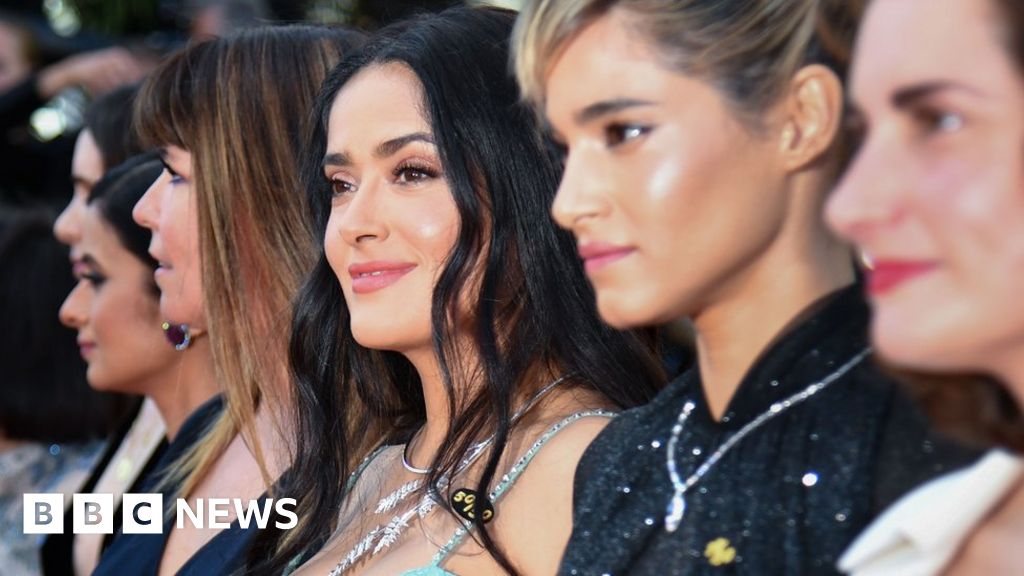 Salma Hayek has called on male stars to take pay cuts in the name of equality.
"Time's up," the Mexican actress said. "You had a good run but it is time now to be generous with the actresses."
Hayek said inflated fees demanded by some leading actors, whom she did not name, could mean there was less money left for their female co-stars.
Speaking at the Cannes Film Festival, she said "it is not just the producers" who have to change if the huge pay gap is to be closed. "It is actors too."
Unless they made sacrifices, she said, "it is going to be hard for equality".
Hayek – who now goes by her married name, Salma Hayek Pinault – was among 82 women who took part in a red carpet protest on Saturday.
The 51-year-old said the protest, against female underrepresentation at Cannes and beyond, had been "very meaningful… as a woman [who] has had to go through all the struggles that all women have to go through".
The Desperado and Frida star said her fellow actresses should be "both impatient and patient and continue the pressure" against gender inequality.
"We should have been angrier sooner," she continued. "We should have come together sooner, because that's what's made the difference."
---
More from Cannes:
---
Speaking about pay, she said: "If actors ask such inflated fees it will leave nothing for actresses.
"If the movie's budget is $10m, the actor has to understand that if he is making $9.7m, it is going to be hard for equality. Otherwise they will kill the movie."
During a career talk at the festival, she also said the current backlash against sexual harassment in the film industry meant "men are terrified".
"The predators are hiding," she continued. "You feel this very palpable atmosphere."
Hayek is one of a raft of actresses who have made sexual misconduct allegations against the disgraced movie mogul Harvey Weinstein.
The producer has denied all allegations of "non-consensual sex" and has disputed Hayek's account.
An 'exciting time' for men
The actress said she was "shocked" to discover how much of the producer's alleged impropriety had been hushed up.
"But they were all covering up for each other," she claimed. "If somebody talked, they would cover it up somehow."
According to Hayek, however, it is not just women who have suffered as a consequence of powerful men abusing their positions.
"A lot of beautiful, peaceful men have been the victims of the bullying of men," she declared, saying it was "an exciting time" for men in Hollywood.
"Men have the opportunity to rethink what it means to be a man, and with this comes a lot of freedom."
Hayek is the second prominent actress to take part in a Women in Motion discussion at the Cannes Film Festival.
Earlier this week Carey Mulligan also addressed gender inequity, revealing she had felt too lucky as a young actress to ask whether she was receiving the same fee as her male counterparts.
Later on Sunday, Wonder Woman director Patty Jenkins will receive a special award from the initiative, which annually stages talks by leading women in Hollywood.
---
Follow us on Facebook, on Twitter @BBCNewsEnts, or on Instagram at bbcnewsents. If you have a story suggestion email entertainment.news@bbc.co.uk.