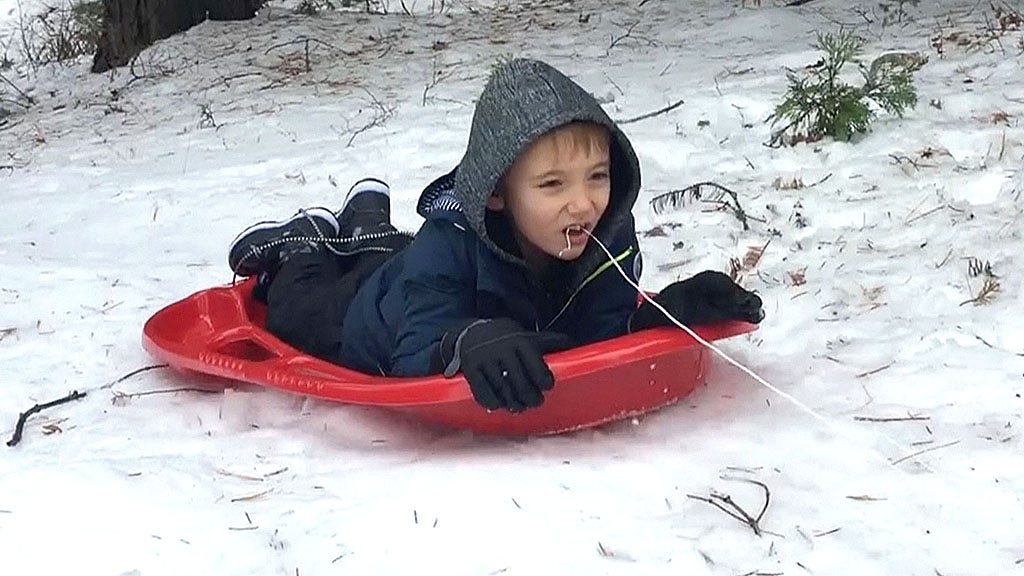 Kids will try just about anything to get a visit from the tooth fairy, but one boy in California is going viral for his innovative sled trick. Atticus Chandler, of Shaver Lake, decided last month that the best way to yank his loose tooth out would be tying it to a string held by his dad while he took off down a slope on a sled.
The 6-year-old's dad, Nick, told Caters News that his son came up with the idea after also exploring the possibility of using a remote control car or a ceiling fan. Atticus' parents captured the creative idea, which was then posted to YouTube.
DOCTORS PULL PIN FROM GIRL'S STOMACH AFTER SHE ACCIDENTALLY SWALLOWED IT WHILE TALKING
Clad in his snow pants and boots with a crowd of onlookers nearby, Atticus takes off down the snowy hill feet-first, on his stomach, while his dad holds the string. His tooth pops out to an eruption of cheers.
MOM REPORTEDLY TOLD SHE WAS HAVING TWINS WHILE IN LABOR
"Did it hurt?" his dad asked. "A little," he responds.
Atticus then walks back up the hill and shows off his new smile while checking out the tooth and gives his dad a high-five.
CLICK HERE TO GET THE FOX NEWS APP
According to the American Dental Association, kids typically begin losing their teeth around age 6, beginning with the central incisors, located on the bottom row of teeth. Children typically lose their last baby tooth at around age 12. The ADA recommends using a tissue to wriggle a child's loose tooth free.