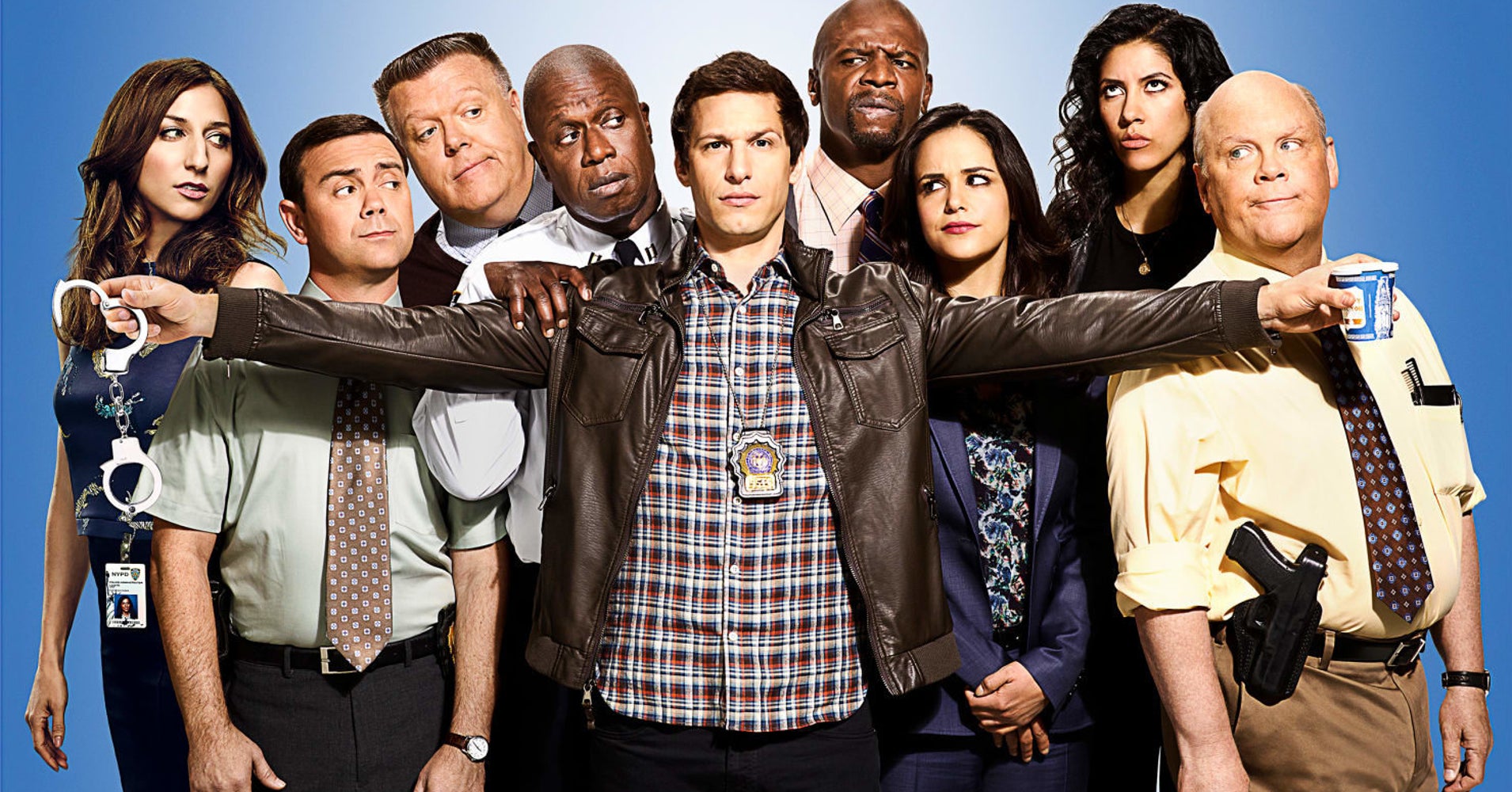 The Golden Globe-winning comedy was set in the NYPD's 99th Precinct and starred Andy Samberg, Stephanie Beatriz, Dirk Blocker, Andre Braugher, Terry Crews, Melissa Fumero, Joe Lo Truglio, Joel McKinnon Miller and Chelsea Peretti.
It also gave us GIFs like this:
And most important, lots of shots of Crews doing this: 
The show was undeniably funny, and its fans were absolutely devastated, causing "Brooklyn Nine-Nine" and the hashtag #Brooklyn99 to trend on Twitter as soon as news broke.
Brooklyn Nine-Nine dealt with homophobia in the police force and in general, bisexuality, biphobia, racial profiling, has a diverse cast of people who don't play into stereotypes, and so much more.

This show deserved better. #Brooklyn99

— Denizcan James (@MrFilmkritik) May 10, 2018
RENEW BROOKLYN NINE NINE
I ONLY WATCH LIKE 4 THINGS
THIS IS ONE OF THE THINGS#RenewB99

— Lin-Manuel Miranda (@Lin_Manuel) May 10, 2018
Hi for whom can I write a tribute to Brooklyn 99 for giving us a controlling perfectionist overachieving type-A woman and loving her for it??

— ✨? Jaime Green ?✨ (@jaimealyse) May 10, 2018
"over too soon" title of brooklyn nine nine's sex tape #RenewB99

— zacharie #renewb99 (@akmazian) May 10, 2018
Entourage lasted longer than Brooklyn 99. No justice, no peace

— Siddhant Adlakha (@SidizenKane) May 10, 2018
If nothing else, I hope every producer, writer, actor, crew member, etc who worked on Brooklyn Nine-Nine looks at Twitter today and sees how DEEPLY loved their show is, and that the work they've been doing had an impact. It means a lot to a lot of people. It's taken over my TL.

— A.B. (@AlannaBennett) May 10, 2018
Stars from the show and producer Dan Goor also mourned and thanked fans for all the love.
Wow. Thank you all for this incredible outpouring of support. #brooklyn99 fans are the best fans in the world. It means the world to me and everyone else who works on the show.

— Dan Goor (@djgoor) May 10, 2018
Variety confirmed that the network canceled "The Last Man on Earth" and "The Mick" as well.