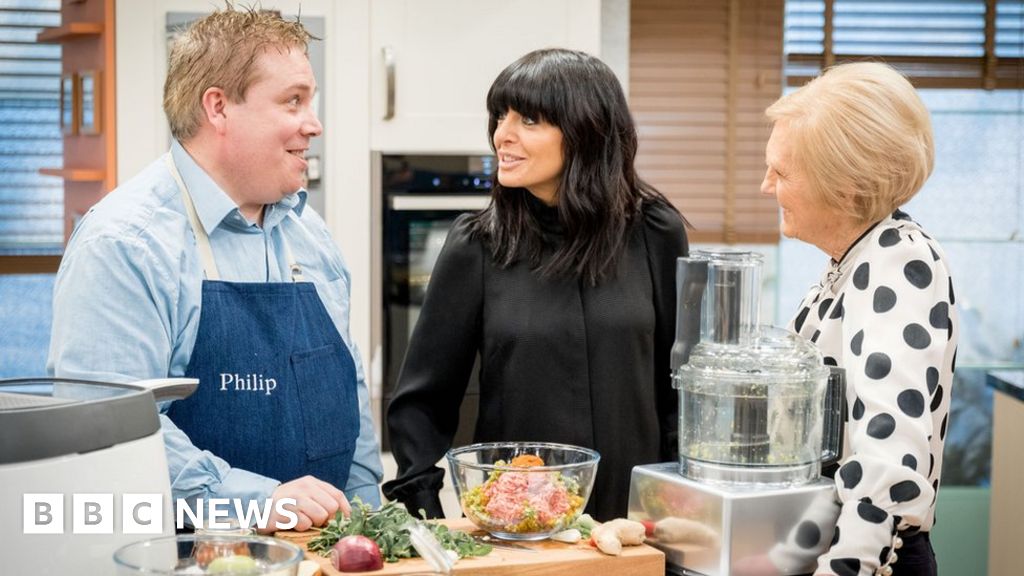 The first episode of BBC One's new food show, Britain's Best Home Cook, has received mixed reviews from critics.
The series is presented by Claudia Winkleman and sees Mary Berry take on the role of head judge.
An average of 2.9 million viewers watched the first episode, compared with the five million who watched ITV's Emmerdale in the same timeslot.
The Daily Telegraph described Britain's Best Home Cook as "an overegged attempt to recreate Bake Off's glory days".
"It was as if the creators had thrown a handful of existing hits into a blender, then poured the resultant mush onto our screens," wrote Michael Hogan in his two-star review.
"The format was MasterChef meets Bake Off. The cooks shared a house like a culinary take on The Apprentice or a better-fed Big Brother. Winkleman's presence even gave it a whiff of Strictly Come Dancing.
"Berry, as judge, was flanked by a MasterChef-esque pair of shouty young geezers: chef Dan Doherty and produce expert Chris Bavin (basically Gregg Wallace with hair). Three judges felt too many, with the trio frequently jostling to have their say."
Frances Taylor of the Radio Times said: "Just when you think the cooking-come-reality TV show format has been squeezed to a pulp, up pops Britain's Best Home Cook."
But, she added, the episode got better as it went on.
"It's in the final 10 minutes when things finally heat up," she said.
"It's just a shame that after a bland main, it's only the final segment that delivers such a tasty and spicy kick. I'm not sure I'll be back next week for seconds."
Writing in Digital Spy, Nicola Angus was more positive: "All in all, if you were a fan of The Great British Bake Off in its glory days, Britain's Best Home Cook will tick all your boxes and then some."
She also praised Winkleman, who, she said, "has all the wit, playfulness and comedy of [former Bake Off hosts] Mel Giedroyc and Sue Perkins put together.
"And although she doesn't have a co-host to bounce off of, it doesn't matter – as Queen Mary has unintentionally become her partner in crime."
She added: "We obviously don't need to explain why inviting Mary on the show was a great idea, but Chris and Dan? Let's just say that was also a very smart move. These two are warm, friendly and it's clear they want to give constructive criticism rather than humiliate."
Carol Midgley gave the show three stars in her review for The Times.
"Britain's Best Home Cook won't win any prizes for originality being the bastard child of Masterchef and The Apprentice, but it does have the quality presence of Mary Berry and Claudia Winkleman, so it should be OK.
'Glad to have Mary back'
"The two male judges were perfectly nice, but were kind of eclipsed by the two female presenters. Like I said, not much new to see here, but it's jolly and will probably do well."
But BuzzFeed's Scott Bryan urged viewers to return next week, commenting that the show improves as the series goes on.
"The first one sets it all up and the second episode is where it really gets going," he said on Twitter. "The format is a bit ridiculous and complicated but stick with it."
Viewers mostly reacted well to the show on social media, with many particularly welcoming the return of Mary Berry to their screens.
"Well it's no Bake Off but I enjoyed #BritainsBestHomeCook. And Bake Off took a while to take off," Roz tweeted.
"Fabulous to have Mary Berry back doing what she does best," said Kerry, while Sean wrote: "So glad to have Mary Berry back on my TV," another said.
Follow us on Facebook, on Twitter @BBCNewsEnts, or on Instagram at bbcnewsents. If you have a story suggestion email entertainment.news@bbc.co.uk.