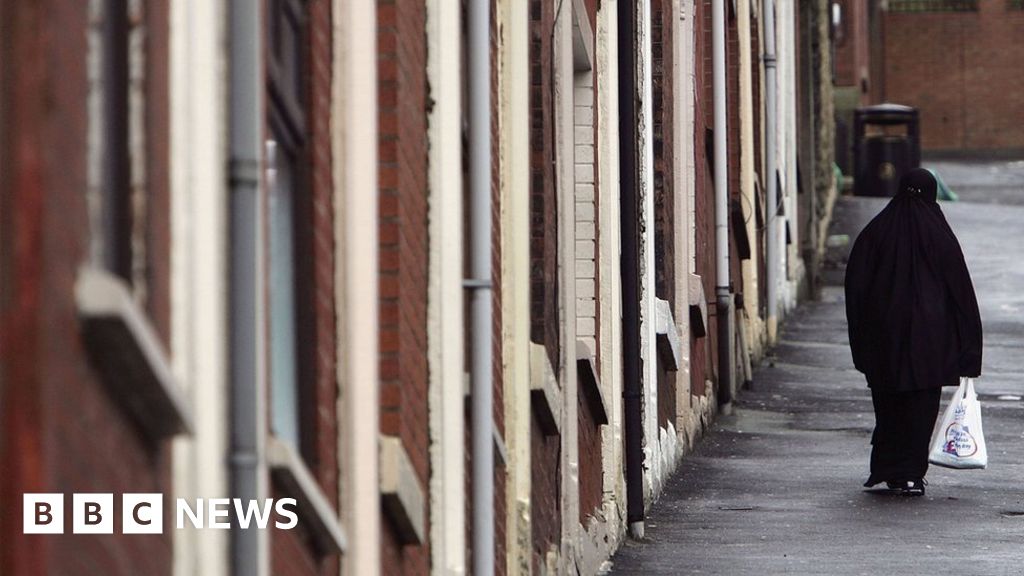 Blackburn with Darwen is facing a "rising tide" of coronavirus cases centred on terraced houses with high numbers of occupants, the area's public health director has said.
The Lancashire town brought in extra restrictions on Tuesday following a spike in infections.
Prof Dominic Harrison said the majority of new cases were in the south Asian community.
He said a phased lockdown could happen if the rise was not halted by 27 July.
For the next month, the 148,000 people who live within the Lancashire authority have been told to observe the new rules in a bid to avoid a Leicester-style local lockdown.
However, Blackburn with Darwen's public health director Prof Harrison said they would "reverse the measures one by one not a full lockdown like Leicester".
The new measures include tighter limits on visitors from another household, and officials have called on people to bump elbows in place of handshakes and hugs.
Residents are being told to wear cloth face coverings in all enclosed public spaces, including workplaces, libraries, museums, health centres and hair and beauty salons.
"We have we had 114 cases in the last two weeks and 97 are south Asian which is why we want to minimise household contact," Prof Harrison said.
"What we are seeing from looking at the postcode data in the last two weeks is a single house being infected and and the whole household becoming infected creating household clusters in part of the town."
He said it was causing "rising tide events that they are mainly in south Asian areas and areas with a high number of terraced houses and occupied by four or more five people".
Faz Patel MBE, who is a local adviser on community cohesion in Blackburn, said he was worried young people were ignoring advice on social distancing.
"What is happening since the easing of lockdown, we are seeing a lot of young Asian men and other young people spending time with their friends and going to their homes where they might spread the virus to their parents or grandparents," he said.
"We have to get the message out we can't go into another lockdown that would have a detrimental effect on our local area.
"It is going to be difficult – people started going to see their families last week but we have to stick to the new measures. People have got to understand no hugs or handshakes even though it is part of our culture."
How Blackburn with Darwen compares
Figures show Blackburn with Darwen recorded 47 new cases per 100,000 in the week ending Saturday, up from 31.6 the previous week.
In Leicester, where a local lockdown has been imposed, the rate has risen from 115 per 100,000 to 118 over the same period.
But this is still down from 152.2 in the seven days to 27 June.
Based on figures released on Tuesday, Pendle in Lancashire currently has England's second-highest rate of new cases for the week, rising from 14.2 per 100,000 to 76.6 in the week to 11 July.
Data obtained via NHS dashboard
Health Secretary Matt Hancock welcomed the extra measures and said Blackburn with Darwen Borough Council was doing "a fantastic job".
"There is a higher rate of Covid in Blackburn than the average across the country, it's not as high as in Leicester," he told BBC Breakfast.
"We've gone in and are supporting them, working with them, for instance put in much more testing. And then they've taken these steps locally and I applaud that.
"This is exactly the sort of local action we want to see."
Why not follow BBC North West on Facebook, Twitter and Instagram? You can also send story ideas to northwest.newsonline@bbc.co.uk
http://platform.twitter.com/widgets.js