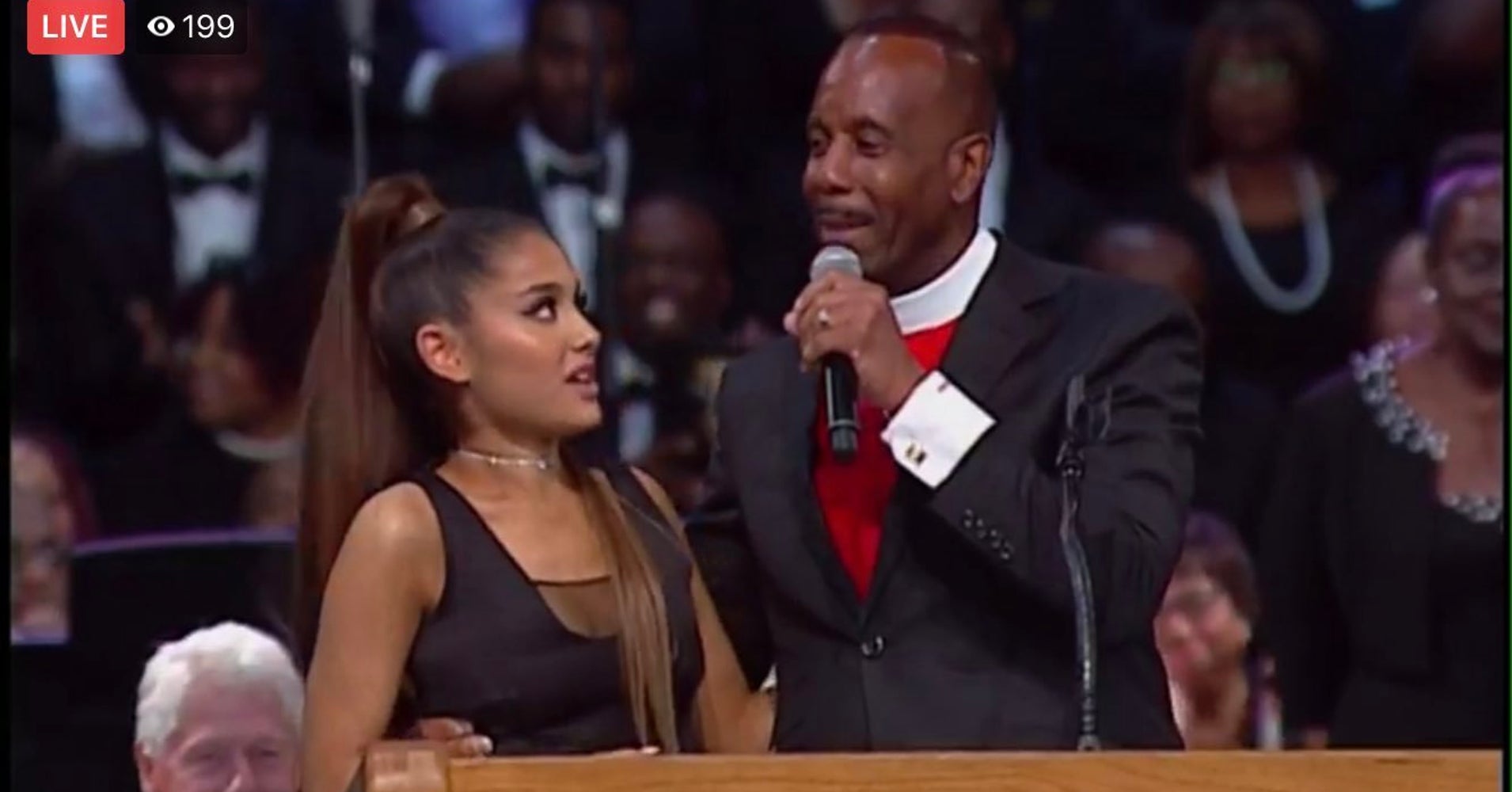 We get it: Ariana Grande sounds like a Starbucks order, but is Aretha Franklin's funeral really the place to poke fun at the pop star's name? 
The "God Is A Woman" singer took the stage to perform at the Greater Grace Temple in Franklin's hometown of Detroit, Michigan on Friday morning after arriving hand-in-hand with fiancé Pete Davidson.
After a stirring rendition of Franklin's "(You Make Me Feel Like) A Natural Woman," Bishop Charles H. Ellis III, who was presiding over the service, brought the singer over to the podium for some quick remarks.
"I've got to apologize because I have to brush up," Ellis said at the podium, while Grande laughed. "My 28-year-old daughter told me, 'You are old at 60.'"
″What did you do?" the singer asked. "What happened?"
"When I saw Ariana Grande on the program, I thought that was a new something at Taco Bell," he added.
He quickly changed course and said he gives Grande "all the respect," hailing her as an icon. Grande laughed and hugged the Bishop, then quickly exited the stage before offering a final "I love you, Aretha" to the crowd. 
Social media, of course, took note at the playful moment, with tweeters offering their own opinions on what went down at the service. 
Grande said she met Franklin earlier on in her career, recalling some of her favorite moments with the singer on "The Tonight Show."
"I met her a few times. We sang at the White House and she was so sweet and she was so cute," she told host Jimmy Fallon at the time. "I was like, 'How are you a real person?' It's an honor to have met her and we're gonna celebrate her."
Watch Grande's performance below.
http://platform.twitter.com/widgets.js