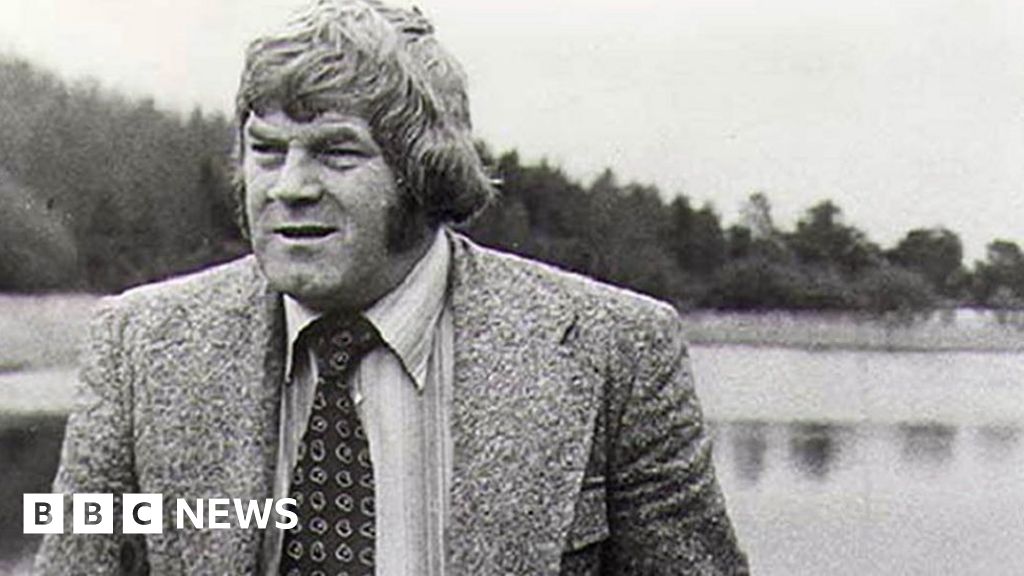 Renowned Irish country singer Big Tom McBride has died at the age of 81, after a career spanning more than five decades.
But his impact stretched further afield than the Emerald Isle, bringing joy and comfort to those settling in the UK.
"When you hear Big Tom singing, for those three minutes of that song, you were back home again."
This is how Tyrone man Aidan Quinn described the king of country Big Tom McBride, who he had known all of his life.
The son of the singer Philomena Begley – the queen of the scene – he recalled how Big Tom always had time for everyone.
"He always kept his footing," said Mr Quinn. "Fame and fortune didn't really mean anything to him."
'Happy at home'
It was back home in Ireland that Big Tom was at his happiest.
"He was happy out, happy in the local pub, happy at church of a Sunday morning, happy in his family life, happy at home," said Mr Quinn.
It was, perhaps, that connection to home and the "story in every song" that proved irresistible to so many Irish in the 1960s and 1970s, when emigration played heavy on hearts and minds – romantic Ireland dead and gone.
The Irish in London married and settled in places like Kilburn and Cricklewood, and in cities such as Manchester and Birmingham.
And with Catholic Ireland left behind, clubs and dancehalls became new places to worship.
The Galtymore, the original Ballroom of Romance that opened its doors in Cricklewood in 1952, was alive – sizzling with hope and opportunity for what the future might hold.
Big Tom's music became part of a show band soundtrack for that first generation, and the second that quickly followed.
Culture, it seemed, became a huge emotional support for the emigrants at a time when Ireland felt so far away.
"In the late 1960s, London was unimaginably further then than it would be for any Irish digital native of today," said historian and author of The Men Who Built Britain, Ultan Cowley.
"Back then a call home could necessitate standing in a public telephone booth, with a stack of hard-earned silver at the ready, frantically feeding coins into the pay-per-minute call box."
'National treasure'
Almost a decade ago – on May 25, 2008 – Big Tom returned to The Galtymore to play a final waltz in front of a full house at the iconic north London venue.
"In the 1960s, many of us spent our time in poor accommodation in Cricklewood, Kilburn, Manchester or Liverpool," says Dr Joe Kearney, co-author of From the Candy Store to the Galtymore.
"The Galtymore, The 32 Club, The Gresham and the Hibernian in London were Meccas for us. They were packed to the rafters every time the show bands came to town."
And there will never be another Big Tom to bring that sense of home to the community.
"Everybody knows the name Big Tom McBride regardless of whether you were into country music or you weren't," said Mr Quinn.
"He was a very unique character, he was 100% one of a kind – a national treasure."
Siobhan Breatnach is editor-in chief for the Irish Post, the biggest-selling newspaper for the Irish diaspora in Britain and globally.