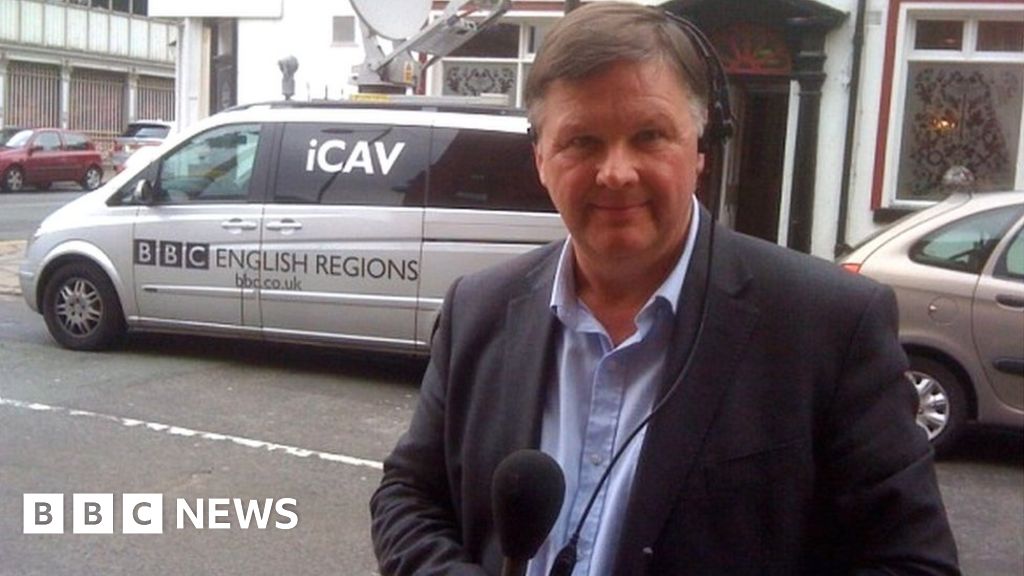 BBC Yorkshire political editor Len Tingle has died at the age of 63 after being diagnosed with cancer a year ago.
Len, who lived in Huddersfield but was brought up in Cudworth near Barnsley, was a familiar face on Look North and Sunday Politics.
His television career began at Central TV in 1981, before joining the BBC in 1989 as a business presenter in London.
He moved to Leeds as business and industry correspondent before taking up the role of political editor in 2001.
Labour leader Jeremy Corbyn said he was "so sad" to hear of Len's death, adding: "He's a huge loss to journalism and Yorkshire has lost a loud and proud voice."
Nigel Adams, Conservative MP for Selby and Ainsty, said he was a "true gent" and an "impartial, fair, respectful and professional political reporter".
Helen Thomas, head of BBC Yorkshire, described him as the "gentle giant of politics in Yorkshire".
"As a colleague he was kind, honest and always ready to help others," she said.
"As a political journalist he was passionate in the pursuit of the real story.
"For many he made sense of the changing political landscape in Yorkshire and it's a tribute to him that so many politicians of today and yesterday saw him as journalist they could trust in good times and in bad."
---
Remembering Len by James Vincent, acting political editor
The qualities that made Len an amazing journalist were the ones that made him an amazing man.
He had time for absolutely everyone. From first time interviewees, seasoned politicians and even naïve political reporters, he treated everyone the same; Len's first thought was to help people out.
The way he covered politics was an inspiration. I was told recently that he rarely ever took up the offer of a parliamentary pass. That small bit of plastic allowed you to walk the Westminster corridors of power but Len preferred to walk round Wombwell or Wakefield, where politics was about real people.
Nothing was too much trouble. A quick question sent to him via text would mean an instant call back, a nice long chat and an instant solution to whatever you needed sorting.
I remember once he told me about a mistake he'd made filming when he was out on his own. He'd come back to the office with a completely unusable set of pictures. In the ego-driven world of TV, the ability to admit your mistakes, knowing that telling someone else will help them cope with the pressure of the job, is complete, gentlemanly selflessness.
---
Len's passion for politics translated onto his Twitter account where he regularly posted about the stories he was covering and politicians he was grilling.
Tributes have been paid from Yorkshire politicians including Wentworth and Dearne MP John Healey who said Len commanded "massive respect across the political spectrum."
"The stand out feature for Len was that he was old school. He brought a real depth to his reporting and a compassion for the story he was trying to tell."
Julian Smith, MP for Skipton and Ripon, said Len had a "charming way" of holding politicians to account.
"You would get a sense of this passion – and importance he placed in standing up for Yorkshire – and he managed to do that in a really charming way that you trusted him."
The married father-of-two died in a local hospice on Tuesday after suffering from stomach cancer.
Tim Iredale, presenter of Sunday Politics in Yorkshire and Lincolnshire said: "I knew Len for 20 years. We were initially rivals, as I covered politics for ITV Yorkshire. Over time he became a trusted friend and much-loved colleague.
"I shall miss Len's boundless energy and enthusiasm for what he considered to be the best job in the world."
BBC Look North presenter Harry Gration described him as a "fearless reporter on political issues".
"He was also an incredible team player and often rang me with tips about how to challenge the big political hitters when they came into Look North.
"He will be greatly missed by his colleagues who all loved and respected him."