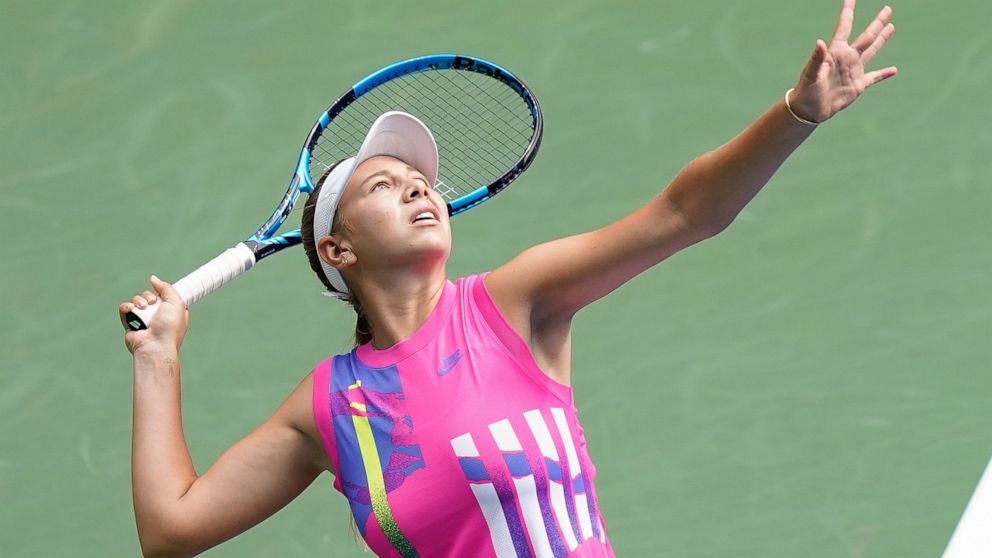 After taking a three-year break from tennis to have a son, Tsvetana Pironkova is playing every other day
Tsvetana Pironkova took a three-year break from tennis to have a son, missed the sport and now is playing every other day.
At the U.S. Open.
Pironkova beat No. 10-seeded Garbiñe Muguruza 7-5, 6-3 on Thursday to reach the third round. It's her first tournament since Wimbledon in 2017.
"I'm really, really happy to continue in the tournament," said Pironkova, a 32-year-old Bulgarian with a long tennis resume. "Coming from a three-year absence on the tour, you always have your doubts. My result make me really happy, because it shows I did the right things preparing for this comeback."
Pironkova, who will face No. 18-seeded Donna Vekic on Saturday, is playing in her 12th Open but her first since 2016. After Alexander was born in April 2018, she decided she could balance motherhood and a return to tennis.
"Little by little, I started really missing the tour," she said. "Having the opportunity for him to watch me really makes me happy.
"It's just great to be playing without that extra pressure I had on myself before. Before, it was almost like life and death situation for me to win a match."
Pironkova has no ranking because of her layoff, but she was a 2010 Wimbledon semifinalist, and is playing in the U.S. Open for the 12th time.
The win over Muguruza, a two-time Grand Slam champion, was Pironkova's 22nd against a top-20 player.
"It's not something super new," Pironkova said. "I was moving well and hitting the ball well. Why not win?"
LOOKING UP
A year ago, Amanda Anisimova's father — who also coached her — passed away right before the U.S. Open, so she withdrew from the tournament.
On Thursday, after reaching the third round at Flushing Meadows for the first time, the American teenager looked to the sky and blew a kiss.
Her father, she said, was on her mind as she worked her way out of trouble to put together a 4-6, 6-4, 6-1 victory over 16-year-old Katrina Scott, an American wild-card entry.
"I was just thinking about him the whole time," the 22nd-seeded Anisimova said, "and it was giving me a lot of energy."
Anisimova won the junior title at Flushing Meadows in 2017 and became the first Grand Slam semifinalist born in the 2000s when she made it to the final four at last year's French Open. She turned 19 on Monday, and took advantage of her superior experience against Scott.
"It was weird, because I've actually never played someone who is younger than me in a Grand Slam," Anisimova said. "I was pretty nervous."
———
SMASHING DEBUT
American wild card J.J. Wolf has quietly moved into the third round at the U.S. Open, which is a bit of a bummer for him.
"It's definitely a different feel here," Wolf said of playing without fans, "especially with all the awesome stadiums the U.S. Open has that New Yorkers and everyone from around the world make rowdy and fun for the players. But it's still awesome being here."
Wolf, who is ranked 138th and making his Grand Slam debut, won 26 points at the net to beat Roberto Carballes Baena 6-2, 6-4, 6-3.
The former Ohio State All-American is 21 and sports a shoulder-length mullet a la Andre Agassi, which isn't a coincidence.
"I always enjoy watching his highlights — such a talented player," Wolf said. "I wouldn't say the hair is totally based off of him, but if it's a tribute to him, I'm fine with that."
Wolf sparked controversy when he was photographed after his first-round victory making the OK gesture, which is sometimes associated with white supremacy.
"I was pumped," he said. "It was my first win. I just did an all-good symbol with my hands. I had no knowledge of it meaning anything else. I don't have a racist bone in my body. I have a very diverse friend group. And the comments that were made were disgusting to me."
———
AP Tennis Writer Howard Fendrich contributed to this report.