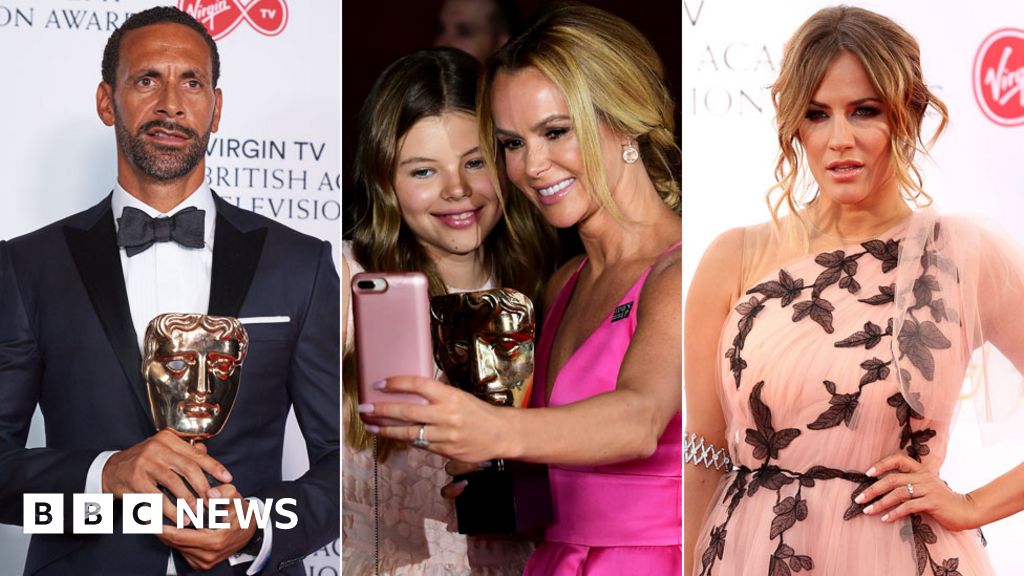 There was drama. There was comedy. There were selfies on the red carpet.
Sunday evening's Bafta Television Awards saw shows as diverse as Blue Planet and Love Island taking home prizes.
Here are 11 things we spotted both on and off stage at the ceremony:
1. Reactions to Sue Perkins were… mixed
A lot of viewers on Twitter didn't think Sue Perkins was the best choice of host, to put it mildly.
"Don't usually mind Sue Perkins but her delivery this evening is grating and jokes awful," said Michelle, while The Sun's Dan Wootton tweeted: "Sue Perkins struggling to get many laughs tonight. Ouch!"
But, to be fair, we did enjoy several of her one-liners. Namely:
"I'm Sue Perkins. You might know me from leaving some of the most successful shows on television."
"We are in for a cracking night tonight celebrating some of the finest talent from a year of incredible British television. And the cast of Love Island are here."
"The fantastic Jodie Whittaker became the first ever female Doctor Who and much controversy followed of course, because apparently some fans of space travel in a phone box, sonic screwdrivers and intergalactic alien races found it difficult to imagine that."
"The incredible Kate Adie, there. You just don't get disaster-zone reporting like that anymore. Not unless Olly Murs is trapped in Selfridges, that is."
2. Love Island could be getting a spin-off
Because one isn't enough, we're sure you agree.
The ITV2 show won best reality and constructed factual. Backstage, co-creator and producer Richard Cowles was asked if there could ever be a version of the show with gay contestants.
"We've had bisexual people in the show before, but it's a dating show, and what makes that quite difficult is you need everyone to fancy everyone," he told journalists.
"And it's hard to get people who are heterosexual and homosexual in the same place, because simply enough, they don't fancy each other. We'd have to have a dedicated show for a gay audience with a gay villa."
So could we be seeing that on our screens any time soon? "We're open to everything, we always try to include everyone," he said.
3. Jane McDonald was so not ready for a Bafta – and it's a first for Channel 5
"Ohh flippin 'eck," said HRH Jane McDonald as she took to the stage to accept the features prize for Channel 5's Cruising With Jane McDonald.
It's the first TV Bafta EVER for Channel 5.
"It's just me going on my holidays really, who would've thought I'd get a Bafta from doing that, I would've done it ages ago if I would've known," Jane said afterwards.
"It's just fun, and I wanted to put fun into television. I think cruising's had such a bad rap for such a long time, and I thought no, I'm going to show it as it really is. And I love it, I do love a cruise."
At this point one journalist put his hand up and said he hated cruises.
"You hate cruises? You've just not found the right one my darling," Jane replied.
Queen.
4. Claire Foy won't be watching the royal wedding at the weekend
Claire Foy, who played a young Queen Elizabeth in The Crown, obviously has a strong connection to the British monarchy.
But not one so strong that she's actually planning to watch Prince Harry wed Meghan Markle on Saturday.
"I'll be at the theatre all day. I'm going to see a matinee and an evening performance," she said.
Presumably she'll be catching up on the highlights during the interval at least?
"Of course I will, of course I will," she laughed.
5. Rio Ferdinand thinks men need to be able to show their vulnerability
Rio Ferdinand: Being Mum and Dad was one of the most touching and memorable TV programmes of the last year – and it was rewarded on Sunday night with the single documentary prize.
The footballer lost his 34-year-old wife Rebecca to cancer, and the programme followed him and his three children as they tried to adapt to life without her.
"I think sportsmen are painted as these indestructible superheroes that nobody expects to see a vulnerable side to. I think there was a conversation to be started and since the documentary aired that's definitely been the case," he said.
"In the pub, when a guy comes up to me I'm expecting him to talk about the weekend's result, but eight out of 10 of them want to talk about this."
Asked if he's considered doing any more documentaries, Ferdinand said: "We've had a lot of conversations about doing more stuff, and it might not be as raw as this, but from the sporting arena there are stories to be told. Sporting people, we have our guard up, trust is a big issue."
6. There was a small format change this year
Normally, at the TV Baftas, and indeed every awards ceremony, celebrity guests are brought on stage to introduce each category, have some generally awkward banter and say "And the nominees are…"
The ceremony rattled through at a much quicker pace thanks to a change in the format, which saw the name of the category flash up on screen faster than you could say The Real Full Monty.
The celebrity guests instead were only brought in after the clips of the nominees had been seen. There was still some awkward bantz though.
7. The writer of Peaky Blinders may be getting help from "writer fairies"
There was a surprise early in the night as 1920s crime series Peaky Blinders beat The Crown and Line of Duty to win best drama.
"I think it took a long time for people to get the idea of what the show was all about. But some things do take time so I'm just really really pleased," said screenwriter Steven Knight.
"I'm gobsmacked," agreed script supervisor Karen Cluskey. "Initially, I think many people were saying, 'That's not for me, it's too northern', but what people didn't understand was that [Knight] was writing about the effect of violence on people."
Speaking about how Knight is able to be so prolific, she joked: "I don't think he actually writes them, I think he's got writer fairies that visit."
Steven also expressed interest when a journalist suggested a Peaky Blinders movie. We've already had Mrs Brown's Boys, to be fair, so anything's possible.
8. There were (multiple) political statements on the red carpet
Quite a lot of Time's Up badges were seen before the ceremony, but one actor was also campaigning for a different cause close to his heart.
Little Boy Blue's Brian F O'Byrne won the supporting actor prize for his portrayal of Steve Jones – the father of 11-year-old Rhys Jones, who was murdered in Croxteth, Liverpool, in 2007.
O'Byrne was wearing a badge which said "Ta" – which he explained when he came backstage.
"In [Irish] Gaelic we don't have a word for yes or no. But if you were going to say 'Yes' it would be 'Ta'."
He explained he was encouraging people to vote yes in an Irish referendum on abortion rights on 25 May. If there is a Yes vote the government will introduce legislation allowing for unrestricted access to a termination for the first 12 weeks.
9. Thandie Newton slayed the red carpet
10. Casualty doesn't have an issue with gender pay
"There isn't particularly a gender pay gap on Casualty, I wouldn't say," commented the show's executive producer Simon Harper.
"I think one thing that came to light, with the whole pay publication thing last summer, was just how hard our artists work and every single one of them deserve every single penny they earn.
"I think in the industry there's still work to be done, but I think we can hold our heads high on that front."
11. Daisy May Cooper will not be buying more shoes on eBay
This Country won the scripted comedy award and best female comedy performance for Daisy May Cooper.
Both acceptance speeches were memorable – not least for Daisy's somewhat unusual choice of dress, which looked like a gigantic football shirt with Swindon on the front and Mucklowe (her character Kerry's surname) on the back.
"I just decided it had to be done, because Kerry wears Swindon, we're doing it for the south-west," Daisy said backstage.
"Sewgirl made it, and it's fabulous. I'm really happy that she did it. But I got the shoes for eBay for £10… that'll teach me."
(She had to take the shoes off by the time she accepted her second award because they were so painful.)
Follow us on Facebook, on Twitter @BBCNewsEnts, or on Instagram at bbcnewsents. If you have a story suggestion email entertainment.news@bbc.co.uk.