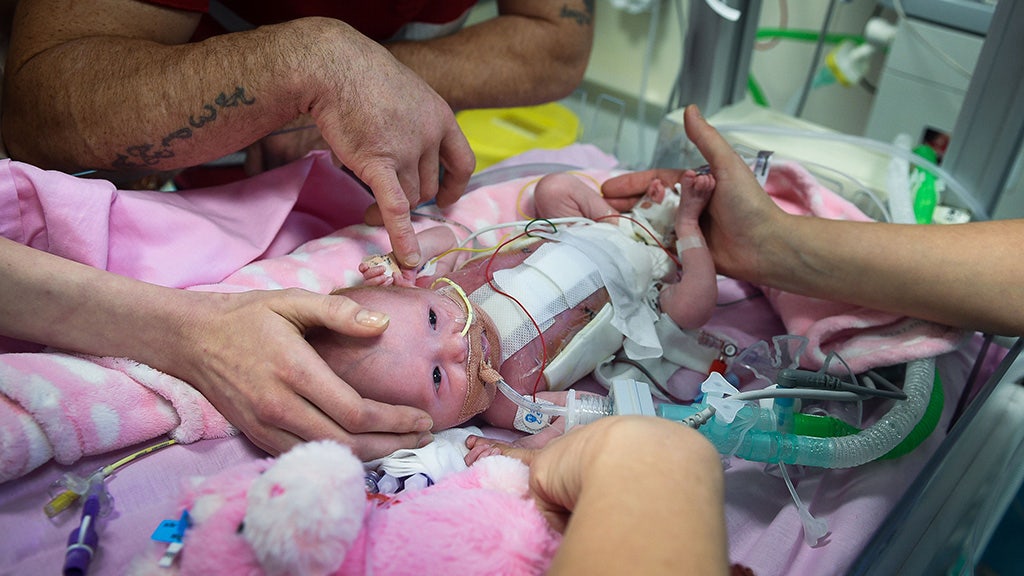 A 14-month-old baby in the U.K. has finally headed home for the first time after she was born with an incredibly rare malformation that caused her heart to grow outside of her body. Vanellope Hope Wilkins, who was born at Glenfield Hospital in Leicester, was only given a 10 percent chance of survival.
Her parents, Noami and Dean Wilkins, first learned of her condition during a nine-week ultrasound, according to Nottinghamshire Live. Ectopia cordis is diagnosed when babies are born with their hearts partially or completely located outside of their bodies. It also typically involves additional heart defects or abdominal wall defects and is classified in four different ways based on the position of the heart. Vanellope's diagnosis was classified as thoracic, which is the most common occurrence of the disorder.
I WAS BORN WITH A CONGENITAL HEART DEFECT AND NEVER EXPECTED TO LIVE PAST 20
According to Children's Hospital Colorado, the condition affects around one in 126,000 births, but the cause is unknown. Most babies with the condition are stillborn or die within the first few days of life, with those who do survive facing extensive surgeries and lifelong care.
"When doctors lifted her out of my womb she was born with her arm caressing her heart," Naomi Wilkins told The Sun. "I took that as a sign she was protecting herself."
BOY, 6, NEEDS BONE MARROW TRANSPLANT AFTER BEATING BRAIN CANCER
Vanellope had arrived a month early via C-section and underwent her first surgery within an hour of her birth. The following operations involved inserting her heart back into her chest and a protective mesh, The Sun reported. Eventually, the hole in her chest was covered with skin taken from under her arm.
In May 2018, she was moved to a hospital closer to the family's home before she finally received approval for release. According to a member of her care team, the next step for Vanellope will include exploring potential sternums for her chest. For now, her mom said the family is just focusing on taking one day at a time and being at home.
CLICK HERE TO GET THE FOX NEWS APP
"It's far from over but we will be traveling on the more normal part of our journey now," Noami Wilkins told Nottinghamshire Live. "She's adapted to home life really easily actually, she knows it's her home so she has settled in really well."