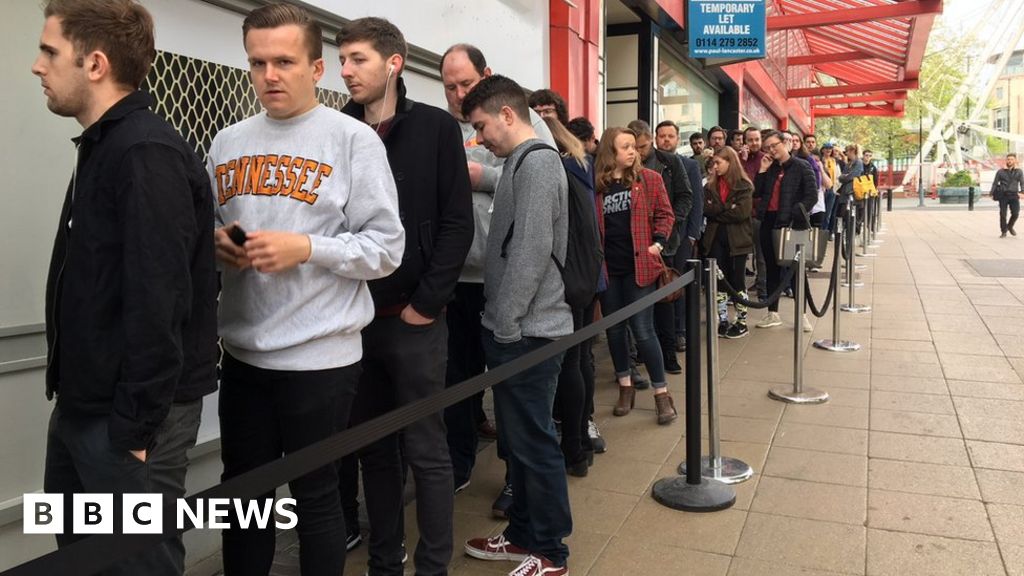 Arctic Monkeys fans in Sheffield have snapped up the chance to buy a limited-edition, gold vinyl version of the band's new album.
The pop-up shop in the band's home city is the only place in UK where the gold edition of Tranquility Base Hotel + Casino is for sale.
There are only 2,044 gold records available in Sheffield.
Other pop-up stores have been opened in New York, Berlin, Sydney, Tokyo and Paris, according to the band's website.
Alex Turner and the band have created a meandering, piano-driven, sci fi, jazz, lounge record, according to BBC Music.
BBC Music News Live: More about the Arctic Monkeys' release
The release has received mixed reviews. Rolling Stone gave it two stars calling it a "weird lounge music detour".
The Independent, in a four-star review, said the band had landed on "something creative, intriguing and completely different".
The group, whose previous hits include I Bet You Look Good On The Dancefloor and Do I Wanna Know, was formed in 2002.
The first person in the Sheffield queue, who gave his name as Joe from Leeds, said he had arrived just after midnight because he was "desperate" to get hands on the special album.
"I'll probably spend too much money, but it is worthwhile", he said.
Ashley, who had travelled from Preston, said he had spent about £90 and got "everything I wanted".
"Inside they've got a film playing; it's like a museum. It's right good.
"Everyone's just grabbing everything. I got the gold vinyl, posters, a Tranquility key-ring", he said.
There were more than 100 people in the queue outside the shop an hour before it opened at 08:00 BST.