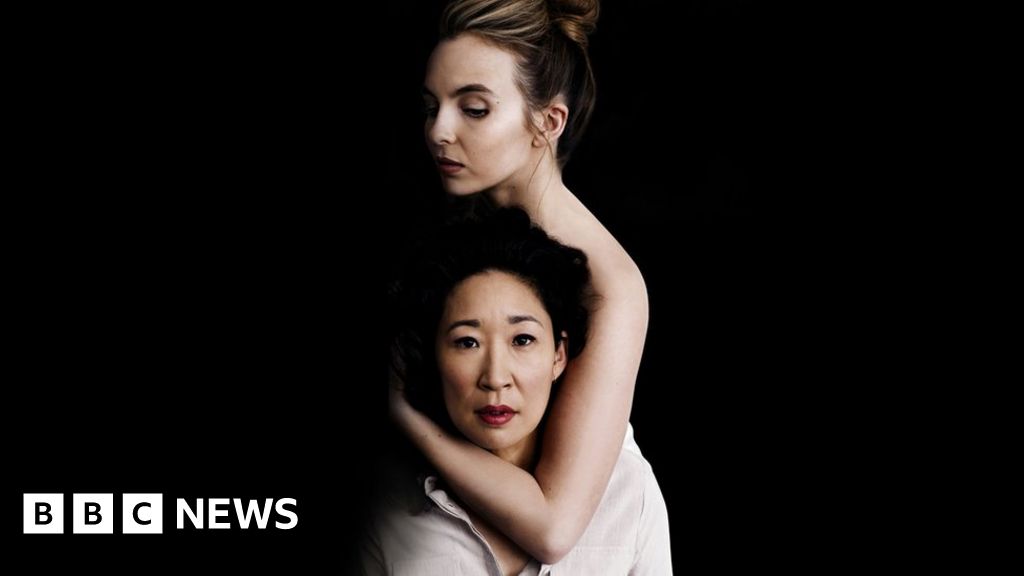 A hair pin, perfume and a shabby chic Parisian apartment are some of clues about the life of Villanelle, the chichi but psychopathic assassin wreaking havoc in the BBC's new spy thriller Killing Eve.
When awkward, desk-bound MI5 officer Eve Polastri (played by Grey's Anatomy star Sandra Oh) is assigned to track down a killer (played by Doctor Foster's Jodie Comer), she finds her mundane office life turned upside down and an epic game of cat and mouse ensues.
Killing Eve has already developed a cult following in the US, where it has been nominated for two Emmy Awards. Its second series is being filmed as we speak and even legendary director Sir Ridley Scott is a fan.
While the spy-genre is often riddled with (sometimes tiresome) clichés, it's the women at the centre of this show, both off and on screen, who set it apart from the rest in all the right ways.
The series is an adaptation of the Codename Villanelle novel by Luke Jennings, with scripts by Fleabag's Phoebe Waller-Bridge.
Espionage is so often a male dominated field on screen, so how did having two lead women in the roles of cat and mouse change the genre?
Executive producer Sally Woodward Gentle admits they never even thought about it. "I don't think we had a single conversation about gender," she says.
"Actually we tweaked quite a lot of how much Villanelle used her sexuality and that was quite a conscious thing of her not to do, to not sex people to death.
"That's not what she does. She just really likes killing cleverly and she also doesn't get off on it in a sexual way, she's just interested to know what happens!"
Sandra Oh adds: "Women aren't resolved by their domestic circumstances, they're out there killing people!"
The drama also stars Fiona Shaw as intelligence boss Carolyn and Kirby Howell-Baptiste as Eve's ambitious assistant Elena – both roles that were originally men in the book.
Oh points out many of the show's women are at different ages and at different points of their careers.
"You get to see a progression of where women are in their career – you see Elena at the start wanting to be like Carolyn, and then you have Eve who is in the mid-point of her career and you see Carolyn who's at the very top, it's just exciting!" she says.
In the first scenes of the first episode, viewers see MI5 colleagues refusing to entertain the idea that Villanelle's crimes could be committed by a women, while Eve is the first and only person in the room to suspect it.
Perhaps this inability to see women as villains has something to do with the fact that a woman in the spy genre is normally much more likely to be the scantily clad love interest or damsel in distress than the culprit.
But Villanelle is no ordinary criminal. Whether she's snacking on bruschetta in the hills of Tuscany or ordering silk throws for her Parisian apartment, her taste for the finer things in life is a recurring theme in the series.
"She's designing her own life," says Waller-Bridge. "It's not about looking at Villanelle being cool, it's about her feeling cool and that's what's feeding her or feeling like she's living the life she suppose to live.
"She can have sex with anyone she wants, and she does, and she'll eat a tiny sandwich on the hillside because she can! She's kind of in the 'Villanelle movie' of her life."
Waller-Bridge also says the spy's flair for fashion comes directly from the original novels, and that Jennings was very specific about what Villanelle wears.
"He's got impeccable taste! The clothes were a huge part of Villanelle and that's what made it so fun."
In August, after the show aired in America, Jennings revealed how mostly female LGBT fans contacted him on Twitter to praise him for creating characters like Eve and Villanelle.
He wrote in the Guardian: "Their messages were passionate and moving. They claimed the show as their own, they told me.
"They identified profoundly with Eve and Villanelle, and they felt validated and made visible by the women's relationship."
When asked about Villanelle's bisexuality, Waller-Bridge says she factored it into her creative process.
"The idea that these two women became obsessed with each other in every possible way was just exciting and new and nuanced and real," she says.
"It was a different kind of passion I'd seen, and it just felt very natural to the characters.
"The moment Eve knows Villanelle knows she exists, a switch is turned on in her that hasn't been turned on before, and watching her work out what that is and seeing their chemistry together when they first meet – we say it was when they 'fell in love' with each other.
"The sexual power play between these two women isn't for anyone else, it's just for them. They're just women who adore each other."
Killing Eve will be on BBC One on Saturday 15 September and will available as a box set on BBC iPlayer.
Follow us on Facebook, on Twitter @BBCNewsEnts, or on Instagram at bbcnewsents. If you have a story suggestion email entertainment.news@bbc.co.uk.
http://platform.twitter.com/widgets.js