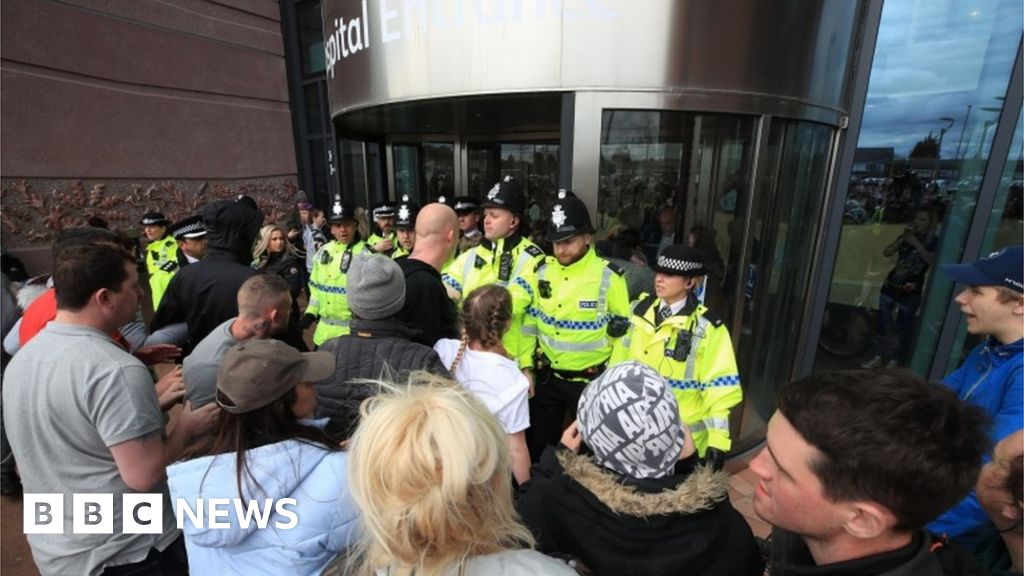 A group of protesters supporting terminally ill toddler Alfie Evans have tried to storm Alder Hey hospital.
About 200 people turned up to protest outside the Liverpool hospital after judges at the European Court of Human Rights (ECHR) refused to intervene in the case.
Dozens ran towards the main doors before police officers formed a line to block the entrance.
An ECHR spokesman said the family's application was "inadmissible".
After a short stand-off with police the supporters retreated to gather around 100 yards away on the road outside, chanting: "Save Alfie Evans."
Earlier the supporters blocked the road outside the hospital for about 15 minutes, with an ambulance becoming trapped as traffic quickly backed up.
Protesters, who had linked arms, allowed the ambulance to pass before moving to line both sides of the road.
Alfie's father Tom Evans briefly spoke to supporters outside the hospital against the treatment of his son.
He has also been broadcasting intermittently on Facebook from inside, where several groups of police officers have been patrolling the corridors.
In a statement Alder Hey said it remained open as usual for all visitors and appointments, but warned that visitors may notice an increase in visible police presence as part of "our ongoing security arrangements".
It encouraged people to attend appointments, but told patients to contact the hospital about "any concerns you may have attending".
Mr Evans and Alfie's mother Kate James had lodged an urgent application with the ECHR over the 23-month-old's life support at Alder Hey Children's Hospital.
The Supreme Court has approved a plan for withdrawing treatment and bringing Alfie's life to an end.
Judges said the hospital must be "free to do what has been determined to be in Alfie's best interests".
Last week Mr Evans and Ms James, who are from Liverpool, failed to persuade the Supreme Court that Alfie was being unlawfully detained at Alder Hey.
They wanted to take Alfie – who has been suffering from an undiagnosed degenerative brain disease – to Rome's Bambino Gesu Paediatric Hospital, which has links to the Vatican, where his palliative care would continue.
Before today's ECHR ruling, Alfie's parents had already lost a first round of cases in the High Court, Court of Appeal and European Court of Human Rights, as well as two cases at the Supreme Court.
Last week Merseyside Police said it was investigating "acts of intimidation" among protesters outside Alder Hey after the atmosphere outside the hospital was described as "intimidating and scary".
Andrea Williams, chief executive of the Christian Legal Centre, which is now representing Alfie's family, previously described Mr Evans and Ms James as "devoted parents".
Earlier this month Mr Evans flew to Rome to meet Pope Francis and begged him to "save our son".
The Pope previously tweeted his support for Alfie, saying he hoped the "deep suffering" of the toddler's parents would be heard.