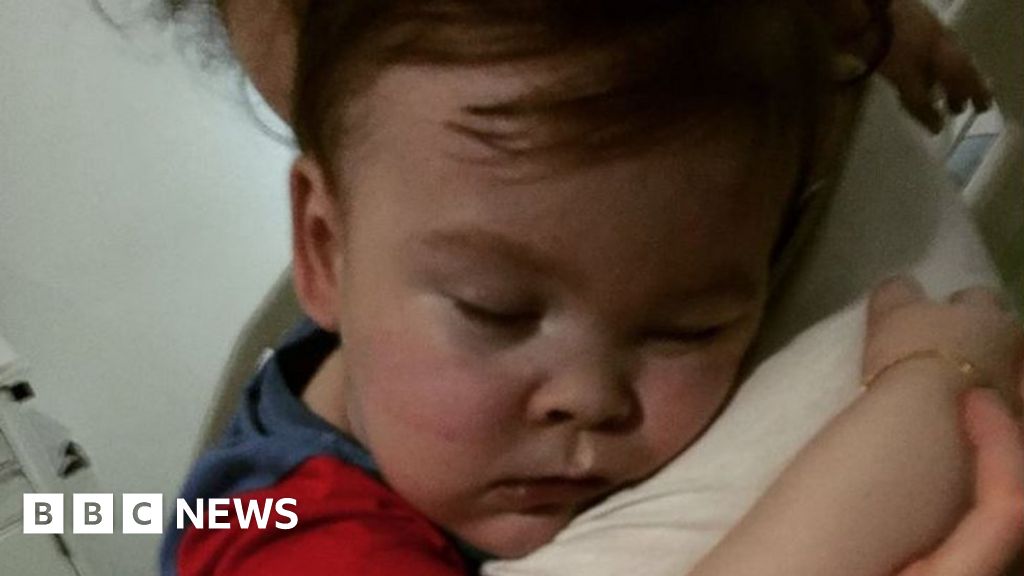 The parents of seriously ill toddler Alfie Evans will challenge a High Court ruling preventing them from taking him to Italy for further treatment.
The family's lawyers told the BBC that a hearing has been scheduled at the Court of Appeal on Wednesday afternoon.
The 23-month-old's life support was withdrawn on Monday after the court ruled Liverpool's Alder Hey Children's Hospital could end his care.
Tom Evans and Kate James want to move their son to a hospital in Rome.
On Tuesday a High Court judge ruled that the family could not take him abroad for further treatment, but that he may be allowed home.
Mr Justice Hayden said: "This represents the final chapter in the case of this extraordinary little boy."
During the hearing at Manchester Civil Justice Centre, he said the best Alfie's parents could hope for was to "explore" the options of removing him from intensive care either to a ward, a hospice or his home.
The case was back in court following an application by the Christian Legal Centre, which is representing the parents, to apply for Alfie to be moved to a hospital in Rome.
But summing up, the judge said there was no substance to the application.
He rejected claims by Mr Evans, 21, that his son was "significantly better" than first thought because he had now been breathing unaided for 20 hours.
He said all the hospital in Rome could offer Alfie would have been palliative care.
The toddler has been in Alder Hey since December 2016 with a rare undiagnosed degenerative neurological condition.
The judge described Alfie as "a fighter, resilient, courageous and a warrior", adding: "In the last 24 hours he has proved himself, once again worthy of those descriptions."
He asked Alder Hey to "explore creatively, ambitiously, even though it may be a forlorn hope, the options, may it be palliative care".
Alder Hey and the parents needed to discuss the next steps for Alfie.
A doctor, who cannot be named for legal reasons, said for Alfie to be allowed home would require a "sea change" in attitude from the child's family.
He told the court they feared that in the "worst case" they would try to take Alfie abroad.
The judge said the toddler's continued life was a "shaft of light" and a "special opportunity" for his parents to spend time with him – not the time for more legal manoeuvres.
The judge rejected claims that Alfie's health had improved and he was breathing on his own and said: "The sad truth is that it is not."
"With little, indeed no hesitation, I reject that. The brain cannot regenerate itself and there is virtually nothing of his brain left."
He said Alfie's brain had been eroded and that it had been "damaged entirely and so too had the capacity of sight, hearing, taste and sense of touch".
Mr Justice Hayden said the hospital had provided "world class" care for the child.
In a statement released after the hearing, Alder Hey Children's Hospital said its "top priority remains in ensuring Alfie receives the care he deserves to ensure his comfort, dignity and privacy are maintained throughout.
"This includes working closely with Kate and Tom as they spend this precious time together with him."
Speaking outside the hospital, Mr Evans said the family wanted to take the case to the Court of Appeal again.
He said: "I'm not giving up because Alfie is breathing away. He is not suffering, he is not struggling, he is fighting.
"The nurse has just come in and said he looks really good."
Mr Evans and Ms James had hoped Alfie could be taken to the Bambino Gesu Hospital in Rome, which has links to the Vatican, where his care could continue.
They have lost a series of legal challenges against a High Court ruling in February that Alder Hey could withdraw ventilation.