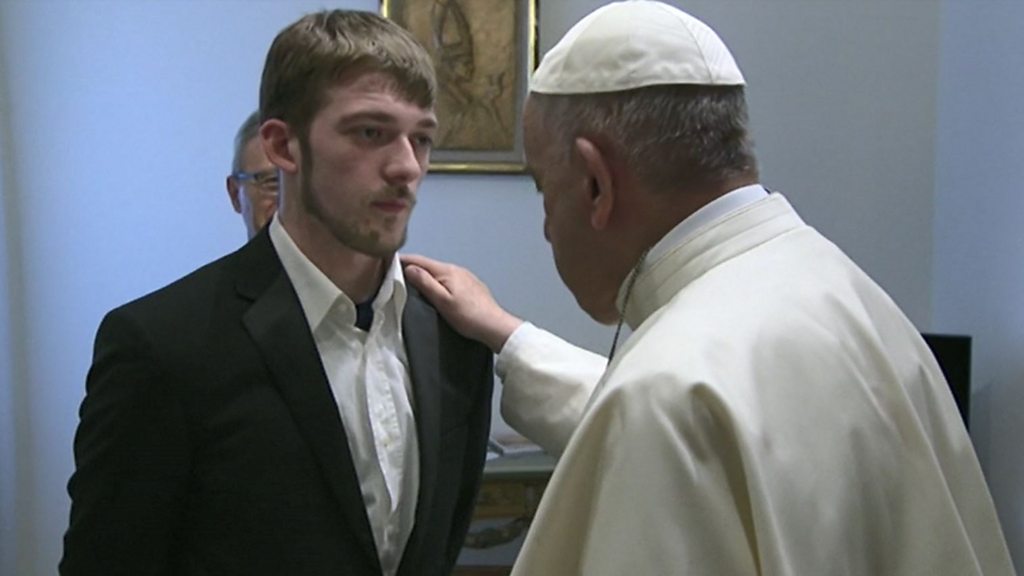 The father of terminally ill toddler Alfie Evans has met Pope Francis, begging him to "save our son".
Tom Evans has flown to Rome asking the Pope to intervene in the legal battle about ending 23-month-old Alfie's life support.
It comes after the family lost the latest appeal for his treatment to continue at Alder Hey Children's Hospital in Liverpool.
Mr Evans said: "Your holiness save our son" and asked for asylum for Alfie.
Mr Evans, 21, and Kate James, 20, have so far had all appeals against a High Court ruling in February to withdraw his life support and take him to Rome for treatment rejected.
The Court of Appeal dismissed a fresh appeal by the couple on Monday and they have applied to the Supreme Court to consider their case.
Mr Evans posted on Facebook: "Last night I jumped on a plane and come to Vatican Rome to meet the Pope.
"Alfie we will do everything for you."
He met with the Pope before his general audience when he highlighted Alfie's plight and asked the crowd to pray for him.
Vatican News reported Pope Francis said "it is our duty to do all that is possible to safeguard life" during his address.
He said cases like Alfie's were "very painful and complex" and asked that "every sick person may always be respected in their dignity and cared for in an appropriate way for their condition… and with great respect for life."
Earlier this month the Pope tweeted support for the sick toddler and called for all sides to work together for what is best for Alfie.
Andrea Williams, from the Christian Legal Centre which is representing Alfie's family, confirmed Mr Evans had asked the Pope for asylum for his son during the meeting at the Vatican.
"When every avenue has been shut down in this country it shows he won't give up.
"He wants his son to be given a chance to live which is being denied when there are places prepared to look after him."
The Catholic Church in England and Wales has said Alfie should only be taken to Italy for treatment if a British court decides an "exception" should be made.
It added recent criticism of Alder Hey hospital was "unfounded".
The Supreme Court which refused to consider the parents case in March said it was examining the latest application to overrule Monday's Court of Appeal decision.
The Court of Appeal judges explained they dismissed the latest challenge because it was the same legal argument – albeit with a different legal term – they made in February and March and moving him to a hospital in Italy was "contrary to his best interests".
The judges said: "The application of a different legal label… does not change the fact that the court has already determined the issues which the parents now seek, again, to advance.
"Their views, their rights do not take precedence and do not give them an 'unfettered right' to make choices and exercise rights on behalf of Alfie."
The judges said Alfie was not being "detained" in hospital or "deprived of his liberty… the doctrine of habeas corpus."
Alder Hey Children's Hospital has said continuing to treat Alfie, who has an undiagnosed degenerative neurological condition, was "inhumane" and "futile".
It said taking him abroad for treatment was "expressly not in his best interests", adding: "Our priority is to continue providing Alfie with the best care possible."