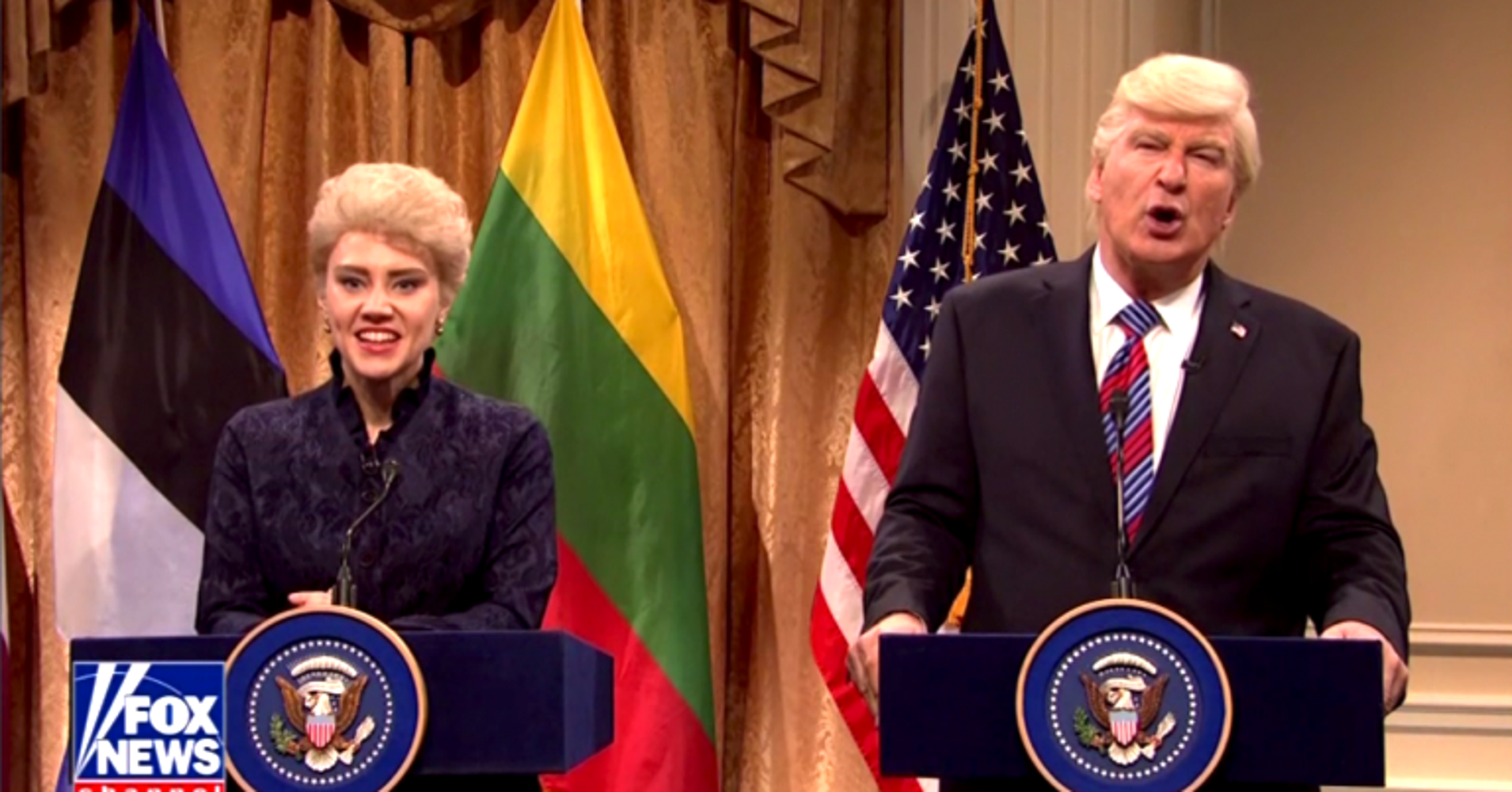 Alec Baldwin's Donald Trump struggled to read, battled to remember the names of three Baltic nations and fought to stay awake after daydreaming about Roseanne Barr at a staged press conference on "Saturday Night Live."
Finally, he admitted to reporters, with a little sashay: "Here's the thing: I don't care about America, okay? This whole  presidency is a four-year cash grab — and admitting that will probably get me four more years. I do not care about any of you."
The "SNL" cold open featured the "president" with the leaders of Lithuania (Kate McKinnon), Latvia (Alex Moffat) and Estonia (Heidi Garndner) on a spoof version of the Fox News program "Outnumbered" with Leslie Jones playing Harris Faulkner. Baldwin variously referred to the countries and leaders as "hufflepuff," "freak shows" and "Stankonia."
He stumbled through a statement to "prove I can read," then jumped to "freestyle." A "big congratulations to Vladimir Putin, who won a great, great very transparent election … even though no one's been tougher on Russia than I am, including Hitler," he said.
As McKinnon began speaking, "Trump" thought to himself: "Oh God, I'm already so bored. I wish I was watching 'Roseanne' … Roseanne loves me, she's like a good Rosie O'Donnell." Then he snores.
He blew off a question from the press about Stormy Daniels, then veered into a horrifying riff about "caravans full of immigrants … barreling across the desert" that sounded exactly like a scene from "Mad Max, Fury Road."
He finally told it like it is. And an eye-glass wearing giant bunny suddenly appeared at his side. He's convinced it's a "Donnie Darko situation."
Check out the rest of the sketch up top.