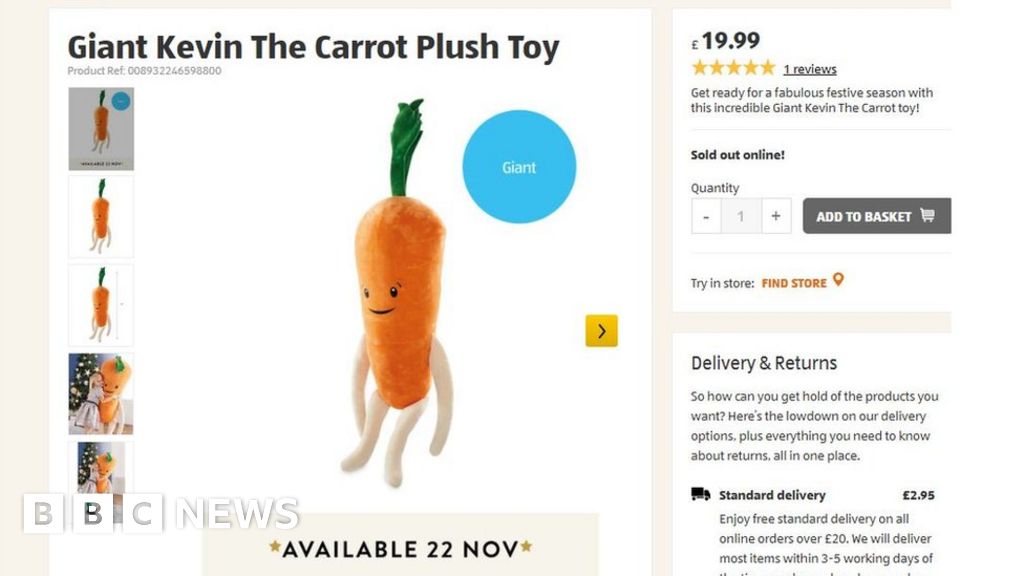 Shoppers are scrambling to buy "Kevin the carrot" soft toy featured in Aldi's Christmas advert.
Customers of the discount chain have taken to social media to complain that supplies of Kevin, his wife Katie and three baby carrots have run out.
The £3.99 version is not available online and there are reports of queues and even fights at the stores.
A spokesman said demand for the toys, which went on sale today, had been "exceptionally" high.
A one meter high Kevin the carrot toy – on sale for £19.99 – was also sold out online.
The queues in the stores were not quite on the scale of those in the summer when customers were clambering to buy Build-A-Bear in an offer – later abandoned – to buy any bear for the price of their child's age.
But, on social media at least, the sales of the cuddly carrots have generated interest.
One shopper tweeted Aldi to ask if any more of the toys would be available after a failed attempt to buy Kevin online.
Another customer tweeted that some of the carrot toys were sold out at 4am and others were not available to buy yet. When she checked again they had sold out.
Others, though, were happy with what they described as their carrot "swag".
This is the third year of the Christmas advertising campaign featuring Kevin the carrot and this year features the wicked parsnip, Pascal.
Last year, the toys were put on sale on eBay, with a price tag of £1,000, according to the Sun.
This year's edition of the toys were already available on eBay.
A spokesman for Aldi said: "To avoid any disappointment, this year we increased the range by adding new characters such as Pascal the Parsnip, as well as the amount of soft toys available in each store.
"We also limited purchases to two variants per customer so as many people as possible had the chance to buy these products. As with all our Specialbuys products, these are only available while stocks last."