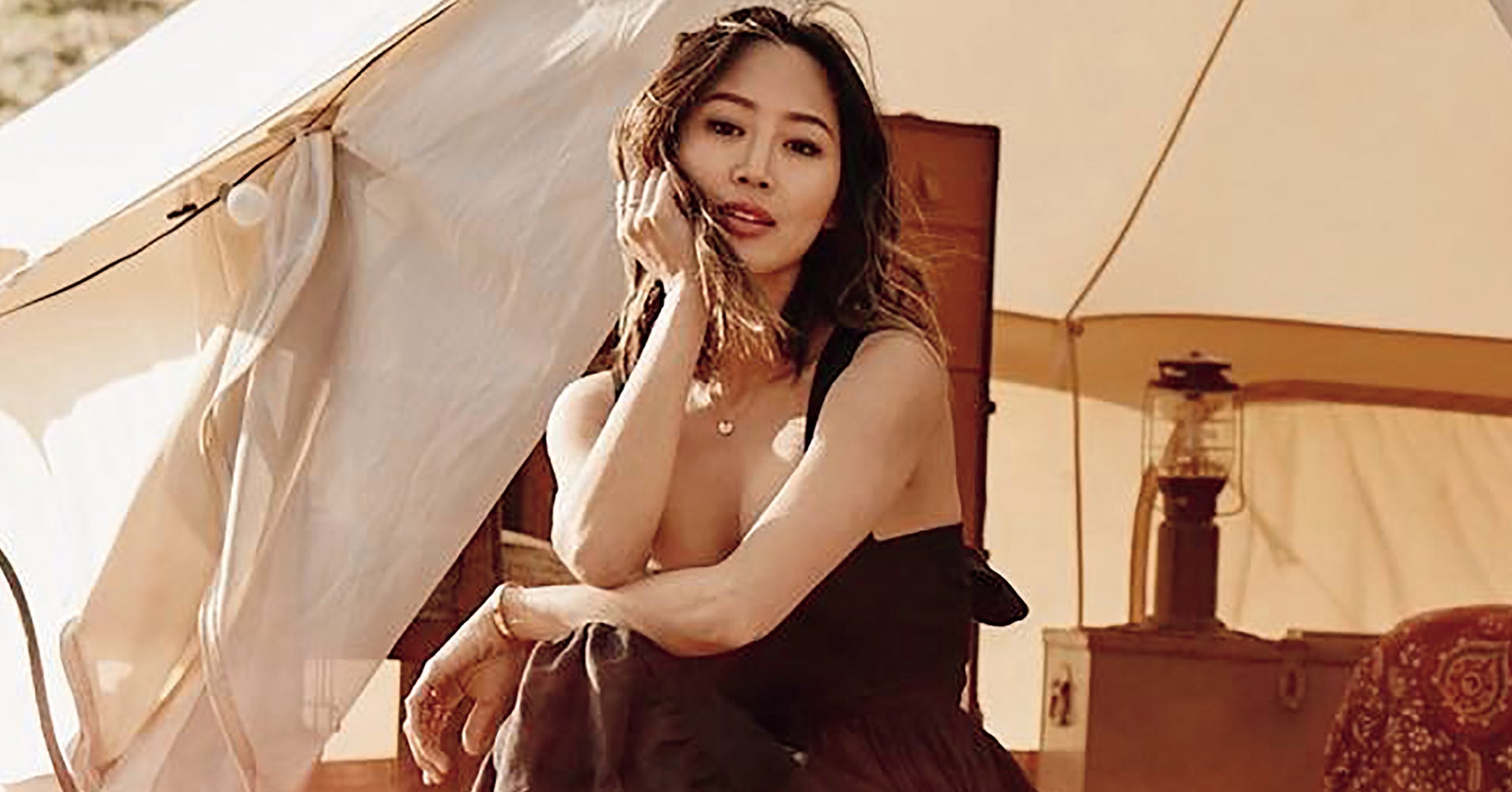 Welcome to our new series that allows influencers to tell the real story of what goes on behind the scenes of their Instagram feeds. We're puncturing the notion of Instagram perfection and giving the individuals behind some of our favorite Insta accounts a chance to talk about what's going on behind the camera.
When it comes to fashion bloggers, Aimee Song (pronounced Ah-mee) appears to live a perfect life.
Before fashion bloggers and influencers were really a thing, Song was online sharing her life on the aptly titled blog Song of Style. For the past decade, the social media star has built a brand with a huge following (5 million on Instagram alone) of fans who no doubt look to her for fashion inspiration. Through both her blog and her Instagram account, Song has offered people all over the world a little glimpse into what seems like her wonderfully flawless life ― and her Instagram account is sure to elicit some wardrobe and vacation envy.
But perfection isn't what Song strives for. At least not these days.
"I was freaking out, thinking, 'Oh, my God, it's like a life-and-death situation,' but clearly I'm not solving cancer here."
The influencer, who just released her second book, World of Style, admitted to HuffPost that she used to think of Instagram as a place for very curated, well-planned content that looked "as if it had come from a magazine."
But Song recently told HuffPost about a couple of photos on her feed that don't really tell the whole story. The seemingly glamorous pictures came to be after some not-so-glamorous chaos went on behind the scenes.
In her words, here's what went happened while trying to get the shots:
I was in Palm Springs for two days, specifically for a photo shoot for a shoe brand based in Asia. They were supposed to ship the shoes to Palm Springs to [the hotel I was staying at]. We had a hair stylist, makeup artist, because it was a campaign shoot. And they had hired my boyfriend Jacopo [Moschin] as a photographer to do the shoot.

Then, we were waiting all day. I did hair and makeup, everything was ready to go and we're on location and the shoes never arrived. We're like, 'What's happening with the shoes? Where are the shoes?'

We had only booked the hair stylist for the day, and the makeup artist as well. All these people had to go back to Los Angeles to their other jobs. I think it was awards season ― something was happening, so they all had to leave immediately after the shoot. They left, and it was just my boyfriend, myself and my assistant waiting there, like, OK, the shoes are not here. We're on location, and now we've lost the location. Everything was over. The shoes never came.

The next day, my boyfriend had to catch a flight back to New York, and we're just waiting for the shoes. We're trying to figure it out. We're like, 'We have to shoot this, because we're only in Palm Springs [for a limited time] and we're leaving and it will really suck if we came all the way here [and we can't do it].' At this point, it's the next day now, so I do my own hair and makeup, still waiting for the shoes.

We had lost the location that we were planning on shooting at. Somehow, my boyfriend has a friend who knows somebody who has a random Airstream and whatnot. So we go up there to see if we can shoot there last minute, but now we only have two hours. I think it was around 4 p.m. when the shoes finally arrived. They were being held at customs. My management put the shoes inside an Uber and the Uber dropped them off to Palm Springs. We were shooting and it was last minute, but it kind of turned out to be a really good shoot because it was so real. I was just running in the desert, in Joshua Tree, with my ballet flats ― the shoes that finally arrived ― only had one hour to shoot before the sun went down. I think we had twelve pairs of shoes or something. Everything was really rushed, but somehow the photos turned out to be really nice, because we were so desperate for the photos to be nice, with that one-hour window trying to shoot 12 pairs of shoes.
And if you're wondering, the client and Song both loved the final images.
"The photos looked so desert-like, and some of them we kind of look dirty because we're sweating and whatnot, and there was a dust storm happening, but all of that actually made the photos look so magical," she said.
When asked what she learned from the experience, Song offered this mantra: "All will be well."
"Life goes on. It's not the end of the world," she said. "I was freaking out, thinking, 'Oh, my God, it's like a life-and-death situation,' but clearly I'm not solving cancer here. It's not a life-or-death situation, and everything somehow works out in the end. I think a lot of times people freak out in certain situations, but in the end it's just life."
Song continued, noting, "As I live life, I realize it's so much more fun to be more real and [I] realize it's not all about the perfect photos. People can't relate to perfect photos sometimes … [I] stopped caring about curating the perfect feed and only showing the highlights of my life."
"That has been a huge relief for me," she said.
This interview has been edited and condensed for clarity.