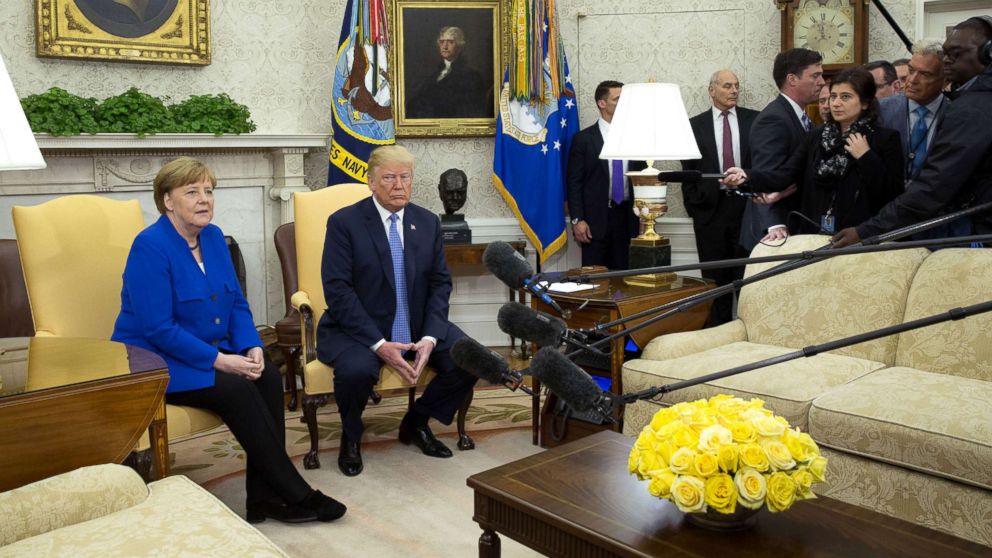 On the heels of a festive state visit in honor of French President Emanuel Macron, President Donald Trump welcomed German Chancellor Angela Merkel to the White House Friday for a more subdued business meeting.
Interested in
Donald Trump?
Add Donald Trump as an interest to stay up to date on the latest Donald Trump news, video, and analysis from ABC News.
While Macron was feted in grand style with a three-day state visit, complete with a private dinner with the president and first lady at George Washington's Mount Vernon, Virginia, home, a formal military welcome ceremony and state dinner, Merkel arrived in Washington for a no-frills, one-day visit to meet with the president and participate in a joint press conference.
The back-to-back meetings stand as a study in contrast between the Trump-Macron bromance and the strictly-business Trump-Merkel relationship of necessity. While Trump and Macron's political bromance budded over an extended white-knuckle handshake at their first meeting last year, Trump and Merkel had an awkward moment before cameras in the Oval Office on her first visit to the Trump White House when there was no handshake at all.
"President Macron, I believe, has broken the code when it comes to dealing with President Trump, with a very close ally and partner. Now, let's contrast that to German Chancellor Angela Merkel," said Heather A. Conley, director of the Center for Strategic and International Studies Europe Program. "She is a scientist. She is cautious. She is careful. Her nickname is 'Mutti,' or mother. She's low-key. She's an everyday person, a slayer of political challengers and egotistical males."
But while the divergent optics between the two visits will be impossible to avoid, Merkel arrived in Washington with a mission very much aligned with the French president in seeking to urge the U.S. president not to withdraw from the Iran nuclear deal.
"If Chancellor Merkel is not the soulmate of Donald Trump and if Germany is not the tailormade partner for the Trump administration, nevertheless it is indispensable," said Jeffrey Rathke, Deputy Director of CSIS's Europe Program.
The back-to-back visits come as Trump is facing a fast-approaching May 12 deadline to decide whether or not to essentially withdraw the United States from the pact after he threatened in January that he would waive sanctions for Iran just one last time to give Congress and European allies a few more months to make fixes to the deal.
"This is a last chance," Trump said in January. "In the absence of such an agreement, the United States will not again waive sanctions in order to stay in the Iran nuclear deal. And if at any time I judge that such an agreement is not within reach, I will withdraw from the deal immediately."
Out of Macron's visit, there were indications that the French president made progress. Speaking side by side at a joint press conference Tuesday, the president signaled a willingness to consider what Macron described as a "new deal" that would address the weaknesses that Trump sees as fatal flaws in the deal and accomplish the broader goal of blocking Iran from obtaining a nuclear weapon.
"There is a chance, and nobody what's I'm going to do on the 12th, although Mr. President, you have a pretty good idea, but we'll see," Trump said Tuesday. "But we'll see also if I do what some people expect, whether or not it will be possible to do a new deal with solid foundations, because this is a deal with decayed foundations."
While Trump's differing relationship with Merkel will be in most direct contrast to his chummy friendship with Macron, it also stands in contrasts to President Obama's close alliance with the German chancellor, who was widely viewed as Obama's closest European ally.
But as Rathke points out, what ended as a tight-knit bond between Obama and Merkel began quite differently.
"At the end of the Obama administration the relationship between President Obama and Chancellor Merkel became perhaps the most important transatlantic relationship for the United States, but it didn't start out that way. So, you know, there is always? there is always the possibility of change," Rathke said.