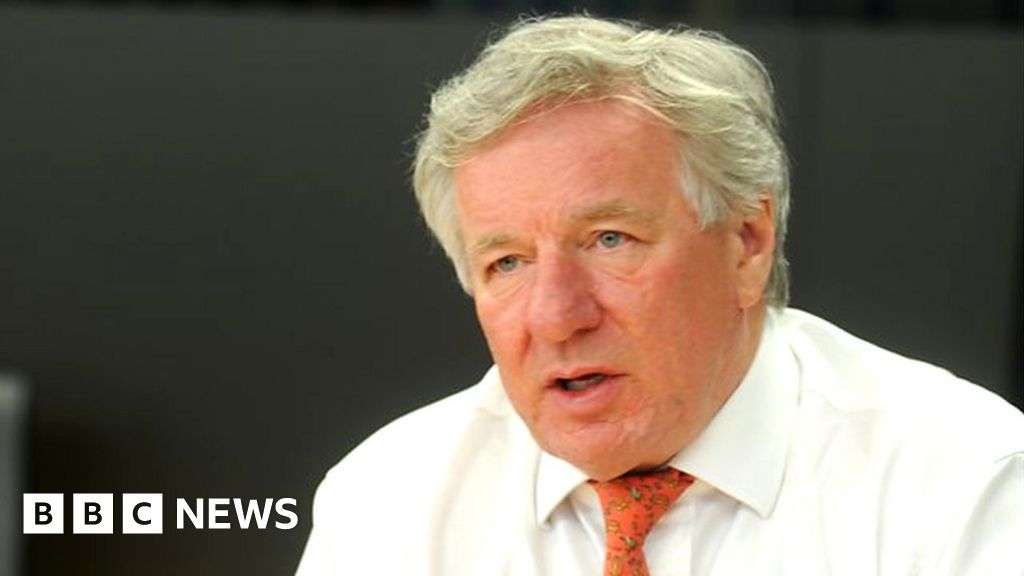 Martin Gilbert is to leave Standard Life Aberdeen after nearly four decades with the business.
The vice chairman of the group and chairman of Aberdeen's investment arm said he would step down in September next year.
Mr Gilbert co-founded Aberdeen Asset Management in the 1980s and led it into a merger with Standard Life in 2017.
He said: "It has been an incredible journey."
Mr Gilbert added: "It's almost unimaginable from the earliest days when we were just three people in one office in Aberdeen with £50m under management to today's total in excess of £500bn."
Since the merger with Standard Life, the company has struggled to win round shareholders.
The merger came as asset management firms were being squeezed and fees were being reduced with increased competition.
Before stepping down, Mr Gilbert said he would try to win new business and "realise the potential from our global network and capabilities".
Analysis by Douglas Fraser, BBC Scotland business and economy editor
In the canny corridors of Scottish fund management, Martin Gilbert has stood out as an ebullient, gregarious character, with a passion and aptitude for bold deal-making.
It led him to build a colossal business from an Aberdeen law degree and accountancy qualification, starting out with two other alumnae of the city's Robert Gordon's College.
They started with a management buy-out of a £50m fund, then spotted the opportunity for investing in Asia at an ideal time for growth, and Gilbert was ready to pounce on vast funds that banks wanted to off-load.
Among the bigger deals; RBS asset management, Credit Suisse, Deutsche Bank and, biggest of all, Edinburgh-based Scottish Widows Investment Partnership, which held the funds of Lloyds Banking Group.
'Savagely criticised'
This made it one of Europe's biggest fund managers, with its headquarters in Aberdeen, much of the fund management out of Edinburgh, and a well-established team in Singapore.
It was a very rocky road. In 2002, the company was nearly sunk by the failure of its split cap funds. These were designed to deliver both capital growth and income, and were sold on a highly ambitious prospectus.
Investors lost heavily, the share price plummeted, Martin Gilbert was savagely criticised by MPs, and there was an agreed settlement with the financial regulator.
From 2004, having learned to avoid retail investors and large debt, the platform was set for much faster expansion, with institutional investors as clients. That was until Aberdeen Asset appeared to run out of growth opportunities by acquisition and, in 2017, Gilbert looked to merge with Standard Life.
Weaker markets
That has been another difficult episode. Investors did not much like the merged Standard Life Aberdeen having dual chief executives, however friendly they might appear.
Emerging markets have been weaker and there have been significant outflows of funds, as institutional investors have put their money elsewhere.
It was Keith Skeoch, formerly of Standard Life, who emerged on top last March. Martin Gilbert took the demoted role of executive director, focussed on client relations.
Since then, a departure has looked likely. There are fewer opportunities for growth by deal-making in the current market.
But with his energy, enthusiasm, optimism, people skills and a passion for sport, expect to see him back in other business roles.
Standard Life Aberdeen chairman Sir Douglas Flint said: "It is impossible to overstate Martin's achievement in building Aberdeen Asset Management into a truly global and widely respected investment firm.
"His ability to attract talent to deliver that success and his unrelenting commitment to the firm's clients leave a legacy of which he should be immensely proud and which serves as a solid foundation for our future success.
"His foresight to see the opportunities that led to the combination that created Standard Life Aberdeen and his tireless efforts to realise these opportunities post-merger are hugely valued by all his colleagues who now take up the responsibility to deliver on them."
The businessman will continue working, having already been lined up as fintech start-up Revolut's new chairman.
The challenger banking service appointed Mr Gilbert in an attempt to improve corporate governance and prepare the business for any possible listing or future fundraising.